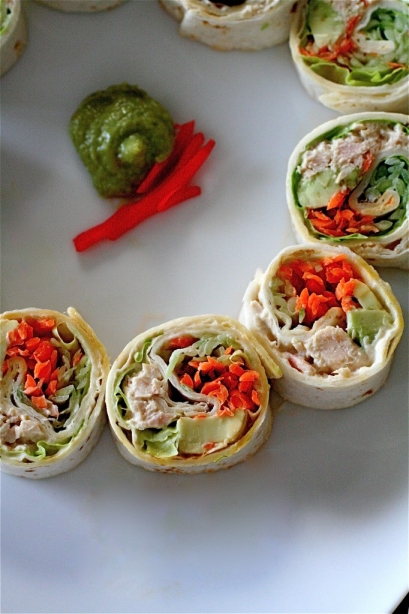 This is a fun appetizer idea that I knew I had to try.  It's like sushi, but it's not.  And, while it looks like sushi, it saves you the mess and confusion (at least in my book) of making your own "sushi rolls" from scratch, but you still get the idea of it.
Instead of using raw fish, tuna is an easy and quick substitute.  Instead of using rice, simple tortilla rolls are a great alternative.  In fact, these rolls are quite versatile.  You could put any kind of combination of vegetable in them.  And, not only are they simple and quick to make (took me 10 minutes, tops), they are cheap as well.  Next time, I'll probably do a version of a Philadelphia roll.  The wasabi paste adds a little authentic kick to the rolls, although I like mine spicy, so next time, I will definitely be adding a little more of it to my tuna salad mixture.  Taste as you go-that stuff can be dangerous! 🙂
California Style Tuna Salad Rolls
Servings: 4
Ingredients
1 can albacore tuna, in water, drained and flaked
3 tablespoons mayonnaise
1/4 teaspoon wasabi paste (or more, if you like it hot)
2 10-inch flour tortillas
2 medium leaves Boston lettuce
1 Kirby cucumber, peeled, seeded and coarsely shredded lengthwise
1 medium carrot, peeled and coarsely shredded
1/2 of a ripe avocado; peeled, pitted, and sliced 1/2-inch thick
Instructions
1. Combine the tuna, 2 tablespoons of the mayonnaise, and wasabi pate in a small bowl and mix until blended.  Set aside.
2.  Lay the tortillas on a work surface and spread 1/2 tablespoon of mayonnaise on each tortilla.
3. Place one lettuce leaf on each tortilla, flat.
4. Arrange the cucumber, carrot, and avocado lengthwise in rows near one edge.
5.  Spoon the tuna in a line next to the vegetables (away from the edge).
6.  Roll each tortilla up snugly into a cylinder.  Cut crosswise in half.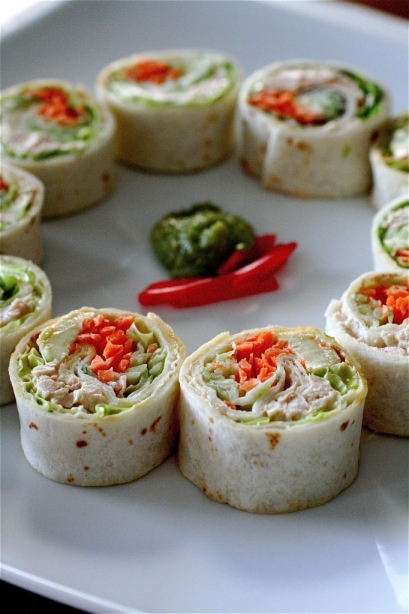 Source: Real Food for Healthy Kids, July 2008