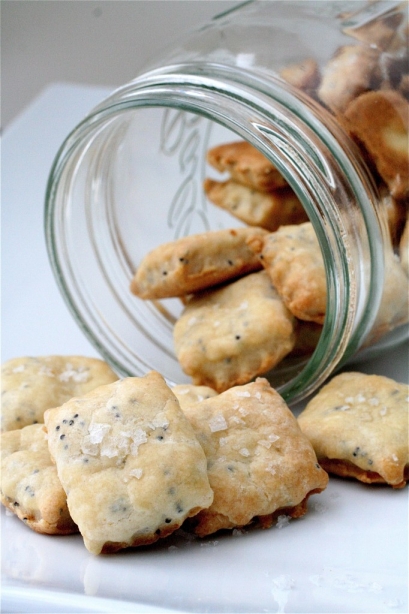 I never had even thought about making my own homemade crackers before.  It was like an epiphany when I found this recipe and realized how simple and straight forward making crackers can be. Now I can tailor the spices and seasonings to my own liking, avoid scary chemicals and additives, and make whatever shape I want.
These crackers are absolutely addicting.  They are light and fluffy, and the hint of sea salt is just enough to give them a little something special.  I used a small cookie cutter I had on hand to cut them from the rolled dough, but you could use just about any shape.  You could also substitute any kind of seed for the poppy seeds if you desire: sesame, caraway, or even celery seeds.   The possibilities are endless.
Congratulations, you now know how to make your own delicious crackers.
Poppy Seed and Sea Salt Crackers
Servings: 20 small crackers
Ingredients
1 cup all-purpose flour
1 teaspoon salt
1 teaspoon superfine sugar (if you don't have this, just pulse some regular sugar in a food processor a few times)
1 tablespoon unsalted butter, room temperature
1 tablespoon poppy seeds
6-7 tablespoons heavy cream, plus more for brushing the tops of the crackers
Sea salt flakes
Instructions
1. Preheat the oven to 300 degrees.
2.  Put the flour, salt, and sugar in a bowl and rub in the butter with your fingers to form a coarse dough.
3.  Stir in the poppy seeds.
4.  Add enough cream to mix to a stiff dough (I ended up using 7 tablespoons)
5. Roll the dough out on a lightly floured surface to a thickness of about 1/2-inch.
6.  Cut the dough into the desired shapes using a cookie cutter.
7. Place the dough on an ungreased baking sheet and brush sparingly with the cream.
8.  Sprinkle a few sea salt flakes over each cracker.
9.  Bake in the oven for 30 minutes until crisp but still pale.
10.  Transfer to a wire rack to cool.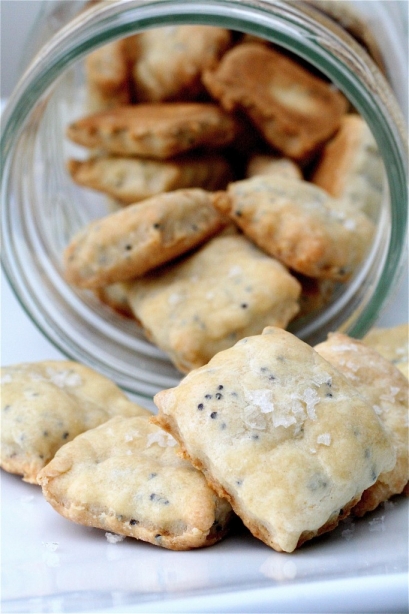 Adapted from The Cookie and Biscuit Bible.