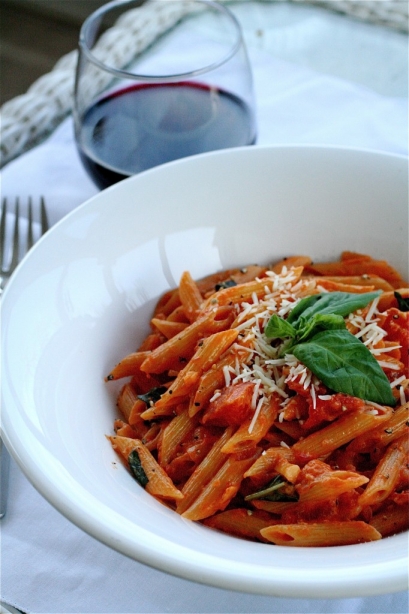 If you read this blog regularly, you know that I love some spice in my food.  You may also know that I love garlic.
I have gotten a few requests to post a few more pasta recipes.  I kind of avoid pasta.  It's sort of a love-hate relationship.  If I had a choice between a big plate of pasta and some other sort of dish (mmm…vegetable curry or something along those lines), I will always go with the non-pasta option.  I don't know why.  But, then, there are these random times where I will crave a big Italian sit-down meal with all the bells and whistles. (Now, if you count macaroni and cheese in the category of pasta-then that's a different story, of course).
Most recently, this was the dish that I suddenly wanted to make.  I made this a little while ago for my parents.  I made up some nice appetizers (posts to follow), opened a bottle of wine, and then served them this dish, complete with some dessert.  To thank them for being so incredibly wonderful. 🙂
Now, back to my love of spice.  I love the cream base of the penne here, but I thought it could use a little kick to go with it.  So I upped the garlic and the spice, and the results were outstanding!  I was actually quite surprised.  The penne was light and creamy at first, but there was a definite and substantial kick at the end.  I loved this penne so much that I saved the leftovers and immediately heated them up the next night when I came home from work (which is rare for me-the constant left-over avoider….)
Feel free to play around with the spice in this recipe.  The penne is quite forgiving, and I hope you won't be disappointed.
Spicy Penne Alla Vodka
Servings: 4
Ingredients
1 28-ounce can whole tomatoes, drained, liquid reserved
2 tablespoons olive oil
1/2 small onion, minced
1 tablespoon tomato paste
2 and 1/2 to 3 teaspoons minced garlic (about 3 garlic cloves)
1 teaspoon red pepper flakes (add more for extra spice-I added about 1/2 teaspoon more than this)
At least 1/2 teaspoon salt, plus more to taste
1/3 cup vodka (use that old stuff on the shelf-the quality really doesn't seem to make a difference)
1/2 cup heavy cream
1 pound penne pasta (I used white, per my father's request-but next time, I am going for whole wheat pasta)
Handful fresh torn basil leaves
Freshly grated Parmesan cheese
Instructions
1.  For the sauce: Divide your tomatoes into two halves.  Place one half in your food processor or blender to puree.
2. Chop the remaining half into small or bite size pieces and set aside.
3. Combine the pureed tomatoes and the diced tomatoes in a large measuring cup and add enough of the reserved juice to make a total of 2 cups.
4. Heat the olive oil in a large sauté pan over medium heat, until shimmering.
5. Add the onion and the tomato paste and cook, stirring occasionally, until the onions are lightly browned, about 3 minutes.
6. Add the garlic and the red pepper flakes and combine, stirring for another 30 seconds or so.
7. Add the tomatoes and 1/2 teaspoon of salt.
8.  Remove the pan from the heat and pour in the vodka.  Return the pan to the heat and simmer until the alcohol is cooked off and the liquid is reduced, about 8-10 minutes.
(Meanwhile, while the sauce is simmering, fill your large saucepan with enough water for the pasta and place over high heat until it boils.)
9. Stir in the cream and cook until heated through.
10.  For the pasta: At this point, your water should be boiling.  Cook your pasta, according to package directions, until al dente.  Drain your pasta, reserving 1/4 cup of the pasta water. (You may need this later.)
11. Transfer the pasta back to its saucepan and add the tomato sauce.  Stir to coat the pasta evenly. ***If the pasta appears too thick, you can add that pasta water to thin everything out a little.
12. Stir in the basil, and season to taste with salt and pepper.
13.  Garnish with extra fresh basil and Parmesan, if desired.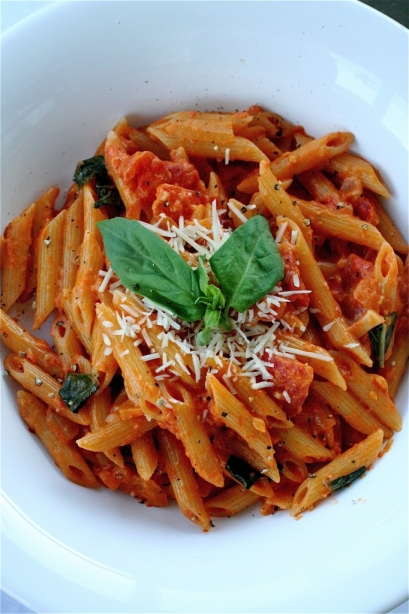 Adapted from Cook's Illustrated.