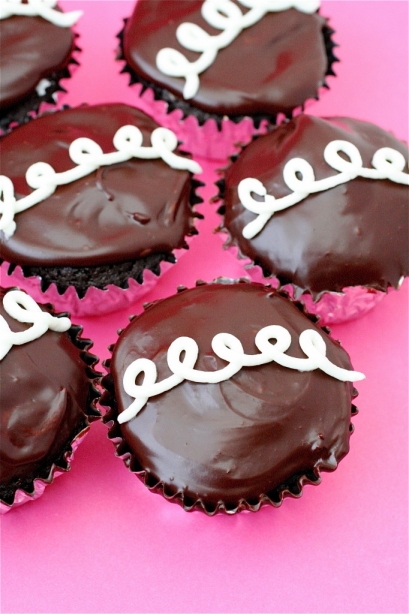 This recipe is directly from Annie's Eats.  Directly (don't worry-I have her permission).
Why, you might ask?  Because Annie is my co-worker, and for the past year and a half  in residency, she has made countless batches of birthday cupcakes for every single one of the residents and pathology assistants, and, sometimes she has even brought in some of her delectable desserts just for fun.  Everyone loves cupcake day.  She asks for our flavor combination requests, offers suggestions to those who can't decide which amazing treat to try, and drops them off in our resident break room (where they are promptly all consumed within an hour or so).  I have definitely forgone my healthy breakfast of a banana in lieu of one of her strawberry cupcakes-which I still count as a fruit anyways.  HA!
Since Annie's birthday was coming up, I knew that she deserved the chance to have someone make cupcakes for HER, for once.  Last year I made about a billion multi-flavored cake pops for her birthday, but this year, I wanted to tackle something a little different.  And, let me tell you, I was under a lot of pressure to make sure that whatever I made was delicious and Annie-esque.  When I asked her what type of birthday cupcake she desired, she wanted her Fauxstess cupcakes (which was a huge bonus to me, since I have had them bookmarked for ages).  She brought in these cupcakes last year, and they were one of my favorites.  Just like the Hostess kind, but with a little personal flair and, in my opinion, a much tastier chocolate cake.  They turned out better than I had expected!
So, Happy Late Birthday, Annie!  Thank you for always making cupcakes for us!
Fauxstess Cupcakes
Servings: 24 cupcakes***I actually tripled the recipe Annie has on her site to make enough (24) for the residents.  I have put the tripled recipe below, so some of the measurements may not be the most straightforward.
Ingredients
For the cupcakes:
1 and 1/2 cups cake flour, plus 6 additional tablespoons
1 cup Dutch-process cocoa powder
1 and 1/2 teaspoon baking powder
3/4 teaspoon baking soda
3/8 teaspoon salt***This was an awkward one to convert, so I just added 1/4 teaspoon and then one additional 1/8 teaspoon, for those who might be fractionally challenged (like me!)
6 large eggs, separated and at room temperature
1 cup canola oil
1 and 1/2 cups, plus 6 tablespoons of sugar
6 tablespoons water
For the filling:
18 tablespoons unsalted butter, softened (this is 2 and 1/4 sticks of butter)
4 and 1/2 cups confectioners' sugar
2 and 1/4 cups Marshmallow Fluff
4 and 1/2 tablespoons, plus additional 3 teaspoons of heavy cream**I had to add more as I stirred the filling mixture because I found it a little too thick to pipe at first.
For the frosting:
3/4 cup heavy cream
One 11.5 ounce bag of bittersweet chocolate chips
3 tablespoons unsalted butter, softened
Instructions
1. For the cupcakes: Preheat the oven to 350 degrees.
2.  Line your cupcake pans with your desired liner of choice (may I suggest silver?  It looked pretty cool!)
3. In a medium bowl, whisk together the flour, cocoa powder, baking powder, baking soda, and salt.  Set aside.
4. In a large bowl, combine the egg yolks, canola oil, 1 and 1/2 cups of sugar, and water until well-mixed.
5. Add the dry ingredients to the egg yolk mixture and mix until just combined.
6. In the bowl of your standing mixer fitted with the whisk attachment, beat the egg whites at high speed until soft peaks form.
7. Gradually add the remaining 6 tablespoons of sugar and whisk until the egg whites are stiff and glossy.
8. Beat one quarter of the egg whites into the batter to lighten the mixture.
9. Add the remaining egg whites and gently fold the mixture together until no streaks remain.
10. Divide the batter evenly among the prepared liners.
11. Bake the cupcakes until they spring back when lightly touched in the center, about 13-16 minutes, rotating the pans halfway during the baking time.
12. Remove the cupcakes from the oven and allow to cool slightly in the pan before transferring them to a wire rack to cool completely.
13. For the filling: In a medium bowl, beat the butter, confectioners' sugar, Marshmallow Fluff and 4 and 1/2 tablespoons of the heavy cream until fluffy.**At this point, I had to add a little extra cream because I found mine to be a little difficult to pipe (too thick), but, then again, I lost my large pastry tip coupler so I had to use my metal dessert decorator which is on its last leg and falling apart……
14.  Reserve about 3/4 cup of the mixture (this will be the piping curlicues on top), set aside.
15. Transfer the rest of the mixture to a pastry bag fitted with a 1/4-inch round tip.  (Or use your dessert decorator that is falling apart……)
16.  Beat the remaining 3 teaspoons of cream into the reserved 3/4 cups of filling, cover and reserve.
17. Gently insert the tip of the pastry bag about 1/2-inch deep into the top of each cupcake and lightly squeeze in some of the filling.
18. For the frosting: In a small saucepan over medium heat, heat the cream until steaming, stirring constantly.
19. Remove the cream from the heat, add the chocolate, and let stand for 5 minutes.
20. Add the butter and stir until smooth.
21. Transfer the chocolate mixture to a small bowl.
22.  Dip the top of each cupcake to thoroughly coat.
23. For the piping: Spoon the reserved filling into a pastry bag fitted with a very small plain tip and pipe curlicues across the center of each cupcake.
24. Refrigerate the cupcakes for at least 10 minutes to set the frosting.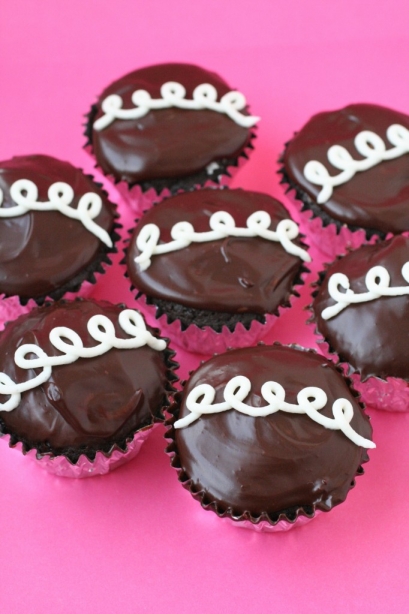 Source:  Directly from Annie's Eats.