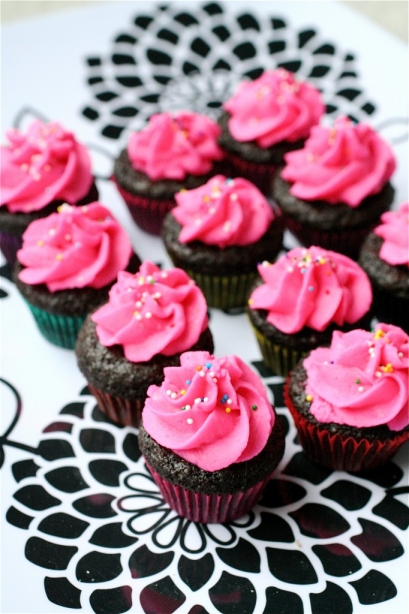 I'm on a Valentine's Day kick.  The next few posts are going to be all about one of my favorite things: baking.  And this post?  Baking with chocolate.
I don't know what it is: I equate Valentine's Day with chocolate.  Not with fancy dinners, not with flowers, not with jewelry.  For me, it's all about the chocolate.  When I was a little kid, my dad would always bring home a tiny red heart-shaped box full of chocolates-one for my older sister, Sara, and one for me.  Valentine's Day has always had a special place in my heart-but not for the romantic association.  It's more of a nostalgic thing for me as a kid-knowing that my dad would give my mom a big box of chocolates, and then always take care of his two "little valentines".  Love it.
I recently went through a 10 year hiatus where Valentine's Day was never celebrated.  A holiday made up by Hallmark?  A racket for upscale restaurants and wine sales?  How about florists?  Whatever opinion you may have, I think Valentine's Day is just another day to truly tell those around you how much they mean to you-regardless of the gifts given or received, big night out plans, or mushy sentiments.  I don't know.  I still do (and always have) had a little love for the day proclaiming to celebrate love.  And this year I am celebrating.
So, I'm foregoing the entrees, appetizers, and side dishes for the next few posts.  This is your fair warning.  These next few posts are celebrating some of MY loves-desserts.
Mini Chocolate Cupcakes
Servings: approximately 36 mini cupcakes
Ingredients
For the cupcakes:
1 and 1/2 cups all-purpose flour
1/2 cup cocoa powder***I used the "extra-dark" kind, and I loved the results!
2 teaspoons instant coffee powder
1 cup granulated sugar
1 teaspoon baking powder
1/2 teaspoon baking soda
1/4 teaspoon salt
3/4 cup milk***I used 2% because that's what I had on hand.
1/2 cup oil**I used peanut oil because I also had that on hand-it was an experiment. (and, in my opinion, an experiment with good results)
1 teaspoon vanilla extract
2 teaspoons apple cider vinegar
For the frosting: (You probably will not use all of this frosting-so please feel free to divide it in half, if necessary)
1 cup (2 sticks) unsalted butter, room temperature
12 ounces cream cheese, room temperature
4 cups powdered (confectioners') sugar
3/4 teaspoon pure vanilla extract
Rose or pink gel food coloring, to desired tint
Sprinkles, optional
Instructions
1. For the cupcakes: Preheat the oven to 350 degrees.
2. Line your mini muffin pans with your desired paper liners (or alternatively, just spray generously with cooking spray)
3. In the bowl of your standing mixer fitted with the whisk attachment, combine the flour, cocoa powder, instant coffee powder, sugar, baking powder, baking soda , and salt.  Mix well and set aside.
4. In a separate bowl, combine the milk, oil, vanilla, and apple cider vinegar, mixing well.
5. With the mixer running, slowly add the wet ingredients to the dry ingredients.  Mix until just combined.
6. Divide the batter evenly into the prepared mini muffin pan.
7. Bake for 10-12 minutes, or until a cake tester inserted into the center comes out clean.
8.  Remove cupcakes and let cool for about 10 minutes.  Transfer the cupcakes to a wire rack to let cool to room temperature before frosting.
9. For the cream cheese frosting: With a standing mixer on medium-high speed, beat the butter and cream cheese until fluffy, about 2-3 minutes.
10. Reduce mixer speed to low and add the sugar gradually, and mix until smooth, scraping down the sides of the bowl as needed.
11. Add vanilla and mix well.
12.  Add desired food color gel and mix to desired tint.  Set aside.  ***The frosting and cake can be made ahead of time and refrigerated up to 3 days ahead of time.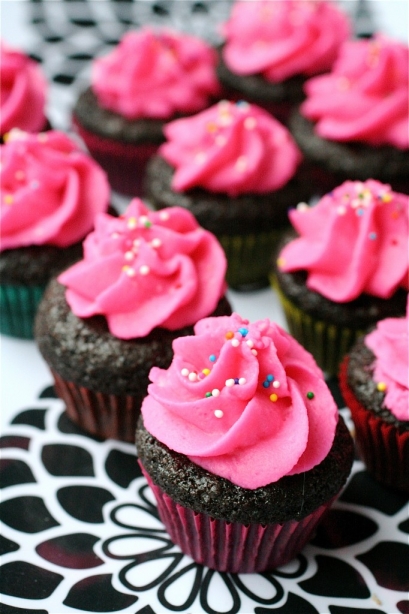 Source:  Cupcakes directly from Baking Bites, Frosting from Martha Stewart's Cupcakes.