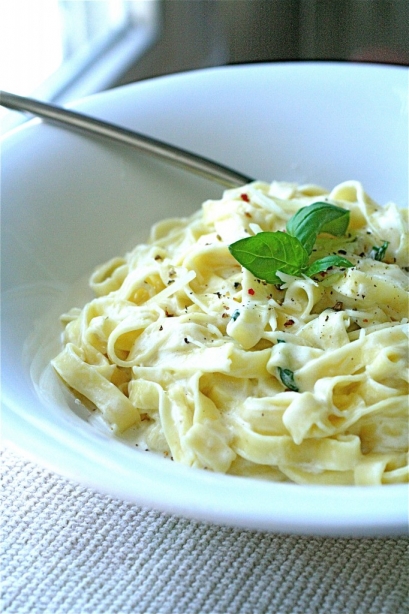 Oh, yes.  It's Fettuccine Alfredo time.
I've been just a wee stressed out lately.  A lot of big life, grown-up things going on.  And, what do I do?  I run for comfort food like it's my job.
Fettuccine alfredo gets a bad wrap.  Yes, it's calorie-laden.  Yes, it sticks to your gut.  And, yes, it's a very very guilty pleasure of mine.  I eat this dish maybe once every two years or so-usually out at a restaurant because I'm afraid that I will somehow botch the process up while making it at home.
However, I have discovered that this dish is one of the easiest and quickest dinners I have ever made.  Seriously.  If you buy the pre-made noodles (still working up the courage to try making my own pasta-waiting to buy that KitchenAid attachment….), the pasta is ready in about three minutes.  The alfredo sauce itself consists of just throwing together some ingredients in a saucepan and letting them do their own thing.  All in all, this meal is ready in less than 20 minutes total-just in time for you to open a bottle of good wine, throw together a small salad on the side, and take some relaxing deep breaths.  Life is good, my friends.
I modified this recipe to add some of my favorite things: cheese, basil, and red pepper flakes.  Feel free to play around with your own alfredo sauce combination.  And, now, because this dish is so incredibly simple to make (and quick), I will have to hold myself back from making it too often.
Fettuccine Alfredo
Servings: 4
Ingredients
9 ounces fettuccine***Use the fresh stuff in the refrigerated section of your grocery store.  It makes a huge difference.  I can't wait to try this with my own fresh homemade pasta!
1 and 1/2 cups heavy cream
2 tablespoons unsalted butter
1/2 cup shredded Parmesan cheese***You can use all Parmesan if you have it on hand, but I wanted to add a little more flavor..and I love cheese.
1/2 cup mixed grated cheese (I used a pre-made mix from my grocery store cheese section: asiago, Romano, and Parmesan….so delicious!)
Pinch of fresh grated nutmeg
2 tablespoons fresh basil, torn, plus more for garnish
Sea salt and pepper, to taste
1 teaspoon red pepper flakes, optional
Instructions
1. In a large Dutch oven or saucepan, bring approximately 4 and 1/2 quarts (or however much you need for the pasta) to a boil.**My stove takes a while to get hot enough, so I did this first.  The cream needs to simmer for about 15 minutes, and you want everything to be done around the same time, so plan accordingly. 🙂
2. In the meantime, in a separate medium-sized saucepan, bring 1 cup of the cream and the 2 tablespoons of butter to a gentle simmer over medium-high heat.
3.  Once the cream/butter mixture gets to a simmer, reduce the heat to low and let the mixture reduce down to about 2/3 cup (about 15 minutes), stirring occasionally.
4.  Remove the cream/butter mixture from the heat, and add the remaining 1/2 cup cream, red pepper flakes, and salt and pepper.  Return the saucepan to the stove, and increase the heat to medium-high, stirring frequently.
5. Once the water is boiling, add your pasta and cook until just shy of al dente, reserving 1/4 cup of the pasta water after draining. **My package instructions said about 2-3 minutes.
6. Once the pasta is drained, return it to your Dutch oven with the reserved 1/4 cup of the pasta water.
7.  Add your cream mixture to your pasta, coating thoroughly with tongs.
8. Add the Parmesan, cheese mix, torn basil, and nutmeg, mixing well to coat evenly until cheese is melted and heated through, about 1-2 minutes. **Mine looked thin at first, but then it quickly thickened up.
9.  Add additional fresh basil, red pepper flakes, and salt and pepper (if desired), and serve immediately.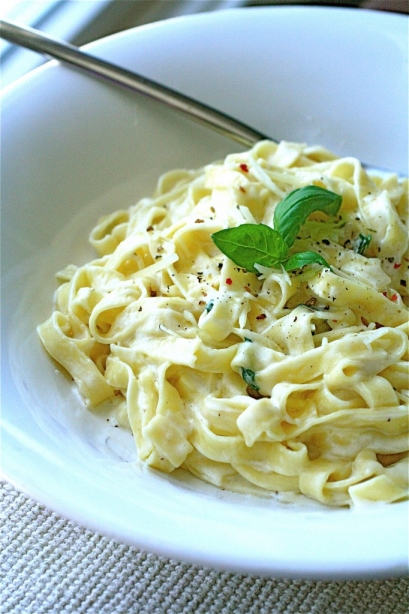 Adapted from Cook's Illustrated.