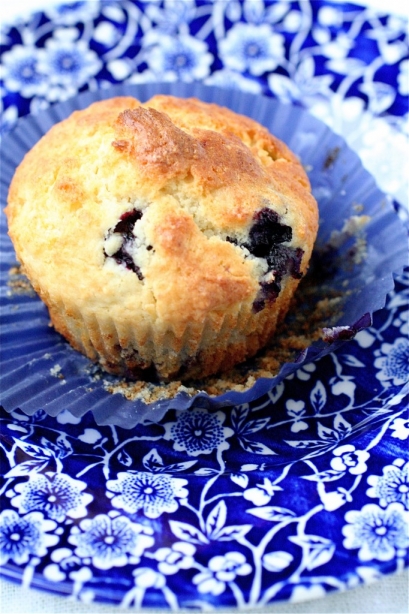 What does one do with a tub of ricotta that will expire at the end of the week and a half pint of fresh blueberries that are about to shrivel away?
Make muffins, of course!
It coincidentally happened that I was going through some old bookmarked recipes of mine, and I came across this one. Hmmm…I thought…I have ricotta on hand.  And, why yes, I also happen to have fresh blueberries on hand that might be pretty good with this recipe.  And, since I've been doing a lot of studying lately (which actually equals having a mug of tea or coffee along by my side at all times and a secret desire for some sort of baked good), muffins actually sounded pretty good to me.  Especially blueberry ones.
It's been very dreary here in Indiana the past couple of days, so the idea of fresh fruit was appealing.  Although, I guess when the weather is bad, I am forced to stay inside and get some much-needed work/writing done.  Poor Scout.  There was one day last week that was absolutely lovely outside, so I took her for a nice long walk.  Everyday she now looks at me and her leash, waiting to go out, but then she realizes it's cold and rainy (she does not like the rain one bit!).  I'm ready for spring.
But, enough digression.  Let me tell you about these muffins.  Moist, soft, and sweet.  Soft lemon flavor.  Juicy blueberries. You could up the lemon factor a little bit if you desire.  If I make these again, I will definitely add some more lemon flavor to the batch.  Served warm from the oven, with a little butter and honey, and oh my!  You could get me to study anything if I had these to snack on all the time…….
Blueberry Lemon Ricotta Muffins
Servings: 16 muffins
Ingredients
2 cups all-purpose flour
1/2 cup granulated sugar
2 and 1/2 teaspoons baking powder
1/2 teaspoon salt
1 cup ricotta cheese **I used low-fat, but I increased the butter in my adaptation for fear of dreaded muffin dryness
1/2 cup milk**I used skim
8 tablespoons (1 stick) unsalted butter, softened
2 large eggs
Zest of 2 lemons
1 cup fresh blueberries
Instructions
1. Preheat the oven to 400 degrees.
2. Line a muffin tin with desired paper liners, or spray with cooking spray.
3.  In a large bowl, combine the flour, sugar, baking powder, and salt, mixing well.  Set aside.
4. In your standing mixer fitted with the paddle attachment, mix the ricotta cheese, milk, and butter at low-speed, mixing well.
5.  Add the eggs, one at a time, mixing well after each addition.
6.  Add the lemon zest, mixing well.
7.  On low speed, slowly add the dry ingredients to the wet ingredients, until just combined.
8. By hand, gently fold the blueberries into the batter (you don't want them to break apart from the intensity of the paddle) with a rubber spatula.
9.  Evenly divide the batter between your prepared pans, and bake until golden brown on top, about 25 minutes, rotating the pans halfway through baking.
10.  Let cool for 10 minutes in muffin pans before transferring to a wire rack to cool completely.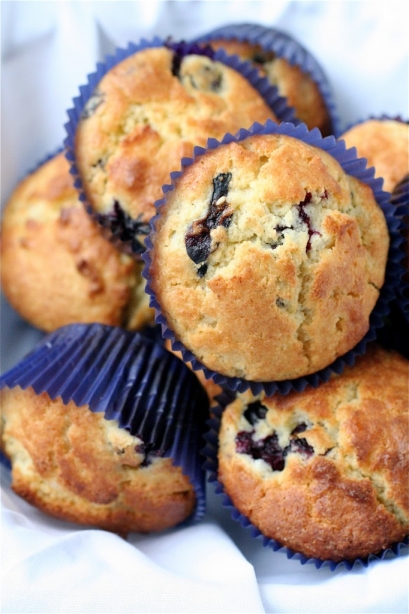 Barely adapted from The Taste Space, as seen on A Year in the Kitchen, originally adapted from Rosa's Yummy Yums.