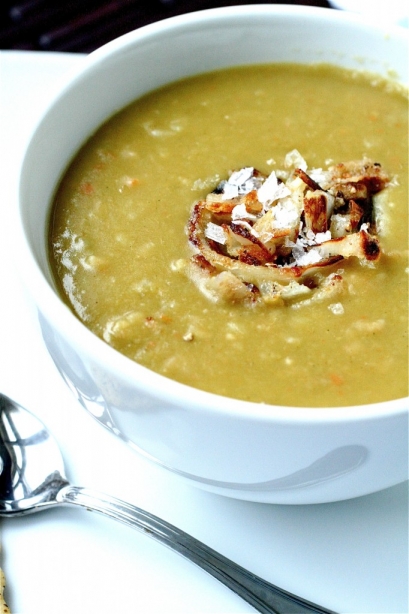 Have you ever realized how hard it is to find a split pea soup recipe that's 100% vegetarian?  (Or, at least one that you would be willing to eat?)  Trust me, it's a difficult task.
I grew up in a family that treasured making homemade soups and stews on the stove, especially on long Sundays in the winter.  My mom and dad are experts at ham and bean soup, chicken and dumplings, and beef stews.  I grew up loving these comfort foods, but, now that I am back on the meat-free bandwagon, these savory treats are something that I miss out on now. And, although I don't miss eating the meat, I miss the way these meals made me feel.  There's nothing better than a nice hot bowl of a filling soup on a cold and dreary day.
I saw this recipe and figured I needed to try it.  Dried split peas at my grocery store run about $2, and I had all the other ingredients on hand.  I think it cost me less than $5 total to make this entire pot of split pea soup-which equaled several days of leftovers and easy to re-heat lunches.  I added the potato to the mix because I like my pea soups particularly thick, and I knew the additional starches from the potato would do just that.  I found that the soup thickened substantially over the course of the next few days, so if you prefer a more watery soup, then I would advise leaving the potatoes out or just adding a bit of water to the mix when you re-heat the soup.
The crispy onion strings added a little bit of extra crunch to the soup, and they were super simple to make as well.  Recently I purchased a box of smoked sea salt, and, let me tell you, the smoky flavor added a whole other dimension to the soup.  I considered this recipe as a major success: cheap, incredibly healthy, and super easy to make.  I hope you like it.
Vegetarian Split Pea Soup
Servings: about 8 1-cup servings
Ingredients
For the soup:
1 pound dried split green peas
3 quarts water
2 tablespoons vegetable oil
2 stalks celery, diced into 1/2-inch pieces
2 carrots, diced into 1/2-inch pieces
1 medium yellow onion, diced into 1/2-inch pieces
1 teaspoon dried thyme
2 bay leaves
2 medium Yukon Gold potatoes, cut into 1-inch pieces
Salt and pepper, to taste
For the onion strings:
1 small yellow onion, sliced thinly
1 teaspoon vegetable oil
1 tablespoon flour
Salt and pepper, to taste
Smoked sea salt for final garnish, optional
Instructions
1. For the soup: In a large Dutch oven or saucepan over high heat, bring the peas and water to a boil.
2. Boil the soup, uncovered, for two minutes.
3. Reduce the heat to low, cover, and simmer for 1 hour.  (This will dissolve your peas).
4.  After the hour is over, add the oil to a medium skillet over medium-high heat.
5.  Add the celery, carrot, onion, and thyme to the oil and cook, stirring frequently, until softened, about 8-10 minutes.
6. Add the mixture to the Dutch oven, add the bay leaves and potatoes, and simmer over medium-low heat, stirring occasionally.
7.  Continue simmering, stirring occasionally, until the soup has thickened, about 2-3 hours.
8.  Season to taste with salt and pepper.
9. For the onion strings: In a small sauté pan over medium-high heat, add the oil until shimmering.
10.  In a small separate bowl, toss the sliced onions with the flour and salt and pepper.
11.  Add the onions to the pan, and cook, stirring occasionally, until the onions are nicely browned and crispy, about 15 minutes or so.
12.  Garnish the soup with the crispy onions and smoked sea salt (if using), and serve immediately.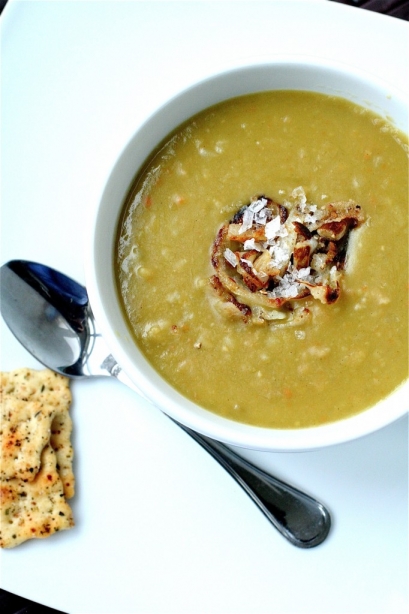 Adapted from Food and Wine Magazine.