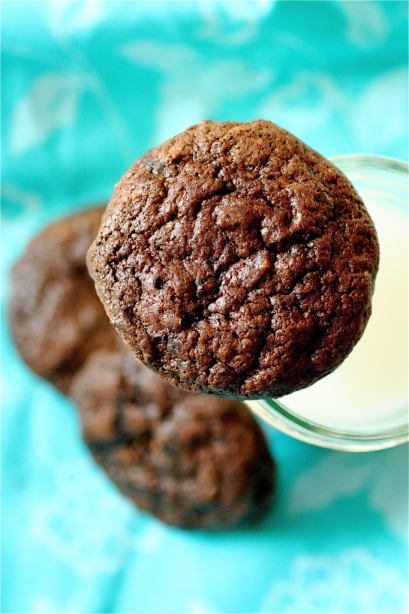 Hello, Triple Chocolate Cookies.
I made these for my nephews the other day while I was babysitting them.  Elliott loves chocolate, and Oliver just loves food in general (so cute!), so this was something that I was looking forward to sharing with them.  I didn't have the thought to take a picture of them with chocolate covering their faces, but the look on Elliott's face when I handed him his very own cookie, still warm from the oven, was priceless.  He and I stood by the oven door, watching the cookies bake and talking about how wonderful the kitchen smelled.  I hope that my love for all things cooking/baking-related gets passed down to these boys.
Since this was an impromptu recipe for me, I didn't have all the ingredients on hand.  I had to modify the recipe quite a bit-I had to leave out quite a bit of chocolate (travesty), but the cookies still had enough chocolate to knock out my intense chocolate cravings.  And, better yet, they are Elliott and Oliver-approved.  Moist, thick, and fantastic with a cold glass of milk and a movie date with your nephews. Life doesn't get much better than that.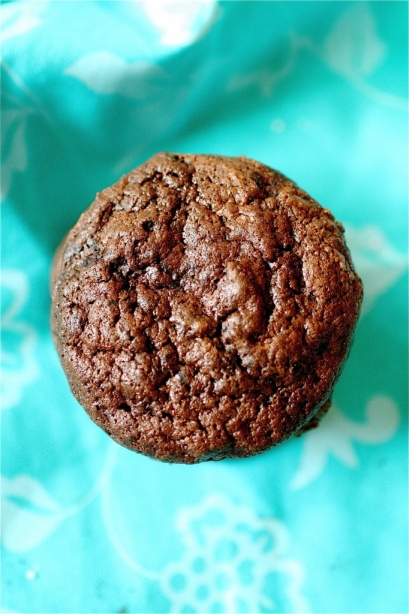 Triple Chocolate Cookies
Servings: approximately 36 cookies
Ingredients
2 cups all-purpose flour
1/2 cup dark cocoa powder***I used Hershey's dark chocolate cocoa powder for that rich taste
2 teaspoons baking powder
1 teaspoon salt
8 ounces bittersweet chocolate chips
8 ounces semisweet chocolate chips
4 large eggs
2 teaspoons vanilla
2 teaspoons instant coffee crystals
10 tablespoons (1 and 1/4 sticks) unsalted butter, softened
1 and 1/2 cups packed light brown sugar
1/2 cup granulated sugar
Instructions
1. Adjust the oven racks to the upper-middle and lower-middle positions, and preheat the oven to 350 degrees.
2. Line baking sheets (I ended up using 4 total) with parchment paper.
3. In a medium bow, combine the flour, cocoa powder, baking powder, and salt. Set aside.
4. In a heatproof bowl over gently simmering water, melt the half of the chocolate (4 ounces of the bittersweet and 4 ounces of the semisweet), stirring until smooth.
5. In a small separate bowl, whisk the vanilla and egg together.
6.  Add the coffee crystals to the vanilla/egg mixture and stir to dissolve.
7. In the bowl of your standing mixer fitted with the paddle attachment, beat the butter at medium speed until smooth and creamy.
8. Add the sugars and beat until combined, about one minute.
9. Reduce the mixer speed to low and slowly add in the vanilla/egg/coffee mixture, mixing well.
10.  Add the melted chocolate and remaining chocolate chips, and mix until combined.
11.  Add the dry ingredients to the mixture and mix until just combined.
12.  Cover the bowl with plastic wrap for about 15 minutes or so at room temperature: when you make your cookies, you will need the dough to be have a fudge-like consistency.
13. Using a cookie dough scoop (or a spoon), scoop dough onto the prepared baking sheets, leaving about 1 and 1/2 inches between each dough ball.
14. Bake the cookies, rotating and switching the baking sheets halfway through, for 10 minutes.  ***They will look very soft, but that it what they are supposed to look like!
15.  Cool the cookies on the baking sheets for about 10 minutes, and then transfer to a wire rack.
16. Repeat the baking process with any remaining dough.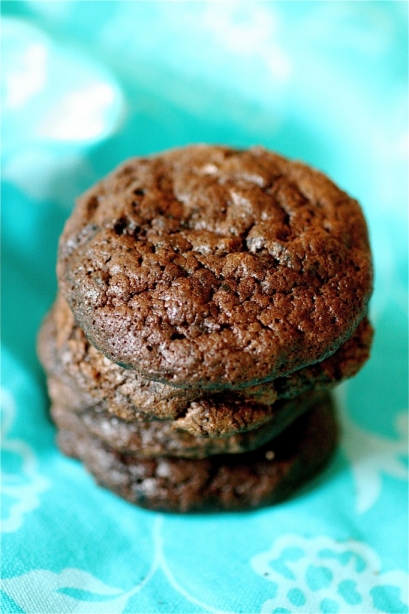 Adapted from:  Cook's Illustrated