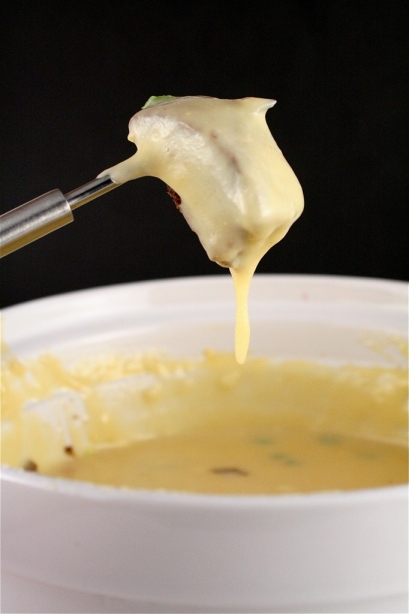 If you know me at all (or if you read this blog regularly), then you will know that I love cheese.  LOVE. CHEESE.  All forms.  All shapes, sizes, flavors (even the stinky stuff-I will at least try it), and variations.  I tend to add it to most everything.  I have at least five or six different kinds of cheese right now in the refrigerator: string, shredded, blocks, and spreadable.  It's all good in my world.
So when Wisconsin Cheese Talk approached me a few months ago to be a guest poster on their blog, I was excited.  The catch?  Create a unique recipe highlighting cheese as one of the main ingredients.  No problem!
And what do I go to?  Fondue, of course.  Fondue is one of those things that has always had a soft spot in my heart.  What better is there than hot, melted cheese?  And talk about creative liberties when it comes to creating a unique cheese-inspired dish….the possibilities are endless.  I have been making fondue for years now…and somewhere along the way, I morphed my own little recipe from adaptation after adaptation.  Now, fondue is one of those dishes that you need not be afraid of, if you have never tried it.  It's incredibly easy, and creating a unique recipe was not a hard task at all.  And, believe me, I have tried all kinds:  Swiss, pub-style, Mexican-inspired, and even a slightly cherry-flavored adaptation.  But this one? It's my favorite-because it has the most cheese in it, of course!  I loved the tanginess of the blue cheese here, but I know many people are not big fans.  If you don't like blue cheese, feel free to add another type of cheese instead-I'm sure that anything will taste great!
If you love cheese, too, then I suggest you check out Wisconsin Cheese Talk for yourself to find some inspiring and quite drool-worthy recipes featuring cheese.
Four Cheese Fondue
Serves: 6-8 people
Ingredients
8 ounces (1 cup) Fontina cheese, grated
8 ounces (1 cup)  Butterkase cheese, grated
4 ounces (1/2 cup) mild cheddar cheese, grated
4 tablespoons flour
1 teaspoon dry mustard powder
Pinch cayenne pepper
1 shallot, minced
1 teaspoon garlic, minced (1 clove)
1 and 1/2 cup white wine, room temperature ***I used a dry white, like Sauvignon Blanc
1/4 cup dry sherry
1/4 cup blue cheese, crumbled
2 tablespoons scallions, chopped
Salt and pepper, to taste
For serving:  sourdough bread, pumpernickel bread, dill pickles, cauliflower, carrots, celery, apple wedges, and pretzels
Instructions
1.  In a large mixing bowl, combine the grated cheeses, flour, mustard powder, and cayenne pepper, mixing well to coat the cheese with the flour.
2.  In your fondue pot (or, alternatively, in a medium saucepan on the stove over medium heat), combine the shallot, garlic, white wine, and sherry over your flame until simmering and steaming.  If this seems to take too long, just preheat the ingredients on the stove and then transfer the mixture to the fondue pot when steaming.
3.  Once hot, add the cheese mixture in thirds to the fondue pot, mixing well after each addition, and stirring until smooth.
4.  Add the blue cheese, stir well.
5.  When ready to serve, add the scallions and season with salt and pepper to taste.
6.  Serve with bread, fruits, and/or vegetables (see above for serving accompaniment suggestions) as desired, and have fun!
Enjoy!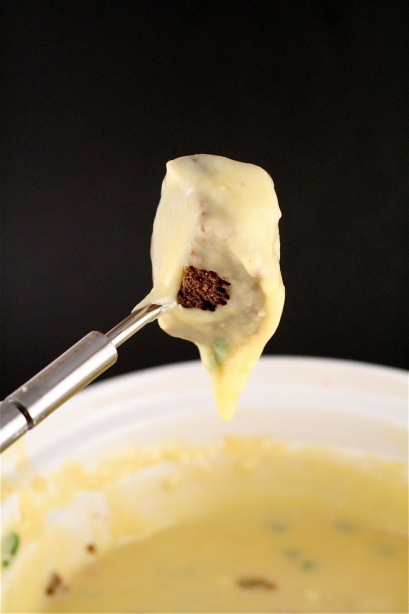 Source:  A Curvy Carrot original