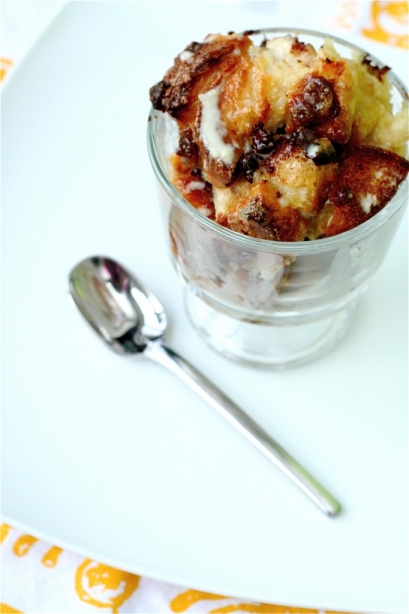 I cannot believe that it's almost mid-March already.  Where did the time go?  It seems like just yesterday we were celebrating the holidays.  Now (hopefully) the weather is turning a little nicer, and, just the other day, I saw the first signs of daffodils coming up.  Every year this sends little waves of happiness through me.  I love spring.
The other day I posted about adding more liqueurs to my cooking.  Well, today, I am proving it.  I came across this recipe and decided that it was worth a shot.  First, I have never made a bread pudding before.  I have never found them to be appealing (my first mistake).  I have a big texture aversion in some foods, and bread soaked in an egg sauce did not seem all that appealing to me.  But, with St. Patrick's Day coming up, and some of that Bailey's Irish Cream in my refrigerator, I thought I could give it a try.  Calorie-laden?  Yes. Containing both white and dark chocolates?  Yes.  My little brother was coming into town to visit, and I figured that if I didn't like it, he would be sure to happily eat any leftovers.
Now, while I still have a slight aversion to bread pudding textures, this is one of the best desserts I have ever made.  Served warm, with that amazing sauce drizzled on top, this recipe was one of the most rich and, oddly enough, light-tasting desserts I have ever had.  The texture is what made it seem lighter, I suppose. It wasn't too boozy, but the hint of Bailey's was still respectable. The only bad thing about the dessert is the lack of instant gratification-you need some time to prepare and cool the sauce, as well as some additional time to let the bread pudding "soak".  In the end, Ben didn't have to eat all the leftovers….because I did.
Irish Cream Bread Pudding
Servings: 8
Ingredients
For the Irish Cream sauce:
2 cups heavy whipping cream
6 tablespoons Bailey's Irish Cream (or whatever similar brand you have on hand)
1/4 cup granulated sugar
1/2 teaspoon vanilla extract
2 teaspoons cornstarch
2 teaspoons water
For the bread pudding:
14 cups of 3/4-inch cubed French bread
6 ounces bittersweet chocolate chips
6 ounces white chocolate chips
4 large eggs
1/2 cup plus 4 tablespoons granulated sugar
2 teaspoons vanilla extract
2 cups heavy whipping cream
1/2 cup whole milk
Nonstick vegetable oil spray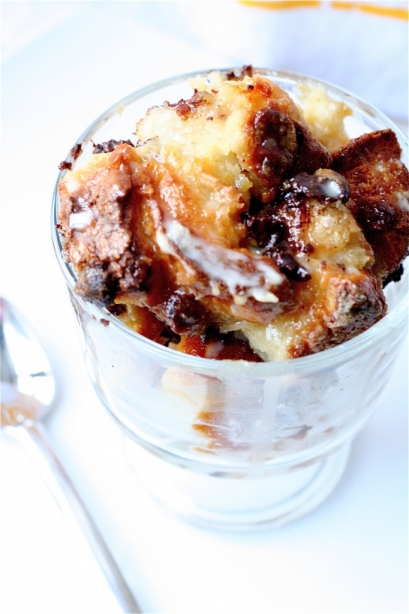 Instructions
1. For the sauce: In a medium saucepan over medium heat, bring the whipping cream, liqueur, sugar, and vanilla to a boil, stirring frequently.
2.  In a smaller, separate bowl, mix the cornstarch and water until combined.
3. Add the cornstarch/water mixture to the cream,, stirring well.
4.  Boil the mixture, stirring constantly, until thickened (about 3 minutes).
5. Remove mixture from the heat, cool, and transfer to a lidded container and chill until cold (about 2 hours).
6. For the bread pudding: In a large bowl, combine the bread cubes and white and dark chocolate chips.
7. In a separate bowl (or the bowl of your standing mixer fitted with the paddle attachment), beat the eggs, 1/2 cup plus 2 tablespoons of sugar, and vanilla.
8. Gradually add in the 1 and 1/2 cups of whipping cream and the whole milk.
9. Once well combined, add the mixture to the bread/chips, and stir to combine.  Set aside, and let the mixture sit for 30 minutes.
10. Preheat the oven to 350 degrees.
11. Spray a 9×13-inch baking dish with nonstick cooking spray.
12.  Transfer the soaked bread pudding evenly to the dish.
13.  Drizzle the remaining 1/2 cup of whipping cream over the bread pudding mixture.
14. Sprinkle with the remaining 2 tablespoons of sugar.
15.  Bake the bread pudding for 1 hour, or until the central portion of the pudding is set.
16.  Cool slightly, drizzle with the sauce, and serve warm.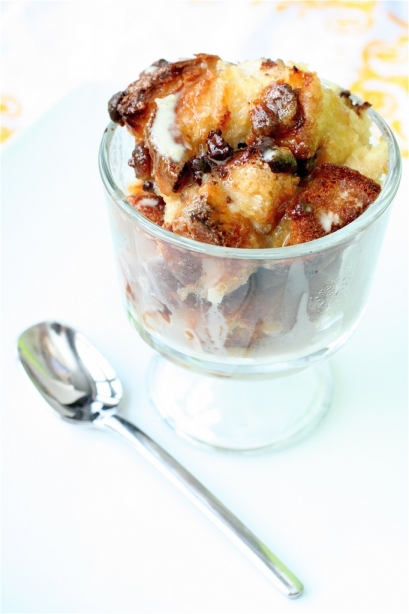 Source:  Barely adapted from Bon Appétit, November 2003 via Epicurious.