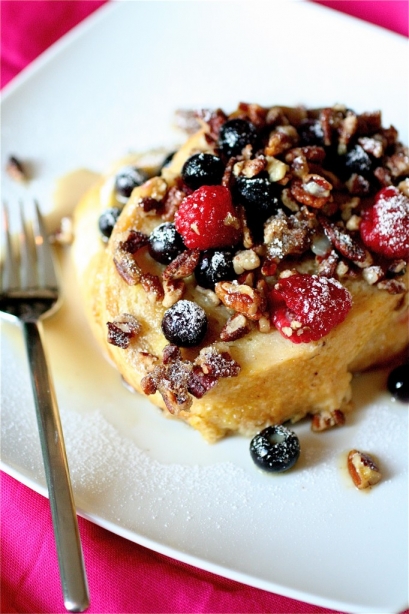 Bring on the breakfast carbs!
I haven't posted too many sweet breakfast dishes-well, because I think I have told you before that I always go for the savory.  But, I'm dabbling into dangerous territory.  This is a world that I am hesitant to enter (just like the pasta world)….for fear that I may never come back to sanity.   But, these dishes always look so fantastic and welcoming….just daring me to cross over to the "sweet" side-this time, I dove head-first, carelessly and spontaneously, into the world of all things delicious: Baked French Toast.
Ok.  So I am exaggerating now.  Breakfast sweets are not that bad.  They are wonderful.  I met my girlfriends out for brunch a few weekends ago, and one of them got a nice spread of waffles.  Since then, I had visions of glazed pecans and sweet fruit on bread dancing in my mind.  This recipe satisfied all cravings and has since eradicated all neurotic visions of dancing bread.  🙂
So let me tell you about this recipe.  Buttery sweet glazed pecans.  Ripe, juicy, warm blueberries and raspberries under a sprinkling of sifted powdered sugar.  Thick bread with a sweetened vanilla sauce. Absolutely no need for syrup.
Bring it.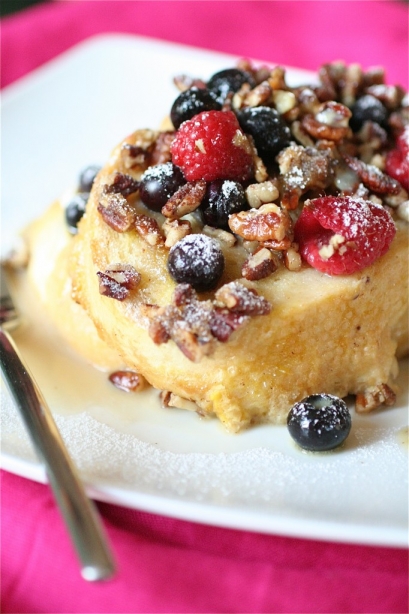 Baked Berry French Toast
Servings: 6
Ingredients
One large baguette (I used a Vienna-style baguette from my local grocery store), and I only used about half, sliced
6 large eggs
3 cups whole milk
1/4 teaspoon freshly grated nutmeg
1 teaspoons vanilla
1 cup packed light brown sugar
1 cup pecans
1/4 cup plus 1 teaspoon unsalted butter
1/4 teaspoon salt
1 cup blueberries
1 cup raspberries
Instructions
1. Lightly butter a 13 x 9-inch baking dish.
2. Place the bread slices evenly in one layer on the bottom of the dish.
3. In a large bowl, combine the eggs, milk, nutmeg, vanilla, and 3/4 cups of the brown sugar.
4. Pour the mixture evenly over the bread, making sure to completely coat the surfaces.
5. Cover the baking dish with plastic wrap and chill for at least 8 hours, or overnight.
6. Preheat the oven to 350 degrees.
7. Place the pecans on a baking sheet and toast until golden brown and toasted, about 8 minutes.
8.  Remove the pecans from the oven, and add 1 teaspoon of butter and the salt to the pan.  Using a spatula, toss to coat the pecans.
9. Increase the oven temperature to 400 degrees.
10. Sprinkle the pecans and blueberries/raspberries evenly over the bread.
11. In a small saucepan over medium heat, combine the remaining 1/4-cup of brown sugar and 1/2 stick of butter until the butter is melted.
12.  Drizzle the butter/brown sugar mixture over the bread.
13.  Bake the bread mixture for 20 minutes, until liquid is bubbling and the bread is lightly golden.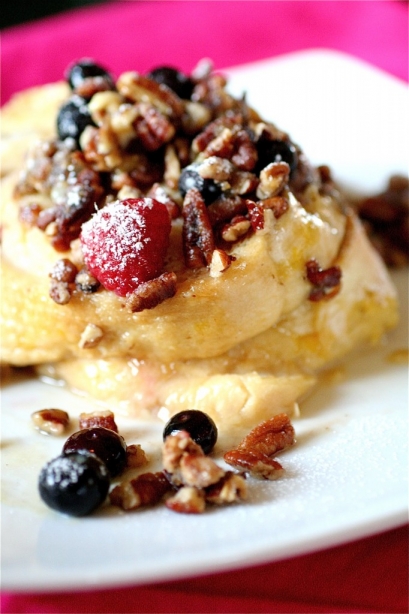 Source: Adapted from Gourmet, June 1999 via Epicurious.