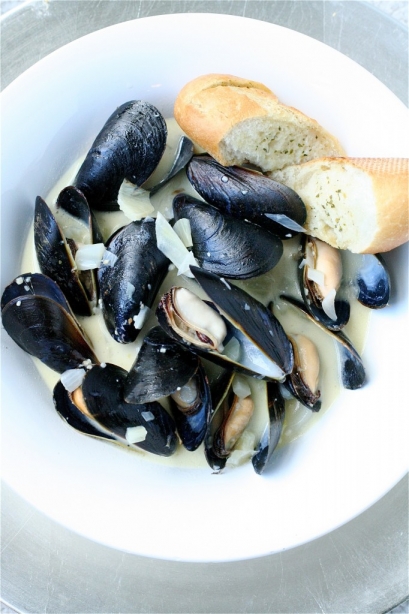 Forget breakfast carbs.  Forget buttercream roses.
THIS is entering dangerous territory.
When I decided to bite the bullet and finally start this blog, one of my personal vows was to use this as a personal avenue to stretch my culinary wings.  I knew I could make cookies, cupcakes, bar cookies, and biscotti.  I knew how to turn on my (borrowed) camera.  What I didn't know, but what I really hoped for, was a challenge to create new meals, try new things, and meet new people along the way.  I can definitely say that this dish is a testimony to my adventure into a world unknown.
Let's be honest here.  I'm a born and raised Midwestern girl.  I ventured to (the suburbs of) Chicago for med school (but that doesn't count, because I had neither the time nor the money to enjoy the city life), and while I love trying all kinds of ethnic cuisine, my experience is somewhat limited.  Don't get me wrong.  I can make a mean biscuits and gravy (minus the sausage), shuck corn like you wouldn't believe, and, at the same time, demonstrate wholesome morals and values.  Wait. Maybe not-I'm describing your typical stereotypical Midwestern girl, aren't I?  Maybe I fall into that category.  I don't know.
Anyways, I stood at the seafood counter of Whole Foods seriously considering my decision to make this dish.  Are mussels too adventurous for me?  I have had them several times at a local Indianapolis restaurant, but I have never made them at home…on my own.  My only memories of mussels as a kid consisted of me adamantly yelling at my mother for buying them once and then insisting on talking to them as they were waiting to be cooked. I was thinking about whether or not to buy them when I remembered my vow of personal motivation to experience what life has to offer.  Dramatic?  Yes.  Necessary?  Probably.  I have to get out of my culinary rut, ladies and gentlemen.  This recipe was a giant leap for me.
This recipe was incredibly simple.  The flavor was soft and mellow.  The mussels were sweet and delicate.  Having this dish with garlic bread on the side is a must.  Since my mom is a fan of mussels, I shared them with her.  (OK.  Complete moment of truth:  I wasn't sure I would be able to handle the mussels and wanted her there as back-up so as not to waste my money….)  I consider her to be a connoisseur of mussels.  She told me that they were the best mussels that she has ever had.  So…hopefully you will feel the same.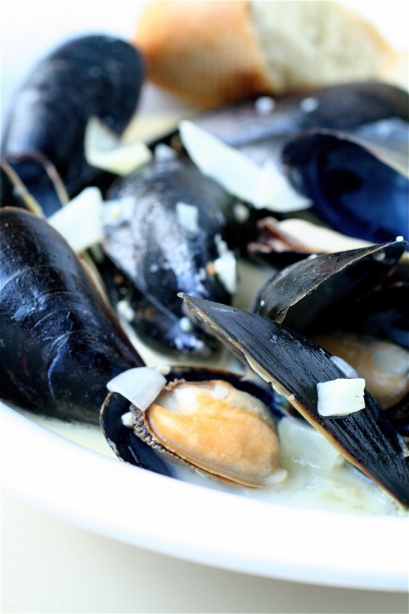 Mussels with White Wine, Cream, and Fennel
Servings: 6 ***I cut this recipe in half when I made it, but I am posting the full version here for you.
Ingredients
1/4 cup (1/2 stick) unsalted butter
1 cup fennel bulb, chopped
2 shallots, chopped
4 teaspoons minced garlic (about 4 cloves)
1 and 1/2 cups dry white wine
1/2 cup heavy whipping cream
2 pounds mussels (I used Prince Edward Islands-so good!), scrubbed and debearded (I bought them already prepared)
Garlic bread, optional
Instructions
1. In a large Dutch oven or stockpot over medium-high heat, melt the butter.
2. Add the fennel, shallot, and garlic, and cook until tender, about 5 minutes.
3. Add the white wine and cream to the mixture and bring to a boil.  Let the mixture boil until thickened, about 10 minutes.
4. Add the mussels to the pot and cover. Cook until mussels open, about 5 minutes.***Discard any mussels that do not open.
5.  Divide evenly among bowls, making sure to ladle extra sauce into each bowl.
6.  Serve immediately.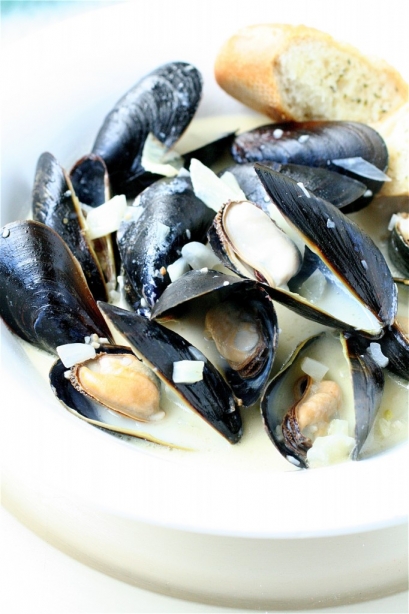 Source:  Slightly adapted from Bon Appétit, December 2001, via Epicurious.