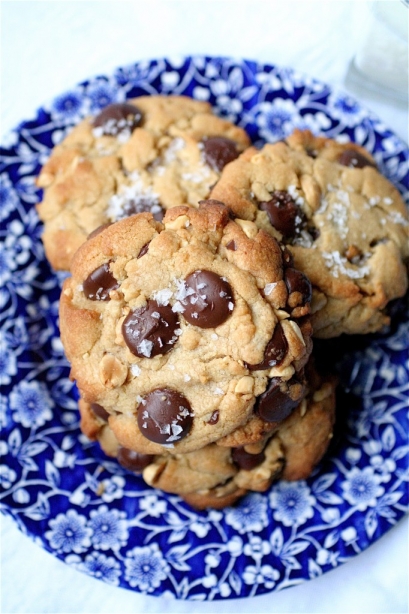 Oh dear.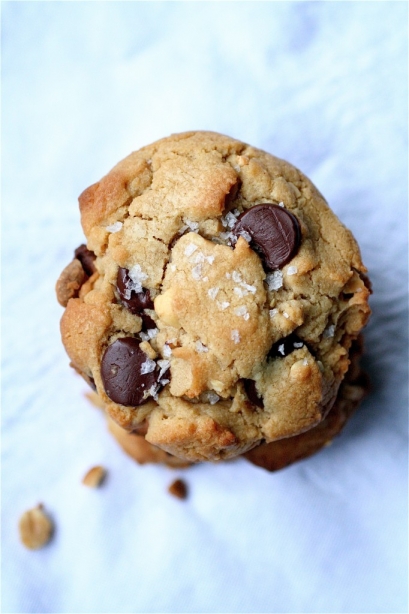 It was definitely one of THOSE days.  You know, the kind where distractions abound.  Where no work gets done and the amount of work steadily increases.  Someone at work is talking about healthcare plans, Medicare, and how much the cost of chemical reagents are.
I'm telling myself to pay attention.  But then, my own voice (weird) whispers in my head…."Cookies."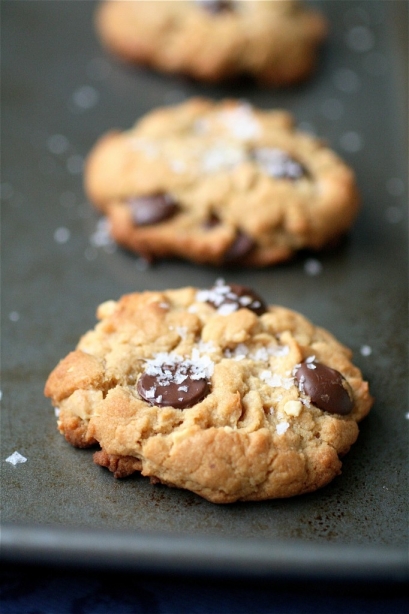 "Stop it, Shanon.  Come on, be a big girl and pay attention.  They are talking about billing codes-the grown-up stuff you are going to have to know."
So I focus.  I listen.  I really do.  I listen and then I hear it again: "Cookies."

It's a persistent voice.  I shake it off.  "I'm a professional here. I am a working woman."
Then it shouts, "Peanut butter cookies…the ones with the chocolate chips…oh!  and the sea salt….remember how much you love peanut butter?  And chocolate?  And sea salt?  Remember you have that Whole Foods cookie recipe bookmarked?  And, you have your favorite blue plate which will contrast so well with the cookie?  And the lighting is starting to be that beautiful, almost magical white light in the evenings that has "perfect"  DSLR white balance?  Remember?  If you make these when you get home, you will have enough time to take your Pilate's class, take the pictures, AND study like a mad woman before you fall asleep?"
Game over.  The cookies won.
So I came home, took the Pilate's class, made the cookies (I ate four right off the baking sheet), took the pictures, and studied like a mad woman.  It was a good day.

Peanut Butter Chocolate Chip Cookies
Servings: approximately 20 cookies
Ingredients
1/2 cup (1 stick) unsalted butter, room temperature
1/2 cup creamy peanut butter
1/2 cup granulated sugar
1/4 cup plus 2 tablespoon light brown sugar
1 large egg
1/2 teaspoon vanilla extract
1 and 1/2 cups all-purpose flour
1/2 teaspoon baking soda
1/2 teaspoon baking powder
1/2 cup roasted, unsalted peanuts, coarsely chopped
1 cup bittersweet chocolate chips
Fleur de sel, to taste (Sea salt)

Instructions
1. Preheat the oven to 350 degrees.
2.  In the bowl of your standing mixer fitted with the paddle attachment, cream the butter, peanut butter, granulated sugar, brown sugar, egg, and vanilla extract until light and fluffy, about 2 minutes.
3.  In a separate large bowl, whisk together the flour, baking soda, and baking powder.
4.  With the mixer running, slowly add the flour mixture to the peanut butter mixture, mixing until combined.
5. Add the peanuts and chocolate chips, and mix to combine.
6.  In rounded tablespoons, place the cookies about 2 inches apart on an ungreased baking sheet, pressing each one down slightly to flatten.
7.  Bake the cookies until the bottoms are lightly browned, about 10 minutes total, rotating the pan halfway during the baking time.
8.  Remove the cookies from the oven and immediately sprinkle each cookie with the sea salt, to taste.
9.  Transfer the cookies to a wire rack and let cool completely.

Source:  Directly from Whole Foods Market.