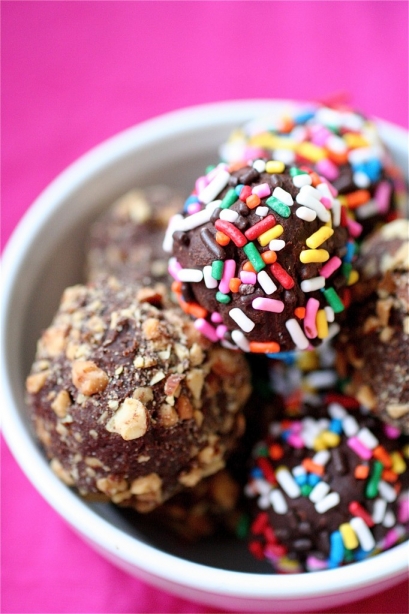 Why the heck have I not made chocolate truffles before?
Was it because I thought they were so hard to make?  Was it because I thought they were so time-consuming?  Or was it because I couldn't decide on what kind of topping I would like to roll them in?
Answer:  all of the above.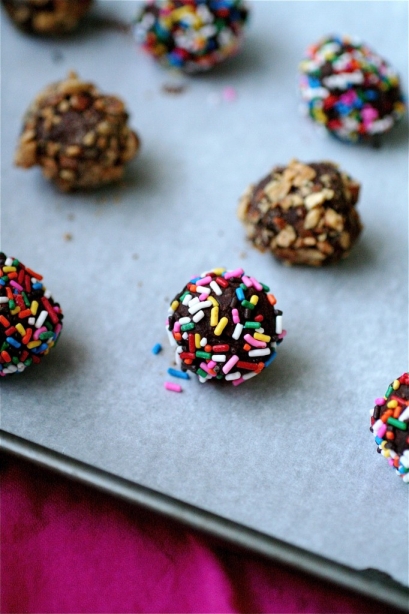 I was wrong.  So wrong.
Truffles are one of the easiest sweets I have ever made.  I love the possibilities of a truffle.  I also love enjoying said truffles with a nice glass of white wine and excellent company.
And, of course, I decided to roll the truffles in sprinkles.  How could I not?  I love sprinkles (if you are a regular reader of this blog, you can attest to this). I also decided to roll them in chopped almonds (yum) for a more savory flavor.  The best of both worlds, in my opinion.  Anyways, try these truffles.  They are simple to make.  They are cute. They are a chocolate-lover's dream.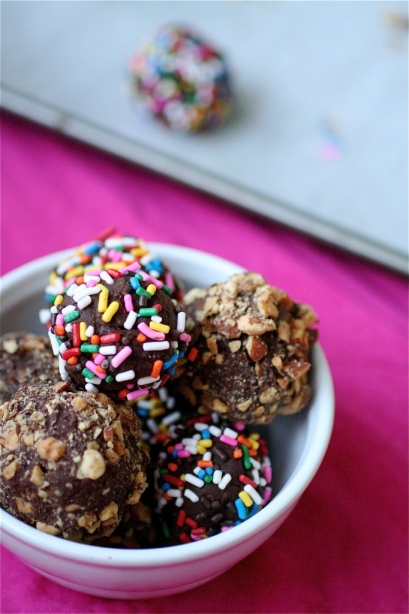 Chocolate Truffles
Servings: about 12 truffles
Ingredients
12 ounces bittersweet chocolate (ah, Ghiradelli, I love you)
2/3 cup heavy whipping cream
3 tablespoons finely chopped roasted almonds, for garnish
1/4 cup sprinkles, for garnish

Instructions
1.  In a food processor, process the chocolate chips until finely chopped and place in a heat-proof bowl.
2.  In a small saucepan over low heat, heat the cream until it reaches a rolling boil.
3.  Pour the cream over the chocolate and stir gently until the chocolate is fully melted.
4.  Cover the mixture, and let chill for at least 20 minutes or until firm.
5.  Line a baking sheet with parchment paper.
6. With an ice-cream scoop or mellon baller, drop the chocolate mixture by uniform spoonfuls onto the baking sheet.
7.  One by one, roll the chocolate balls in the almonds/sprinkles/other toppings of your choice until thoroughly coated.
8.  Chill the truffles until firm or until ready to serve.

Source:  Slightly adapted from Epicurious.