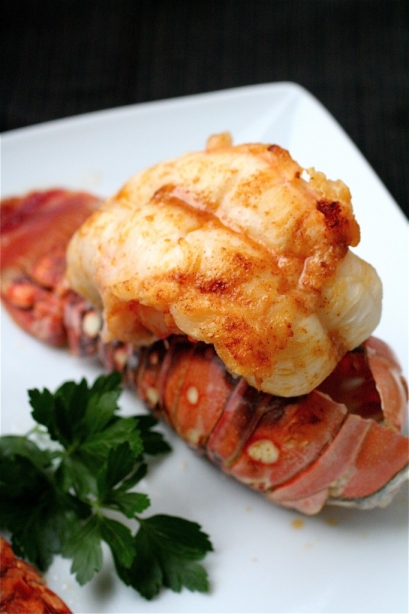 Get your fancy-pants on.  That's right.  It's lobster tail time.
I very rarely eat seafood.  I eat seafood like lobster even less frequently.  It's because I live in Indiana, I think.  Fresh seafood is hard to find here.  But, considering I am moving to the East Coast very shortly (like, almost 2 months from now….so excited!), I should probably get some seafood cuisine in my repertoire, right?  I'm thinking it might have to be a "once-a-month" type of thing.  Part of this whole "extending my culinary horizons" mentality.
I was making dinner for my parents the other night when my dad surprised me with fresh lobster tails.  JACKPOT!  I immediately realized that this was going to be one of the best dinners in a long time.
Now, as far as prepping and tips on broiling the lobsters, I urge you to visit Annie's website for her very detailed, simple and picture-laden tutorial.  As soon as I got the lobster tails, I texted her to let her know that I would be relying heavily on her blog post from around Valentine's Day this year.  We both texted excitedly about lobster and macaroni and cheese, and then I set off to prep the lobster tails as she has outlined on her website.
So, with a little improvisation for a garlic butter sauce to baste the lobster tails in and with some guidance from Annie's blog, these lobster tails may be one of the simplest and most delicious impromptu dinners ever.  Aren't they beautiful?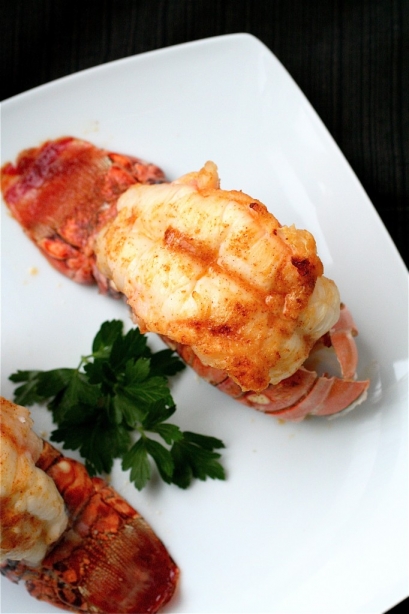 Broiled Lobster Tails with Garlic Butter Sauce
Servings: 2
Ingredients
2 fresh lobster tails
4 tablespoons (1/2 stick) unsalted melted butter, plus more for clarified butter (Annie also tells you how to clarify butter….)
1/2 teaspoon paprika
1/2 teaspoon garlic powder
1/2 teaspoon white pepper
Salt, to taste
Fresh lemon wedges for garnish, plus lemon juice to taste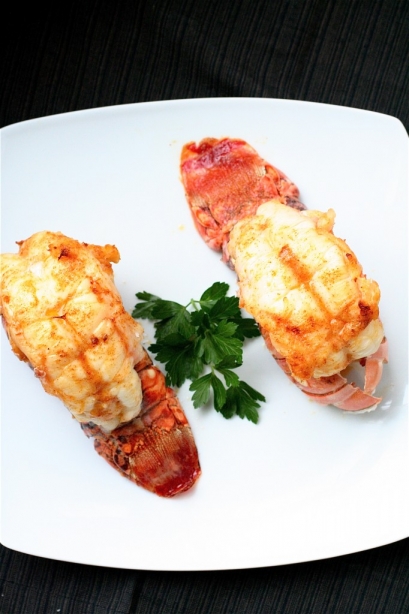 Instructions
1. Place an oven rack in the medium position and preheat the broiler.
2.  Place the prepared lobster tails on a foil-lined baking sheet.
3. In a small bowl, combine the melted butter, paprika, garlic powder, white pepper, and salt.
4.  Using a silicone brush, gently brush the lobster tails thoroughly with the butter mixture.
5.  Broil the lobster tails until opaque and cooked-through.  ** My broiler took about 10 minutes to accomplish this.
6.  Sprinkle with fresh lemon juice, if using, and serve immediately with clarified butter.

Source:  Preparation and cooking instructions directly from Annie's Eats.