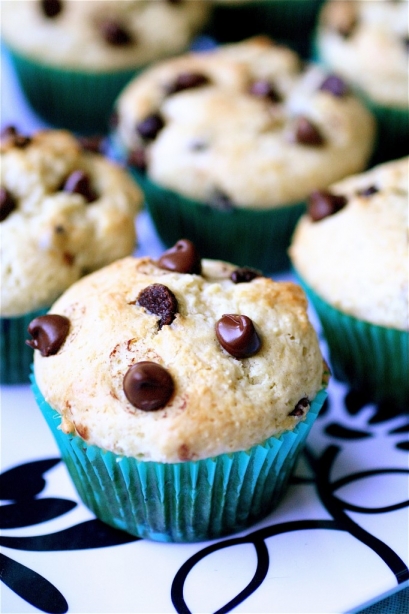 Who wants some chocolate chip sour cream muffins?  (Believe me, you want these.)
I was in a fridge-cleaning mood.  (Actually I overbought too many things at the grocery store and needed to make some room-am I the only one who does this?)  In the back of my fridge, nearly ready to expire, was a container of sour cream.
Hmmm.  Sour cream.  About a cup left.  What can I make with that?
A half-full bag of chocolate chips sat, alone and quiet, on the counter top (due to a recent kitchen fail consisting of attempted chocolate-filled M&M cookies…sigh).  A quick internet search led me to these Chocolate Chip Sour Cream Muffins, courtesy of Taste of Home.  I knew that I could do very well with this recipe: get rid of the sour cream and chocolate chips…and get to eat warm, sweet, buttery muffins for dinner.  Score.
These muffins are wonderful.  They are super moist, light, and chock-full of chocolate.  The sour cream makes them very cake-like (even better in my opinion).  I ate one warm, right from the oven.
Heaven. Heaven with sour cream and chocolate chips.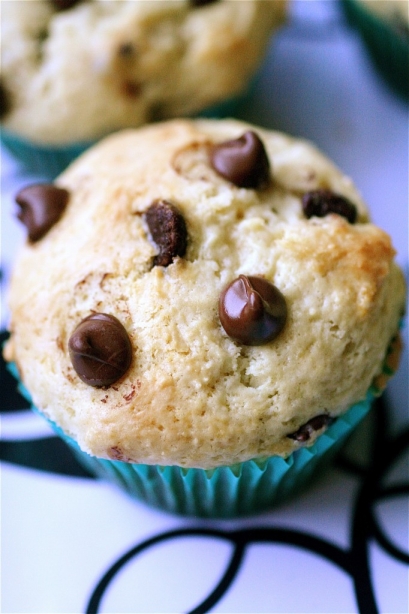 Chocolate Chip Sour Cream Muffins
Servings: 12 muffins
Ingredients
1 and 1/2 cups all-purpose flour
2/3 cup granulated sugar
3/4 teaspoon baking powder
3/4 teaspoon baking soda
1/4 teaspoon salt
1 large egg
1 cup sour cream
5 tablespoons unsalted butter, melted
1 teaspoon vanilla extract
1 cup semi-sweet chocolate chips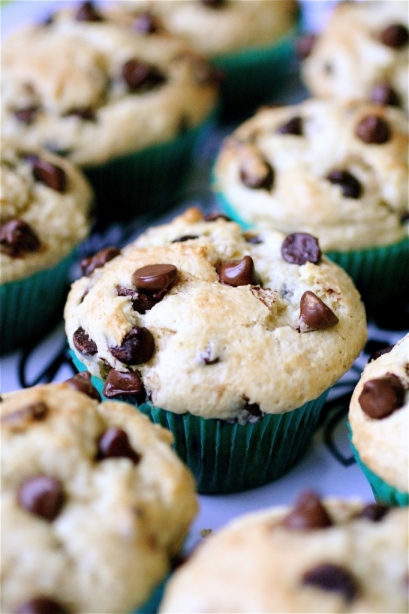 Instructions
1.  Preheat the oven to 350 degrees.
2.  Line one cupcake pan with liners, set aside.
3. In a large bowl, mix together the flour, sugar, baking powder, baking soda, and salt.
4.  In another large bowl, combine the egg, sour cream, melted butter, and vanilla extract, mixing well.
5.  Add the wet ingredients to the dry ingredients and stir with a rubber spatula until just combined.
6. Gently add in the chocolate chips until thoroughly combined.
7. Evenly divide the batter among the prepared cupcake liners (I use a large ice cream scoop for this) so that the liners are about 3/4-full.
8.  Bake until a tester inserted into the center of the muffins comes out clean, about 14-18 minutes.

Source: Barely adapted from Taste of Home.