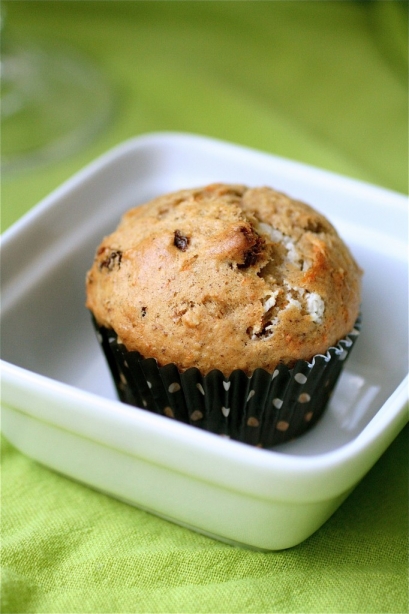 I am so sorry.
I am sorry for posting another muffin recipe.  I am sorry for any dieters out there.  I am sorry…because these muffins…are pretty awesome.
This was one of those recipes that made me gasp when I came across it.  (Yes, as I am laying in bed at night unable to sleep, looking at recipes I have saved on my computer…yep…that's me.)  But, I have to be thankful for that sleepless night because it allowed me to find this gem via King Arthur Flour Company (seriously, does King Arthur EVER fail on recipes?).
First of all, I love carrot cake.  I made carrot cake cupcakes last Fall, but I had never tried my hand at muffins.  I would love to find the time to make a full-on, elegant and (hopefully) well-decorated carrot cake from scratch, but with all this extra studying taking up so much time, it will have to wait. Now, these muffins are almost like cupcakes because they are filled with a sweet and rich cream cheese filling.  And, they certainly satisfied my sweet tooth.
But, here is my honest confession to you.  These are a little tricky to assemble.  I had some muffins that had cream cheese explosions out the sides (they still tasted pretty good). I was very diligent about filling them according to the original recipe's instructions, but I still had some casualties. Do your best to seal the "seams" of the muffin batter around the cream cheese centers-I thought I had done this, but I still ended up with a little mess with a few of the muffins.  If you end up with leftover cream cheese filling, save it to (ahem) spread some more on top of the muffins (I am totally hanging my head in shame as I write this).   🙂
FYI:  To see Annie's tip on how to avoid those cream cheese explosions, see her comment below.  It's brilliant!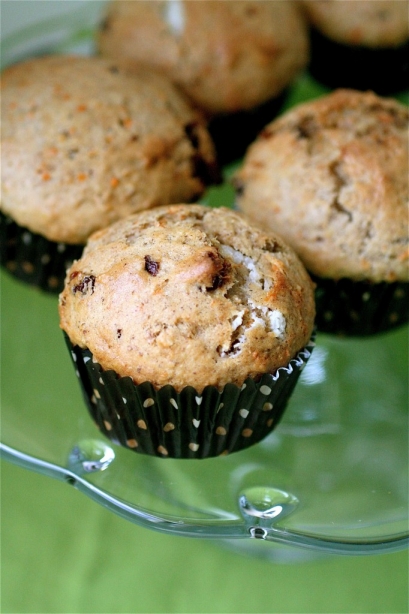 Cream Cheese Carrot Cake Muffins
Servings: 12 muffins
Ingredients
For the filling:
One 8-ounce package cream cheese
1/4 cup granulated sugar
1/4 teaspoon almond extract
For the muffins:
2 and 1/4 cups all-purpose flour
1/2 cup granulated sugar
1/4 cup light brown sugar, firmly packed
1 and 1/2 teaspoons baking powder
1/4 teaspoon baking soda
1 and 1/2 teaspoons ground cinnamon
3/4 teaspoon ground ginger
3/4 teaspoon salt
2 large eggs
3/4 cup water
1/3 cup vegetable oil
1 cup grated carrots, lightly packed (about 2 medium carrots)
2/3 cup walnuts, toasted and chopped
2/3 cup raisins, chopped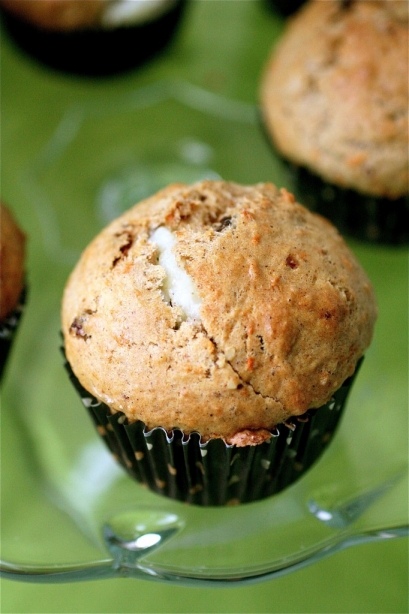 Instructions
1. Preheat the oven to 400 degrees.
2. Line a cupcake pan with paper liners.
3. For the filling: In a microwave-safe bowl, microwave the cream cheese on low power until softened, about 40 seconds.
4. Add the granulated sugar and almond extract to the cream cheese mixture, mixing well, and set aside.
5. For the muffins: In a medium-sized bowl, whisk together the flour, sugars, baking powder, baking soda, cinnamon, ginger, and salt.
6. In a separate small bowl, whisk together the eggs, water, and oil.
7. Using a rubber spatula, slowly add the wet ingredients to the dry ingredients and stir until just combined.
8. Fold in the grated carrots, walnuts, and raisins.
9.  Using a tablespoon (or a cookie scoop), drop about 2 tablespoons of the muffin batter into each muffin cup, making sure to completely cover the bottom.
10. Using another tablespoon (or a cookie scoop), drop 1 tablespoon of the cream cheese mixture onto the center of each muffin cup.
11. To complete the muffins, cover each dollop of cream cheese completely with the remaining muffin batter.  ***I found it helpful to wet my fingertips a little bit to spread the batter evenly and thoroughly over the tops of each muffin.
12. Bake the muffins until a cake tester inserted into the center of a muffin comes out clean, about 20 minutes.
13.  Transfer the muffins to a wire rack to cool.

Source: Adapted from King Arthur Flour Company.