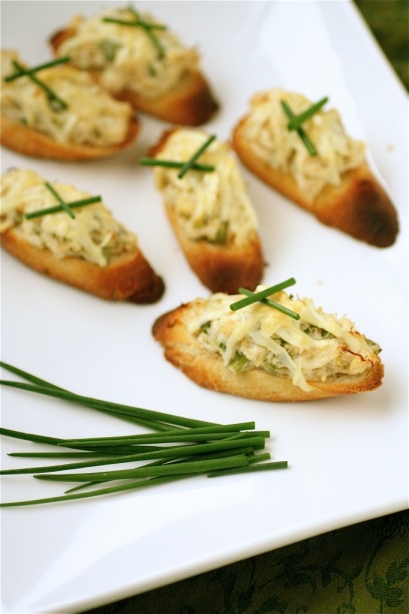 I'm all about crostini.  What's not to love about it?  Bite-sized portions of endless possibilities?  Sign me up!
I came across this recipe while searching for something completely different.  I thought that this would be something that I could tackle for a little appetizer before a semi-fancy dinner I was preparing for my family.  Not only is this a snap to throw together, but it seemed to impress my "guinea pigs".  I like my food a little bit more spicy, so I added the cayenne pepper liberally-feel free to get crazy here.  You could also throw in any kind of seasoning-crab seems to be a completely forgiving food.  I used fresh chives from my mom's garden-oh my.  Nothing beats fresh herbs/veggies from the garden.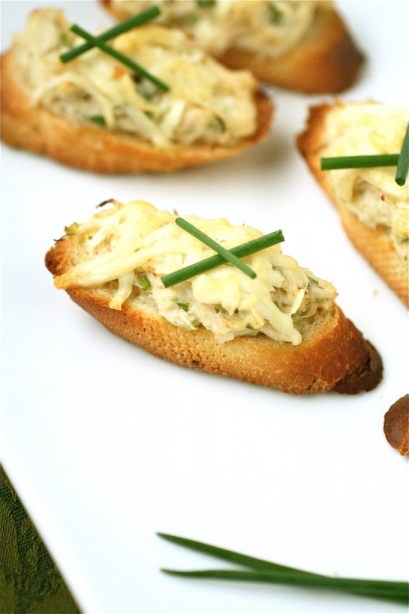 Crab Crostini
Servings: 8 crostini
Ingredients
8 slices French bread, cut into 1/2-inch slices
1/2 pound fresh crab meat, or 6 and 1/2-ounces canned meat
3 tablespoons minced green onion
1 tablespoon fresh lemon juice
2 tablespoons mayonnaise
2 teaspoons garlic, minced
1/2 teaspoon Dijon mustard
Cayenne pepper, to taste
Ground white pepper, to taste
Salt, to taste
1 cup Parmesan or Romano cheese, grated
Fresh chives, for garnish (optional)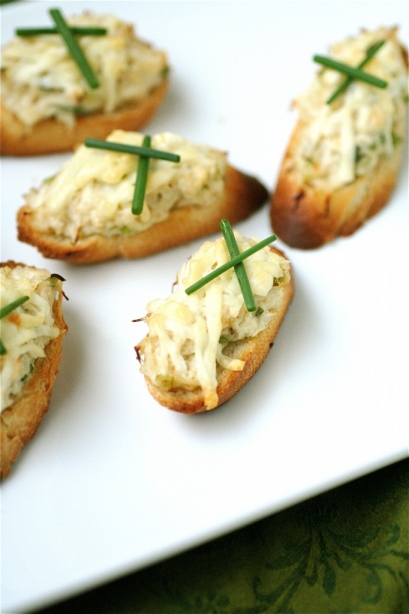 Instructions
1. Preheat the broiler on your oven.
2. On a baking sheet, line the French bread pieces about 1-inch apart.
3. In a large bowl, combine the crab meat, green onions, lemon juice, mayonnaise, garlic, mustard, cayenne pepper, white pepper, and salt.  Mix well.
4. Lightly toast the bread slices under the broiler until lightly golden, about 4-5 minutes.
5. Remove the bread from the oven, and flip all the bread slices over to the other side.
6. Top each bread slice with about 1-2 tablespoons of the crab mixture (your desired amount).
7. Sprinkle the cheese over the top of each crostini evenly.
8. Broil the crostinis until the cheese is melted and lightly browned, about 4-5 minutes (depending on your broiler temperature).
9. Garnish with fresh chives and serve immediately.

Source: Adapted from Williams-Sonoma.