I love Mexican cuisine. And I love cheese enchiladas.  If you know me, and we have been out for Mexican food, then my menu decision is always an easy one.  Cheese enchiladas.  It's one of the only things that I am completely 100% predictable on.
And why not?  Made with cheese on the inside with melted cheese on top, it's probably the greatest food there is for someone with a cheese obsession, like me.  Now, for these, I went all out.  I made my own enchilada sauce from scratch.  It was not that hard. I went to an authentic market to get my dried peppers, but, to be honest with you, when I checked my local grocery store, (surprisingly in the produce section next to the shallots…????) there were actually several varieties of dried peppers in stock.  So, if you are not near an authentic market, chances are you will still be able to find the peppers.  I adapted the sauce recipe for a completely vegetarian version, and I tweaked the amounts of water.  If you can throw a bunch of ingredients into a big pot and turn on the burner, then you can make your own enchilada sauce from scratch. As for the enchiladas, I opted against frying the tortillas in oil first-I personally like mine a little soft.
This recipe comes from a cookbook given to my mom from my Aunt Shawn who lives in California.  There is a chain of very well-known and authentic Mexican restaurants out West, called El Cholo.  This is a recipe from that book (which, apparently, is no longer in print).  Every time we visit Aunt Shawn, there is a stop at El Cholo.  I've been there only once or twice, but the food is amazing.  I have been waiting to attempt something from this cookbook for a while , and now I've got a Cinco de Mayo line-up in store for you in the coming days that you will not want to miss.  These recipes are to die for.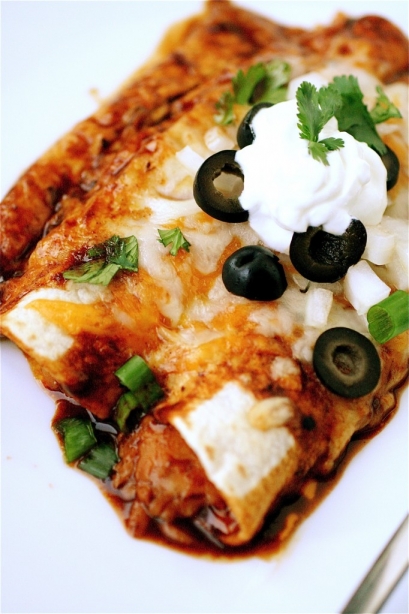 Cheese Enchiladas
Servings: approximately 8 enchiladas
For the sauce:
3 ounces (1 bag) California chiles, dried
3 ounces (1 bag) pasilla chiles, dried
1/2 cup tomato puree
1/2 teaspoon cumin
1/2 teaspoon white pepper
1 teaspoon allspice
1/2 teaspoon oregano, dried
1/2 teaspoon vegetable base
1 teaspoon salt
1/2 teaspoon Kitchen Bouquet (an aid for gravy making..100% vegetarian…look for it in your BBQ/Tabasco sauce aisle)
6 cups water
1 tablespoon flour
2 tablespoons unsalted butter
For the enchiladas:
8 8-inch flour tortillas (feel free to use corn…I prefer flour)
12 ounces Monterey Jack cheese, shredded
12 ounces cheddar cheese, grated
1/3 cup onion, chopped
1/3 cup green onion, chopped
1/3 cup black olives, sliced
Sour cream, for garnish
Cilantro, chopped, for garnish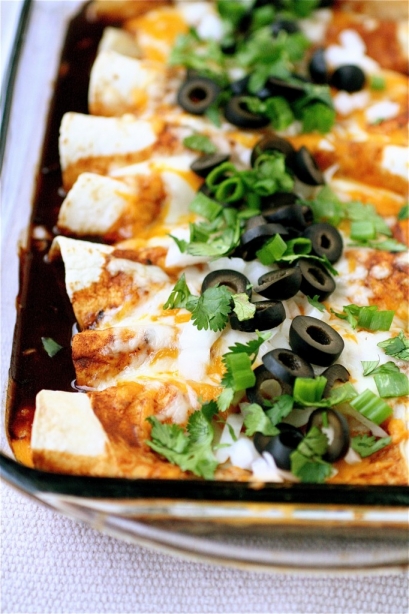 Instructions
1. For the sauce: In a Dutch oven or large saucepan, combine all of the sauce ingredients except for the flour and butter over medium-high heat.
2.  Bring the mixture to a boil, and reduce the heat to low.  Simmer for 1 and 1/2  hours, stirring occasionally.
3. In a saucepan over medium heat, melt the butter.
4.  Add the flour and whisk until the mixture is lightly browned and slightly thickened. ***This is a roux.
5.  Slowly add the roux to the simmering sauce and stir to combine.
6. Increase the heat to medium and boil the sauce for another 45 minutes. **If it looks like your sauce is getting too thick for your taste, add small increments of water.
7. After the 45 minutes, carefully strain the sauce, discarding the solid large pieces. Set the sauce aside.
8. For the enchiladas: Preheat the oven to 350 degrees.
9. Top each tortilla with a generous helping of cheese, roll up tightly, and arrange in a 9 x13-inch baking dish, seam-side down.**I find it helpful to warm the tortillas up in the microwave for about 10 seconds before rolling them.  They soften up this way.
10. When the baking dish is full, pour the enchilada sauce on top, followed by any additional cheese.
11.  Bake the enchiladas until the cheese is thoroughly melted, about 15 minutes or so.
12.  Garnish with onions, black olives, sour cream, and cilantro.
Source: The El Cholo Cookbook.