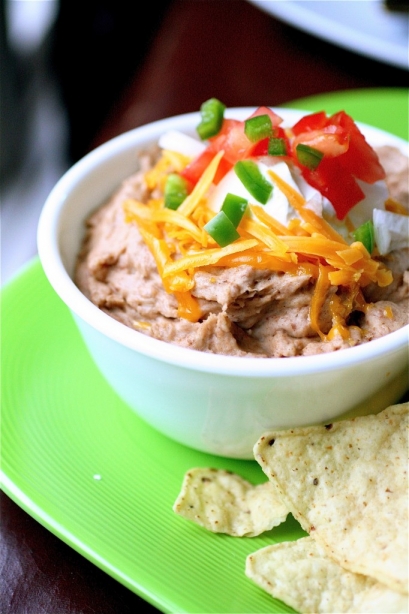 Why is it that some of the most simple recipes end up being the best?
Yes, this is a bowl of refried beans.  It's a humble, modest bowl of beans.  There are 6 ingredients in these beans…and really only four if you don't count the salt and water that you cook them in.  I know that refried beans may not be the most exciting or photogenic blog-worthy of foods, but, if you think about it….they really are to be respected.  As someone who doesn't eat meat, so often I am disappointed when I learn that the beans in my favorite restaurants have been made with animal fats. I always buy the canned vegetarian versions from the grocery store.  Canned refried beans are quick, easy, and (if you get the low-fat kind) are good for you.  I always have a few cans on hand.
But you know what?  After trying this recipe, I am hesitant to ever go back to the canned version.   Yes, this recipe takes a while to simmer the beans.  But it's so incredibly simple.  You have the power of knowing what is actually in your beans, and you can adapt and modify this recipe to your own likings.  It's amazing how versatile refried beans can be. And the taste of "real" cooked refried beans after eating the canned version for so long is like getting a breath of fresh air.  I never knew how fantastic little pinto beans could be. Really.  It blew my mind.
I made this recipe and ended up with quite a bit of leftovers.  I ate them wrapped in flour tortillas, plain with cheese and onions on top (like in the picture-actually I was taking pictures as fast as I could so that I could eat that bowl before it got cold).  I whipped up a quick queso recipe and ate them with tortilla chips and cheese.  Here is another leftover that I can safely say I finished off with ease.  That is extremely rare.
Try these beans, if you are a beans fan.  I promise you will enjoy them.
Vegetarian Refried Beans
Servings: approximately 6 cups
Ingredients
2 cups dry pinto beans (roughly one 16-ounce bag)
10 cups water, plus more if needed****I ended up using about 14 cups to avoid burning the beans.  Watch them carefully and add more water as needed.
2 tablespoons salt, plus more to taste
4 ounces vegetable oil, warm
4 ounces grated cheese (*I used a combination of cheddar and Monterey Jack)
For garnish: cheese, onions, tomatoes, etc.  Your choice!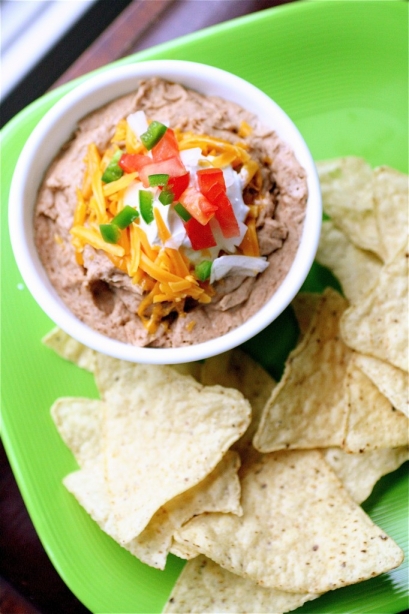 Instructions
1. In a large Dutch oven, combine the beans, water, and salt.
2.  Cook over medium-high heat for about 1 and 1/2 hours, or until beans are softened and tender, stirring occasionally.  ***Remember to add more water to the pot if need be.
3. Reduce the water to a minimal amount.  I strained my beans (reserve the cooking water) and added about 1/2 cup water back to the beans.  You can add more for a thinner consistency if you like.
4. Add the vegetable oil and cheese.
5. Mash the beans with a potato masher until thick and smooth. **You can also use a food processor for this step if you want.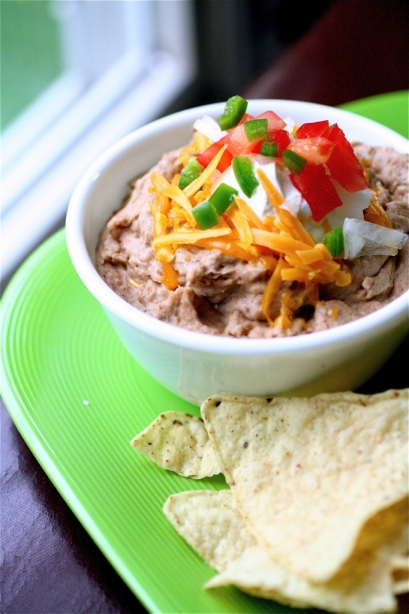 Source: Adapted from the El Cholo Cookbook.