Oh, yes.  I am totally going there.
So, if I haven't talked about it enough already, I am taking a ginormhugegantous (I know that's not a real word-I am just being overly dramatic) test in less than 2 weeks.  Like, a 2-day, 16-hour total-long test for which I have to fly across the country and stay in an overpriced hotel for three days.  I'm finally taking my grown-up doctor boards.  I've taken all my medical school boards, but now this test is the mac-daddy of them all.  The one that costs $$$$ to take (better not fail…..) and will allow me to get a job someday.  Not only is the price of the test high, but I am subjecting myself to hours upon hours of studying to pay that much to take a test.  Am I bitter?  Of course not! 😉  Am I thankful to FINALLY be at this point in my training?  Absolutely!  I am ready to start fellowship and move on, people!  And hopefully this test will prove that I am ready to do so.
A few of my friends have suggested that during my study breaks, I bake.  And, I definitely have.  The nice thing about working with yeast is the built-in "rising time".  So, I have an excuse to work a little bit, study while the dough is rising, and then take another break when I knead it or get it ready for baking.  And since there's always a component of punching down the dough at some point in the recipe, I find it particularly cathartic during these study breaks.
So I might be stressed.  But these doughnuts made it all better.  I stuck very closely to the original recipe here.  I had never baked doughnuts before, so I was a little nervous about straying too much.  What can I say about these?  They are definitely at their prime immediately after baking.  They are still really good the same day, although I would recommend warming them in the microwave before eating-just a few seconds.  I took some over for a get-together with my girlfriends the other day, and we all heated them up again.  They were a little hard on the second day, so if you are planning on only eating a few, I would recommend making a half batch.  And the glaze?  Oh, yes. That glaze is amazing. I couldn't get enough of it.  And, of course, there had to be sprinkles.
And, if you'll excuse me, I must get back to the books now.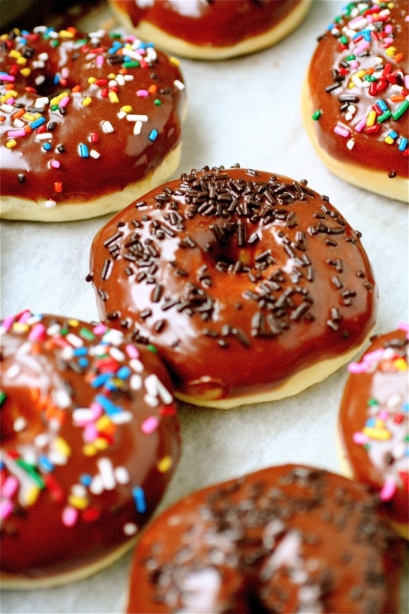 Baked Doughnuts
Servings:  approximately 16 doughnuts
Ingredients
For the doughnuts:
1 and 1/3 cups warm milk (I used whole milk, because that is what I had on hand)
2 and 1/4 teaspoons active dry yeast (or one packet)
2 tablespoons unsalted butter
2/3 cup granulated sugar
2 eggs
5 cups all-purpose flour
1 teaspoon salt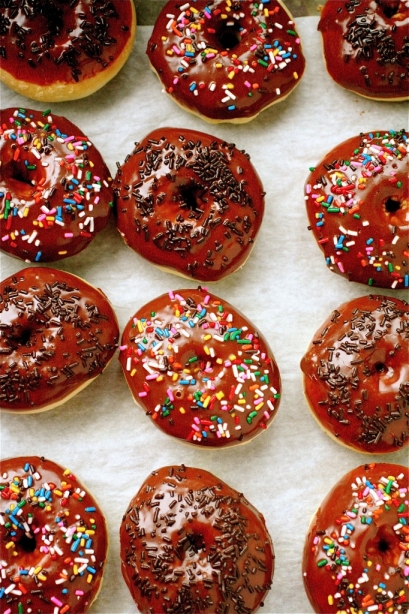 For the chocolate glaze:
5 tablespoons unsalted butter
4 ounces semisweet chocolate chips
2 cups confectioners' sugar
1 and 1/2 teaspoons vanilla extract
1/4 cup hot water
Sprinkles, for garnish

Instructions
1. For the doughnuts: In the bowl of your standing mixer fitted with the dough hook attachment, combine 1/3 cup of the warm milk and the yeast.  Let sit until foamy, about 5 minutes.
2. In a separate small bowl, combine the butter and sugar with the remaining 1 cup of warm milk, mixing well.
3. Add the butter/sugar mixture to the yeast mixture.
4. With your mixer running on the lowest speed, add the eggs, flour, and salt to the mixture until just combined.
5. Increase your mixer speed to medium and knead the until the sides of the dough pull away easily from the sides of the bowl, about 5 minutes or so. **Add more flour or milk as needed to get the proper consistency.
6. Place the dough on a floured surface and knead a few times.
7. Shape the dough into a ball and place in a lightly oiled bowl. Cover the bowl and let sit in a warm place until doubled in size, about 1 hour.
8. Once risen, punch down the dough and roll it out into a 1/2-inch-thick rectangle.
9.  Using a doughnut cutter (or two cookie cutters of differing sizes), cut out your doughnut shapes and place on a parchment-lined baking sheet.
10.  Cover the baking sheet(s) with a clean towel and let rise for another 45 minutes or so.
11. Preheat the oven to 375 degrees.
12. Bake the doughnuts until the bottoms are lightly golden, about 8-10 minutes, depending on your oven. *Meanwhile, start making your glaze.  See below.
13. Remove the doughnuts from the oven and let cool for a few minutes before glazing.
14. For the glaze: In a heatproof bowl over simmering water, melt the butter and chocolate chips.
15. Remove the bowl from the heat and whisk in the confectioners' sugar, vanilla, and hot water until smooth.
16. To glaze the doughnuts, dip each one face-down into the glaze, immediately garnish with sprinkles, and let cool on a wire rack (right side up, of course!)

Source: Doughnuts barely adapted from 101Cookbooks and Chocolate Glaze directly from Williams-Sonoma.