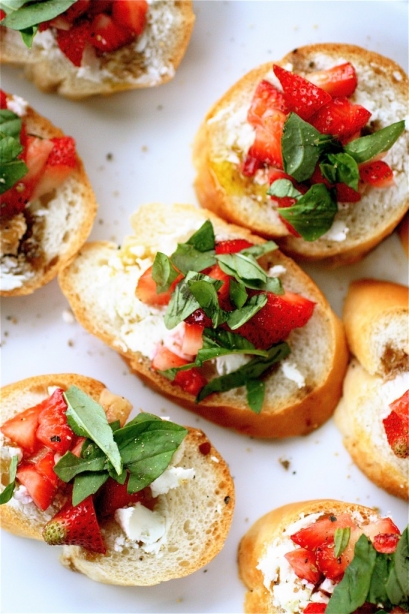 It's strawberry season, ladies and gentlemen!  I love seeing these bright red and juicy gems out and about, signifying the long days of sunny weather ahead.  When I was a kid, we would always go strawberry picking at a local farm near my hometown.  There was something incredibly special about being outdoors, picking the ripe strawberries from the plants, and learning how to appreciate real produce from a real farm.
When I saw this recipe, I knew I needed to give it a whirl.  Another strawberry recipe?  OK! And, since tomatoes are not in their prime yet in my part of the country, I could settle for a sweeter version of the traditional Italian finger food.  The instructions seemed straightforward, the ingredients fresh and healthy, and the flavors seemed like they would be divine.  I made this for a brunch line-up, but you could make it for a light lunch alongside a nice salad, or, you could even up the sweet factor and serve as a healthier dessert option.  Add the balsamic and olive oil at the very end to avoid soggy bread.  I let the strawberries macerate for about 3 hours or so before assembling the bruschetta to make it a little sweeter, but if you prefer more tart strawberries, omit the sugar.
Let your taste buds rejoice with this one!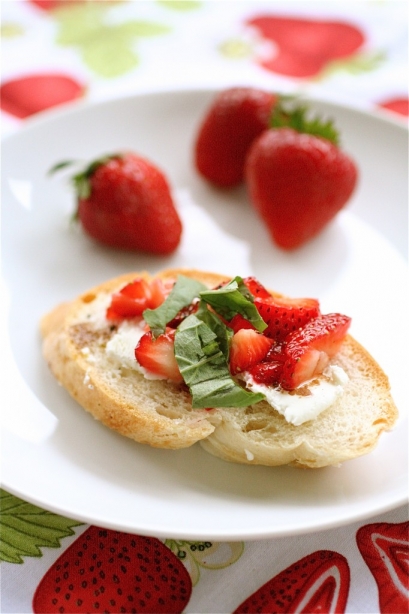 Strawberry Bruschetta
Servings: about 12 portions
Ingredients
1 French baguette, sliced diagonally, about 1/2-inch thick
1 cup diced strawberries, about 10 large strawberries
1 tablespoon granulated sugar
4 ounces goat cheese, room temperature
1 tablespoon extra-virgin olive oil
2 teaspoons balsamic vinegar
1/4 cup fresh basil leaves, torn
Freshly ground black pepper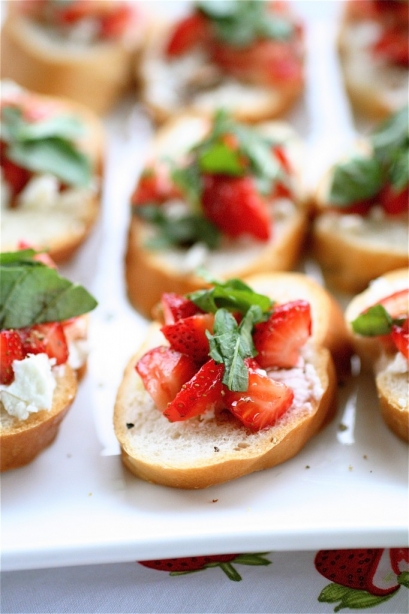 Instructions
1. Combine the tablespoon of sugar and strawberries in a small bowl.  Cover, and refrigerate for about 2-3 hours, or until strawberries have slightly softened.
2. Spread the goat cheese evenly over the slices of bread, followed by spoonfuls of the strawberry mixture.
3. Drizzle with the olive oil and balsamic vinegar.
4. Top each bruschetta with basil.
5. Season with freshly ground black pepper.

Source: Adapted from Whole Foods Market.