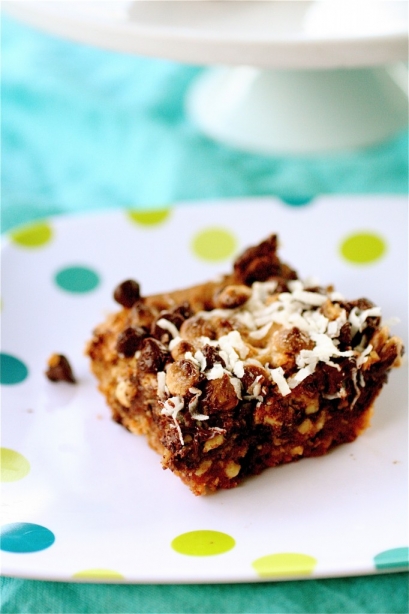 You know those plastic "chip clip" things?  Yeah, well, this recipe was a personal challenge for me to reclaim them all from their random hiding places in my kitchen.
I have this annoying habit of "chip clipping" virtually anything.  "Hey, there's 10 chocolate chips left in this bag? Let's chip clip it!"  My flax seed in the fridge?  Instead of transferring it to a sealed container, I chip clipped it.  The almonds I keep in the pantry?  Yep, you guessed it.  Chip clipped.  So, when I actually have an item that needs the chip clip (i.e. CHIPS), I have to go scrounging around to find them all.  And, let's be honest.  I always eat the remaining chocolate chips first because I need THAT particular chip clip, of course.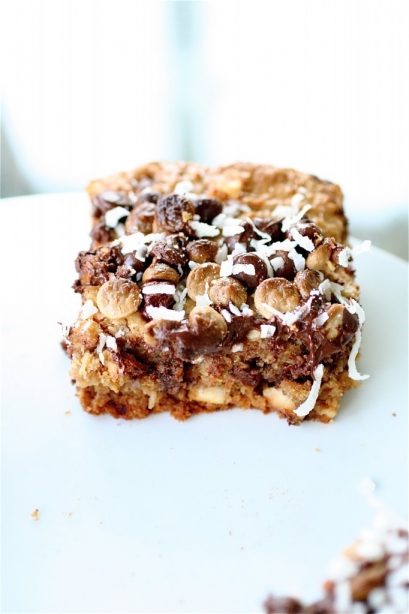 I had been meaning to make congo bars for such a long time.  They are pretty much a collection of all my favorite dessert flavors…in one bar cookie form.  I was in a chocolate craving mode on the day I made them, so the mixture of white chocolate and semisweet chocolate chips hit the spot.  Now, I would advise watching them very closely when they bake.  I ended up baking mine about 10-15 minutes more than what the original recipe instructed-I am posting the original baking time below, but check them frequently to make sure that they bake all the way through.  And the best part?  Get creative with your add-ins.  Use up leftover ingredients, the random bag of chocolate chips, the nuts in the pantry.  Reclaim all those chip clips…and enjoy a phenomenal treat along the way.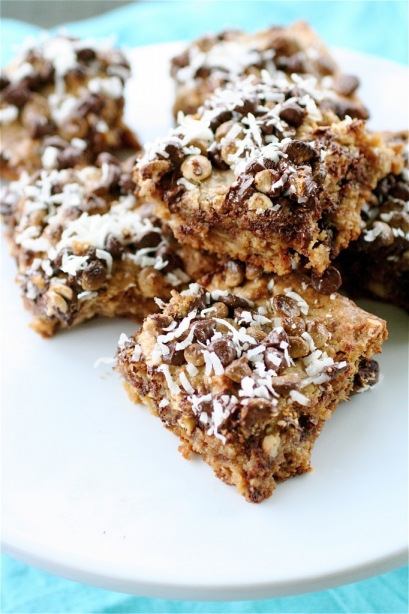 Congo Bars
Servings: approximately 12 bars
Ingredients
1 and 1/2 cups all-purpose flour
1 teaspoon baking powder
1/2 teaspoon salt
12 tablespoons (1 and 1/2 sticks) unsalted butter, melted and cooled
1 and 1/2 cups packed light brown sugar
2 large eggs
1 and 1/2 teaspoons vanilla extract
1/2 cup semisweet chocolate chips, plus an additional 1/2 cup for topping the bars
1/2 cup white chocolate chips, plus an additional 1/2 cup for topping the bars
1 and 1/2 cups shredded unsweetened coconut, toasted, plus more for garnish
1 cup almonds, toasted and chopped coarsely

Instructions
1. Preheat the oven to 350 degrees.
2.  Spray a 9 x 13-inch baking pan with cooking spray.
3. Fold and fit two large pieces of foil perpendicular to one another in the baking pan, making sure to leave about 3 inches of overhang on each side.  ***This will help immensely when you go to remove the bars from the baking pan.
4.  Spray the foil with cooking spray.
5.  In a medium bowl, whisk together the flour, baking powder, and salt.
6.  In the bowl of your standing mixer fitted with the paddle attachment, mix the melted butter and brown sugar until combined.
7.  On medium-low speed, add the eggs and vanilla, mixing well.
8.  Stop the mixer and manually fold in the flour mixture with a rubber spatula, mixing until just combined.
9.  Add the chocolate chips, nuts, and coconut to the batter.
10.  Spread the batter evenly in the prepared baking pan.
11.  Bake for 22-25 minutes (until the top is slightly cracked and the bars feel firm to the touch).  ***Remember, I added several minutes to this step.  I used a cake tester to see if the batter was cooked through-it was not.  I ended up baking mine for about 35-40 minutes. Check yours frequently to avoid overbaking.
12.  Remove the bars from the oven, garnish with the additional chocolate chips and coconut (if desired) and cool on a wire rack.
13.  Remove the bars from the pan by holding on to the overhanging foil edges and cut into bars.

Source:  Adapted from Baking Illustrated.