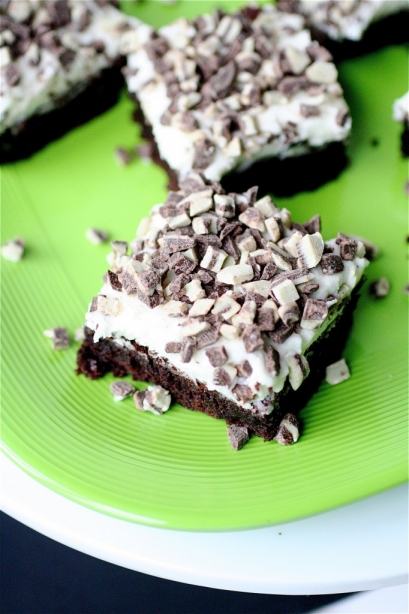 Yes, yes, yes.  Yes, I know I posted a dessert last time.  I know. I am hanging my head in shame.  I've been trying to post a wider variety of dishes lately.
But, sometimes, a girl seriously needs some chocolate.
This is an impromptu post.  In fact, it was an impromptu recipe.  I was in the baking aisle of my local grocery, saw the bag of Andes mints, and I decided that I would be making mint brownies when I got home.  It was that easy.  When I got home, within a half hour I had the aroma of chocolate and mint wafting through the kitchen.  I made the glaze while the brownies were baking and took care of some other important things while the brownies cooled.  I chilled them in the fridge after a bit to help speed the process.  And, boy, was I glad that I made these.  Sometimes the most spontaneous decisions can be the best ones, in my opinion.
These brownies are moist, thick, chewy, and rich.  The peppermint is not overwhelming.  The original recipe says that you can add more peppermint oil to your taste, but, frankly, I found them to be minty enough, especially with the peppermint glaze.  And, can we talk about the peppermint glaze for a second?  It's powdered sugar, butter, half and half, and peppermint oil.  How can four ingredients combine to form such a heavenly new concoction?  The sprinkled Andes mints on top add just a little bit more sweet mint flavor.  Fantastic!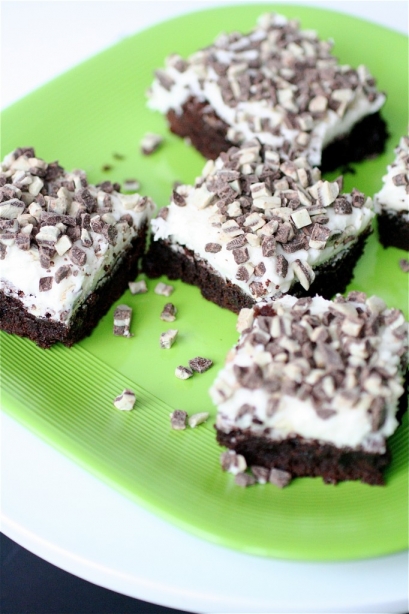 Chocolate Mint Brownies
Servings: approximately 24 2-inch brownies
Ingredients
For the brownies:
3/4 cup (1 and 1/2 sticks) unsalted butter, melted
1 and 1/2 cups granulated sugar
1/2 teaspoon salt
3/4 cup Dutch-processed cocoa
3 large eggs
3/4 cup all-purpose flour
1/2 teaspoon baking powder
1/8 teaspoon peppermint oil
For the glaze:
3 cups confectioners' sugar
6 tablespoons unsalted butter, melted
3 tablespoons half and half
1/8 teaspoon peppermint oil
Andes mints, chopped (for topping**I used about half of an 11-ounce bag)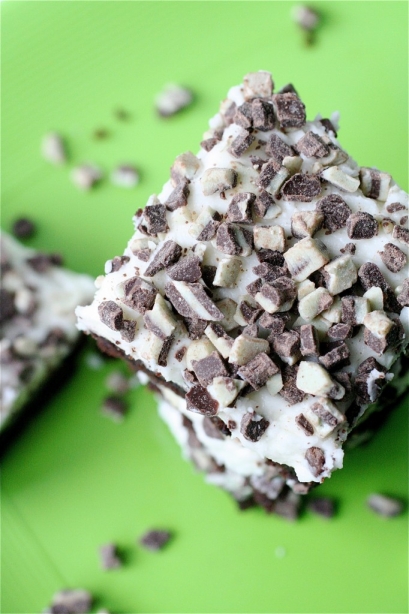 Instructions
1. For the brownies: Preheat the oven to 350 degrees.
2. Line a 9 x 13-inch baking pan with parchment paper and spray generously with cooking spray.
3. In the bowl of your standing mixer fitted with the paddle attachment, combine the melted butter, sugar, and salt.
4.  On low speed, add the cocoa powder, mixing until smooth.
5.  Add the eggs, one at a time, mixing well after each addition.
6. Still on low speed, add the flour and baking powder.
7. Add the peppermint oil and mix until combined.
8. Pour the batter into the prepared pan and spread evenly with a rubber spatula.
9.  Bake the brownies until a cake tester inserted in the middle comes out clean, about 20 minutes.****My oven took about 30 minutes.  Check them frequently.
10. Remove the brownies from the oven and let cool to room temperature.
11. For the glaze: In the bowl of your standing mixer fitted with the paddle attachment, mix the melted butter, powdered sugar (aka confectioners' sugar), half and half, and peppermint oil until smooth.
12. Spread the glaze evenly over the cooled brownies.
13.  Top with Andes mints.

Source:  adapted from King Arthur Flour Company.