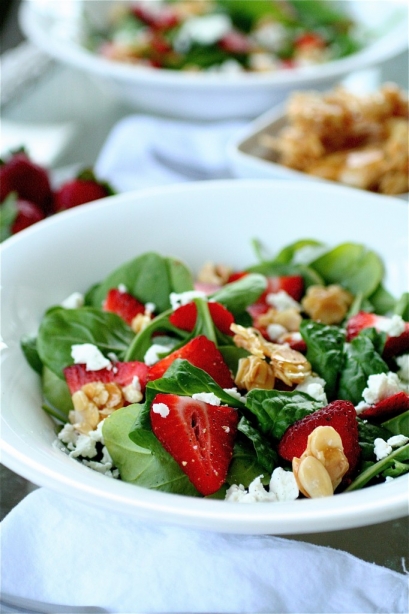 Are you ready for a fresh, healthy, and slightly tangy/sweet summer salad?  Here it is, my friends.
I've been meaning to put more greens on the blog.  More salads.  More light and colorful posts that are easy to prepare and don't leave you feeling like you are in sugar shock afterwards.  Everything in moderation, right?  After all, bathing suit season is upon us, and I have some summer sundresses that need to fit.  The simple truth is: I really do feel better when I eat healthier.  I sleep better, my work-outs are more intense, and I have more energy throughout the day.  Granted, I am a total sucker for sweets (particularly chocolate), but when I eat better, I find that I don't crave the sweets (and carbonated drinks!) as much.  Is that true for anyone else out there?
I am also a sucker for fruits on salads…in particular spinach salads.  My mother thought I was an oddity as a child because of my love for spinach.  I requested it at age 5.  I like it fresh, steamed, lightly sautéed-you name it, I will probably like it.  So I try to use spinach as a base green for most of my salads due to the increased nutrient factor.  I'm looking for some other salad green leafy add-in alternatives…what's your favorite?
So, let me tell you about this salad.  The strawberries add sweetness, the goat cheese adds a savory tanginess, the pomegranate vinaigrette adds a little kick, and the candied almond brittle is just about the most tasty thing I have ever put into a salad.  True, the candied almond brittle preparation takes a little more time than simply prepping the other salad ingredients and throwing them together, but it's definitely worth the extra effort.  And the nice thing is that you will most likely have a lot of leftover almond brittle (that is, unless you start munching on it nonstop during the salad preparation and realize you have almost eaten the entirety of it before you even take a bite of your salad, like me), so you can have it at your fingertips for leftovers.  This has to be one of my favorite salads in a long time.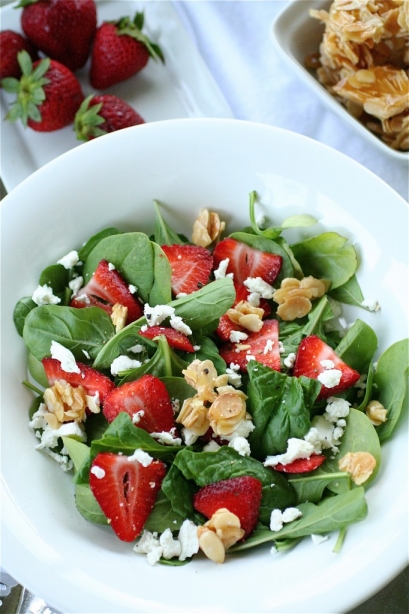 Strawberry Salad with Candied Almond Brittle
Servings: approximately 4 starter salads or 2 large salads
Ingredients
For the salad:
4 cups fresh spinach, washed
1 cup strawberries, thinly sliced (about 4-5 large strawberries)
2 ounces goat cheese, crumbled
For the candied almond brittle:
1 cup granulated sugar
1/4 cup water
1 and 1/2 cups sliced almonds, lightly toasted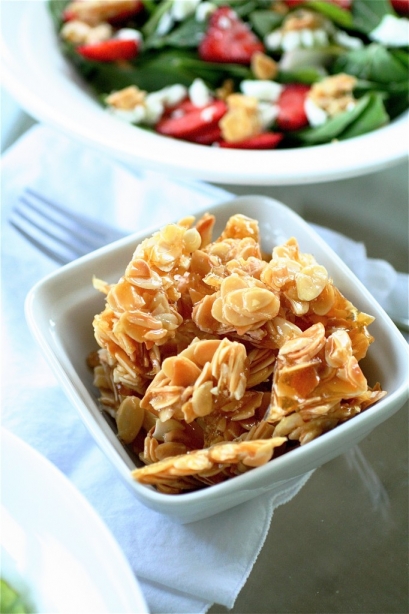 For the pomegranate vinaigrette:***This yields about 3/4 cup of dressing.
1/2 cup pomegranate vinegar (feel free to substitute another flavor)
1/4 cup extra-virgin olive oil
Pinch granulated sugar
Pinch sea salt

Instructions
1. For the candied almond brittle: In a medium saucepan over low heat, combine the sugar and water and continuously stir until the sugar is completely dissolved. ***Using a silicone or wet pastry brush, brush the sides of the saucepan to dissolve any sugar that adheres to the sides of the pan.
2. Increase the heat to high and bring the mixture to a boil, continuing to brush down the sides of the saucepan as needed.
3.  Continue to boil the mixture, swirling the saucepan occasionally, until the mixture is amber (a golden brown color), about 8-9 minutes. In the meantime, lay a large sheet of aluminum foil onto a flat counter top or surface.
4.  Turn off the heat and quickly add the sliced almonds, stirring to thoroughly coat.
5.  Pour the mixture onto the foil, breaking up the almond pieces gently with a fork.  Let cool completely.
6. For the pomegranate vinaigrette: Combine the vinegar and olive oil in a small bowl and whisk to emulsify.
7. Add the sugar and salt, to taste.
8. Once the candied almond brittle has hardened and cooled completely, distribute the spinach evenly in the serving bowls and assemble with the strawberries, goat cheese, candied almond brittle, and vinaigrette (to your liking!)

Source:  Candied Almond Brittle from Bon Appétit via Epicurious. Remaining salad a Curvy Carrot original.