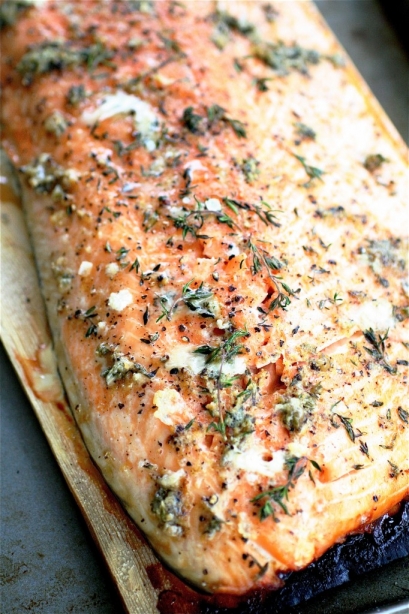 I found another goldmine magazine issue.  It happens to be the June/July 2011 issue of Fine Cooking.  Usually when I get my food magazines in the mail, I hoard them for a later time so I can curl up with them in peace (usually with a glass of good wine) and read them from cover to cover. It's my own personal heaven.  Really.  I know some of you can totally relate.
This didn't happen to be the case with this particular issue.  I recently took my Anatomical and Clinical Pathology Board Examination in Tampa, Florida.  After a two-day, 16 hour (plus) marathon with a microscope and a computer, I was ready to finally put the textbooks aside and pick up a food magazine to read on the flight home (either that, or a trashy, girly, gossipy magazine…whatever I could find first-as long as it didn't allow me to think too much. 🙂 )  As soon as the test was over, a co-worker and I celebrated with a drink at the hotel lobby before we took the shuttle to catch our flight home.  After my ginormous and very strong martini, I was feeling quite relaxed and chatty as we passed through security.  A few of us stopped at an airport restaurant to eat some food since we had 45 minutes before we had to board.  So, of course, the service was incredibly slow, the computer system broke, and we ended up throwing wads of cash to our server as they were calling our names over the intercom in the airport (telling us we had less than 5 minutes to catch our flight).  Thankfully, in a break before getting our food and frantically throwing the money at our server, I had meandered (feeling very relaxed) over to the magazine stand to pick up whatever non-textbook reading material I could find.  And there it was, the green Fine Cooking with the strawberry shortcake on its cover, beaming at me.
So, after running to the gate, martini-buzz still in effect, I boarded the plane on time and probably let out the biggest sigh of relief in my life.  I opened the magazine and was thrilled (martini anyone?) to see at least 10 recipes that I had to try, including a whole section on grilling.  This cedar-planked salmon was one of them.
I'm not a big griller-but I would love to learn.  I knew my dad had some cedar planks in the basement, still wrapped in the packaging from who knows when.  I also knew that he wouldn't mind if I used one to experiment with salmon, especially if I was making him dinner with it.  So that's what I did.  I cut this recipe in half, fed big meals to three people, and had enough leftovers to make salmon burgers (post coming soon).  One 2-lb fillet was more than enough for this recipe.  I stayed very true to the directions because I was a little nervous about possibly catching the plank on fire (thankfully that didn't happen), and it paid off.  Since my mom has two giant chive plants in her garden, I decided to make the accompanying horseradish-chive sauce.  If you don't have crème fraîche on hand, just use sour cream.  This is another keeper.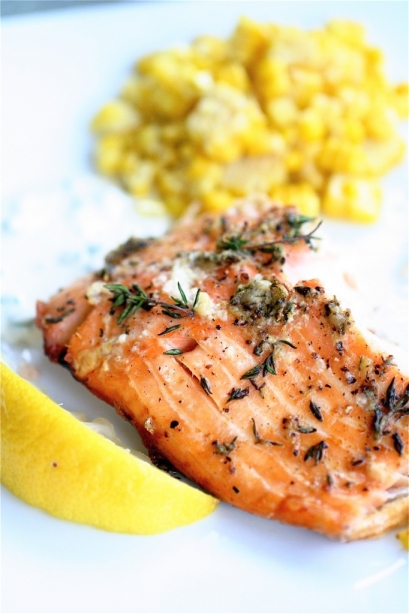 Cedar-Planked Salmon with Horseradish-Chive Sauce
Servings: 4 (with leftovers!)
Ingredients
For the salmon:
1 2-lb boneless, skin-on salmon fillet
1 tablespoon grated lemon zest
2 teaspoons fresh thyme, chopped
1/2 teaspoon granulated sugar
Salt and pepper, to taste
2 tablespoons extra-virgin olive oil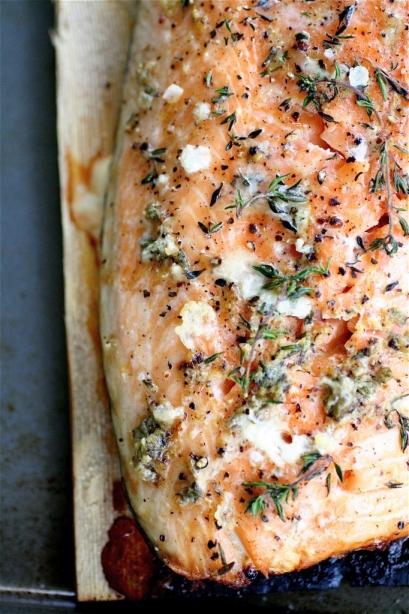 For the Horseradish-Chive Sauce:
1/2 cup crème fraîche (or sour cream)
3 tablespoons fresh chives, minced
1 and 1/2 tablespoons prepared horseradish
Salt and pepper, to taste
Special equipment:
1 15×7-inch untreated cedar plank***look for these in specialty food stores

Instructions
1. To prep the cedar plank: Fully submerge and soak the cedar plank in a pan of water (I put bowls or cups on mine to keep it submerged) for at least one hour. **This prevents it from catching on fire and helps create a smoking effect.
2. For the salmon: In a small bowl, combine the lemon zest, thyme, sugar, salt and pepper, mixing well with a fork.
3. Generously brush both sides of the salmon with olive oil.
4. Place the salmon fillet skin side down onto the cedar plank.
5. Using your fingers, crush the lemon mixture between your fingers to evenly distribute the lemon zest, and then rub the mixture onto the top of the salmon.  Set aside.
6. Meanwhile, prepare your gas grill by setting all the burners to high heat.  Let it remain this way until you are just ready to grill the salmon.
7. Turn off all but one of the burners, and place the cedar plank over the cooler part of the grill, making sure to place the thickest part of the salmon fillet closest to the heat source.
8.  Cover the grill and cook the salmon until completely cooked through and it easily flakes with a fork (a meat thermometer should read 135 degrees), about 20-35 minutes, depending on your grill heat.
9. Remove the plank carefully from the grill and let rest for 5-10 minutes before serving in individual portions.
10. For the Horseradish-Chive Sauce: Combine all the ingredients in a small bowl, and season to taste with salt and pepper.  Refrigerate until time to serve.

Source: Barely adapted from June/July 2011 issue of Fine Cooking.