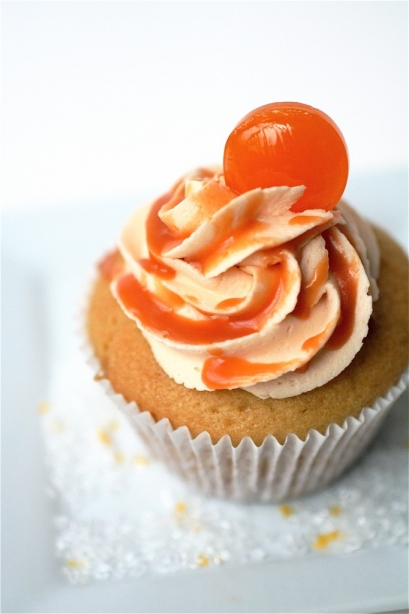 I saw my first preview for the last Harry Potter movie the other day.  I was trying to think back to when the first movie came out…I think I was at some point in my college education, and I think my little brother was in second grade or so.  My, how times have changed.
Ironically enough, I made these cupcakes about a month ago…for my baby brother…who is now 18 years old.  Which makes me feel old because my sister and I pretty much raised him.  He's a huge fan of Harry Potter (we sometimes almost exclusively speak in British accents to one another, and I may or may not have bought him a Harry Potter cookbook to take back to college as a gift somewhere along the way….).  He loves the whole culture behind the movie, and I have to admit, even though I have entered my 30's-I'll still be seeing this movie when it comes out in a few weeks.
Ben (my brother) requested these cupcakes for his 18th birthday during a quick trip home from college, and I was happy to oblige.  I had bookmarked these cupcakes when AmyBite's initially posted her recipe…and I saw it remade all over the blogosphere with rave reviews, so I knew I needed to try it for myself.  As a giant fan of butterscotch, I did not change the recipe one bit because the recipe seemed too good to be true.  Let me tell you, these cupcakes are fantastic if you love butterscotch.  They are a tad on the sweet side, but they are one of my favorite cupcakes I have ever made.  I took the leftovers to a cook-out later that weekend where they were quickly devoured.
So if you love Harry Potter or butterscotch, I urge you to get your witch and wizarding on with these sweet treats.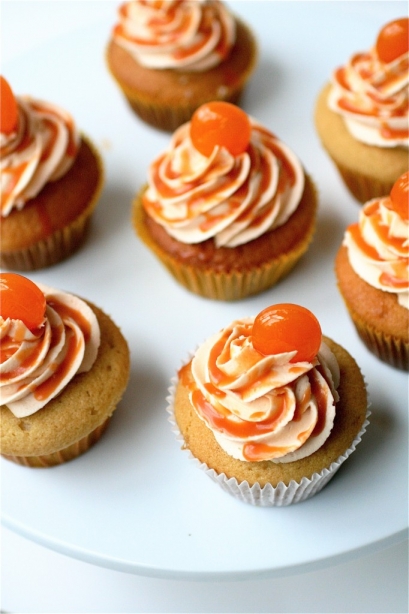 Butterbeer Cupcakes
Servings: about 18 cupcakes
Ingredients
For the cupcakes:
2 cups all-purpose flour
1 and 1/2 teaspoons baking powder
1/2 teaspoon baking soda
1/4 teaspoon salt
1/2 cup (1 stick) unsalted butter, at room temperature
1/2 cup granulated sugar
1/2 cup dark brown sugar
3 large eggs, room temperature
1 and 1/2 teaspoons vanilla
1 teaspoon butter flavoring ***You can find this in the spice aisle in your grocery store next to the other extracts.
1/2 cup buttermilk
1/2 cup cream soda, room temperature
For the buttercream frosting:
1/2 cup (1 stick) unsalted butter, room temperature
1/3 cup butterscotch ganache (see below)
1 teaspoon vanilla
1 teaspoon butter flavoring
Pinch salt
1 16-oz package (about 3 cups) powdered sugar
Milk or cream, as needed **just a few drops
For the butterscotch ganache:
1 11-ounce bag of butterscotch chips
1 cup heavy whipping cream
For garnish:
18 butterscotch hard candies, if desired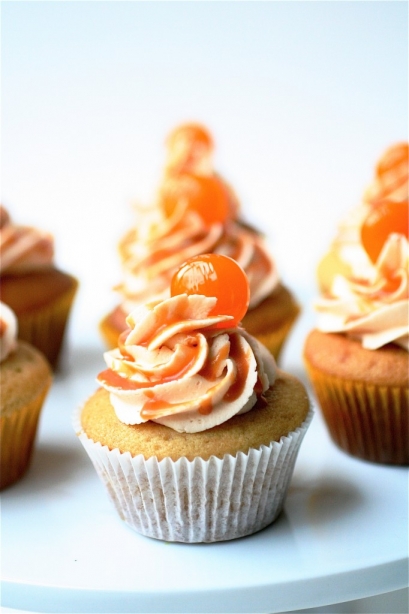 Instructions
1. For the cupcakes:  Preheat the oven to 350 degrees.
2. Prepare a cupcake pan with the liners of your choosing.
3. In a large bowl, whisk together the flour, baking soda, baking powder, and salt.
4. In the bowl of your standing mixer fitted with the paddle attachment, cream the butter until light, about 2 minutes.
5. Add the granulated and dark brown sugars to the butter and continue to mix at medium-high speed until light and fluffy, about 2 minutes.
6. Add in the eggs, one at a time, mixing well after each addition.
7. Add the vanilla and butter flavorings until combined.
8. Add about one-third of your buttermilk, followed by one-third of the cream soda, and then one-third of the flour mixture.
9. Alternate adding the remaining buttermilk, cream soda, and flour in thirds until well-combined.
10. Evenly distribute the cupcake batter among your prepared baking pan and bake until a tester inserted in the center comes out clean, about 15-17 minutes, rotating the pan halfway through the baking time.  Cool the cupcakes completely before frosting.
11. For the butterscotch ganache: In a heat-proof bowl over a pot of simmering water, mix the butterscotch chips and heavy cream, stirring until smooth.  Let cool.
12. For the butterscotch frosting: In the bowl of your standing mixer fitted with the paddle attachment, cream the butter until light, about 2 minutes.
13.  Add the cooled butterscotch ganache to the butter, mixing well.
14.  Add the vanilla, butter flavoring, and salt to the frosting and mix well to combine.
15. Decrease the mixer speed to low and slowly add in the powdered sugar, scraping down the sides of the bowl as necessary.  (Add a few drops of cream or additional powdered sugar as necessary).
16.  Pipe the frosting on the cupcakes as desired, drizzle with the butterscotch ganache, and top with butterscotch candies.

Source:  Directly from AmyBites.  (Thank you, Amy!  My friends and family adore you now!)