I don't know about you, but I'm in need for some healthy salads.  Spinach salads.  Wilted spinach salads with lots of flavor.  Actually, to be plainly honest with you, since I was getting ready for my move, I needed to clean out my fridge-you know, getting rid of the random capers, random kalamata olives of different varieties, a couple of lemons.  I saw this recipe and figured that this would be a great combination to allow me to do just that.
This recipe is really easy to make.  And it's not too time-consuming to prepare, either.  Chopping the onion, tomato, and shallot is the most time-consuming part.  And if you happen to have a partner in the kitchen that evening like I did, then you are golden.  And, it's pretty healthy as well.  Be creative with this salad.  I called it a Greek salad because of the kalamata olives and the feta, but the warm salad dressing could be amenable to almost any kind of other salad add-in.  I will definitely be making this dressing again.  I increased the amount of lemon juice to add more flavor, so next time I am thinking I could adapt this to a more citrus-y summer salad.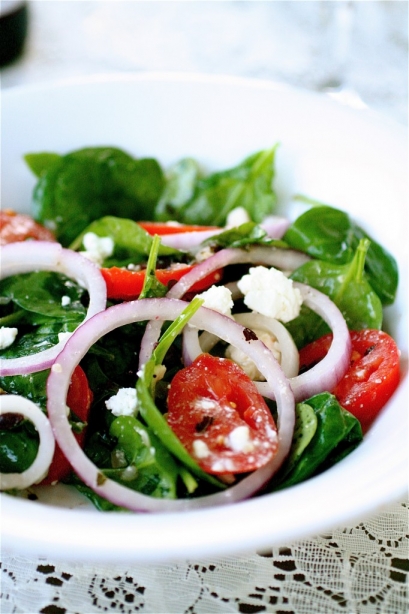 Wilted Greek Salad
Servings: 8 small salads, or 4 large main course salads
Ingredients
5 ounces fresh spinach leaves
3 tablespoons extra-virgin olive oil
2 tablespoons shallot, minced (1 medium shallot)
1 teaspoon garlic, minced (1 clove)
1 teaspoon dried oregano
Salt, to taste
Pepper, to taste
Pinch granulated sugar
2 tablespoons lemon juice
3 ounces feta cheese, crumbled
1/2 red onion, sliced thinly or as desired
2 teaspoons capers
1/2 cup kalamata olives, sliced
1 small tomato, sliced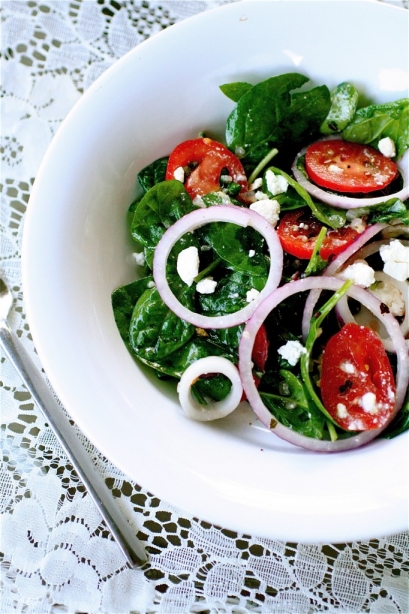 Instructions
1. In a sauté pan over medium heat, combine the oil, garlic, oregano, and sugar and season as desired with salt and pepper, stirring frequently, until the shallot is softened, about 2-3 minutes.
2. Add the lemon juice to the sauté pan and lightly stir to combine (the mixture will look slightly separated).
3. Place the spinach in a separate large bowl, and slowly pour the dressing over the spinach and toss to coat thoroughly.
4. Add the feta, red onion, capers, tomato, and kalamata olives and toss lightly to combine.  Serve immediately.
Source: Adapted from Cook's Illustrated.