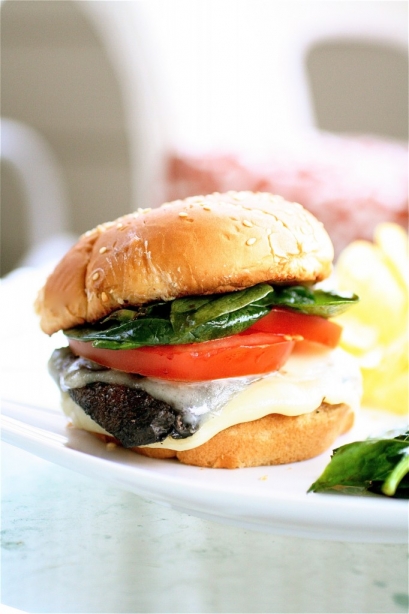 It appears that summer has arrived. Which means that grilling season is upon us.  And, while I do love grilling season, as someone who doesn't eat traditional burgers or hot dogs, sometimes my options can be limited.  And a girl can only eat so many tofu dogs and veggie burgers from the freezer aisle (although I do craze those from time to time).  I was looking for something that would allow me to eat alongside my friends and family but with fresher, cheaper ingredients (because sometimes those veggie alternatives in the freezer aisle can pack a big punch to your wallet if you are feeding several people).
Allow me to introduce you to a veggie burger alternative.  Now, while I know the idea of a portobello burger isn't novel, the flavor combinations in this one were a little new to me.  I had recently had lunch in Indianapolis with one of my mentors before I moved at a downtown restaurant that I had never been to.  While there were a ton of options available to me on the menu, I decided on a very similar burger to this one, and I was delighted with the flavor combination.  They actually served this burger on a fresh, warm pretzel roll (ahhh, sigh…..), and while I tried to re-create it several times at home, my pretzel rolls never seemed to turn out as soft and burger-friendly as theirs was (but, it's on my list of things to do…and wouldn't you know?  I can now take baking classes at King Arthur Flour Company…which I will be doing, so never fear.  Maybe then I can find a fail-proof recipe..does anyone out there have one to recommend in the meantime?).
These burgers are cheap, simple to make, and pack a great punch of flavor.  I loved the Swiss cheese, but feel free to try new cheeses or toppings (or forgo the cheese completely to cut back a little or to modify it for a vegan alternative.)   You could also make these on a grill pan on your stove if you don't have access to a grill (like me now…:(…I will definitely be missing my grill for the next year.)
Happy Summer!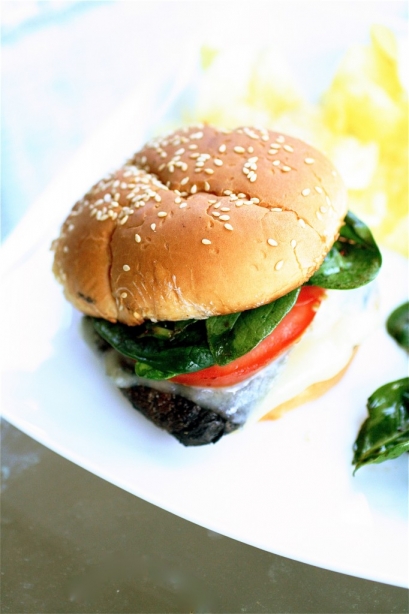 Balsamic Portobello Burgers
Servings: 4 burgers
Ingredients
4 sesame seed, pretzel, or hamburger buns of your choice, buttered and toasted lightly
For the dressing:
3 cups fresh spinach
1 tablespoon extra-virgin olive oil
1 tablespoon balsamic vinegar
For the portobellos:
4 large portobello mushrooms, gills removed and cleaned ***To clean a portobello easily, I use a wide paintbrush to dust the excess dirt off and then blot carefully with a damp paper towel
2 tablespoons extra-virgin olive oil
1/4 teaspoon garlic salt
1/8 teaspoon ground black pepper
4 slices Swiss cheese (or cheese of your choice)
1 large tomato, sliced ***Add other toppings, if you desire
Instructions
1. Preheat the grill to medium-high heat.
2. For the dressing: Meanwhile, in a large bowl, combine the spinach, olive oil, and balsamic vinegar, tossing to coat.  Set aside.
3. For the portobellos: In a small bowl, combine the olive oil, garlic salt, and pepper; whisk to combine.
4. Lightly brush both sides of each portobello with the olive oil mixture.
5. Place the portobellos on the hot grill, gill side up, and grill until cooked on one side, about 3-4 minutes.***Check your portobello frequently because grill heats can vary substantially.
6. Flip the portobellos now (gill side down) and place a slice of Swiss cheese over the top of each "burger".  Continue to grill until cheese is melted, about 3-4 minutes.
7. Remove the burgers from the grill and assemble by topping with the spinach mixture and tomato on your toasted buns.  Enjoy!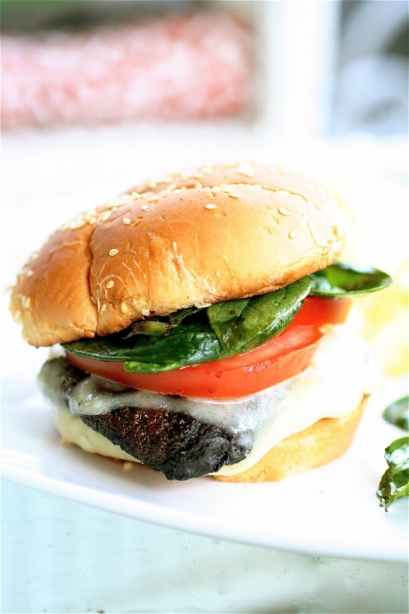 Source: A Curvy Carrot original, inspired by Indianapolis's 14 West.