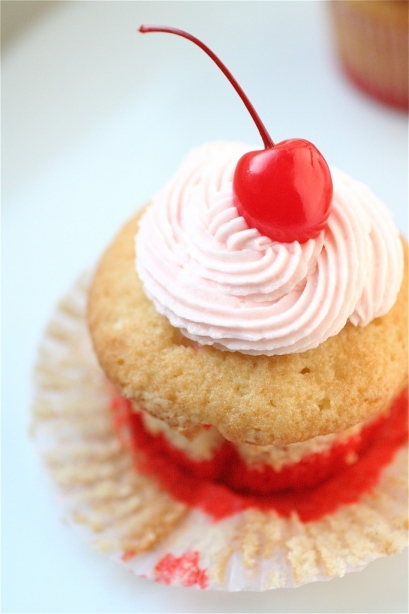 I can't remember the first time that I ever had a Shirley Temple, but I DO remember begging my dad to order me one during the rare occasions we would go out to dinner when I was a kid.  To me, they seemed so magical.  Now that I'm (almost?) a grown-up, this drink holds for me the nostalgia of childhood-complete with a cherry on top.  In fact, a few weeks ago when I went over to my friend Kelli's house for some quality "girl time" to chat with some of my dearest friends, this is the drink that she offered to me when I walked into her kitchen.  I was a bit surprised, to say the least, but it was a very pleasant one.  We all giggled like we were kids again, asked for extra cherries, and talked about how we all loved Shirley Temples as children.
So, it was completely ironic that the next day I stumbled upon this recipe and knew that I had to make it (By the way, the original recipe is gluten-free if you are interested).  What's more to love than a light and fluffy cupcake with a little bit of cherry flavor and a fluffy pink buttercream frosting?  I adapted the flavorings a little to add more of a cherry taste in the way of almond extract, and I used Cherry 7-Up to add a little more cherry flavor as well.  I stayed true to the original red cupcake batter on the bottom of the cupcake liner-it was my favorite part about the cupcakes when I saw them in the first place, but I don't think it's necessary if you are short on time.
The most fun part about making these cupcakes?  I had won a raffle drawing for a free photo shoot from hbphotography a few months before, and I had no idea of how I was going to use it.  I thought about giving it to my sister (who has small children), but she recently had their photos taken professionally.  Since I was getting ready to move and figured I might as well use the photo session to capture me, my dog, and my cats (much to the comedic relief of my family who lovingly refer to me as a "crazy cat/dog lady"), I got in touch with Becky and told her that I had a little food blog-and her wheels started turning.  She ended up coming over at 7am (to get the best natural lighting in the kitchen) as I piped these cupcakes to get some "action shots" of me in the kitchen.  I loved the way her pictures looked!
Here's to Shirley Temples!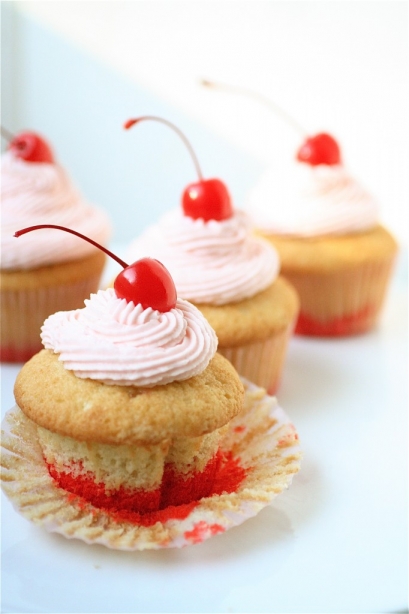 Shirley Temple Cupcakes
Servings: 12 cupcakes
Ingredients
For the cupcakes:
1 and 1/2 cups plus 1 tablespoon all-purpose flour
1 teaspoon baking powder
1/2 teaspoon sea salt
1/2 cup (1 stick) unsalted butter, at room temperature
1 cup granulated sugar
2 large eggs, at room temperature
1/2 cup Cherry 7-Up, at room temperature
1/2 teaspoon vanilla extract
1/2 teaspoon almond extract
1 tablespoon maraschino cherry juice
Red food coloring
For the Buttercream frosting:
1/2 cup (1 stick) unsalted butter, at room temperature
Pinch salt
2 and 1/2 cups powdered sugar
1/4 teaspoon vanilla extract
1/4 teaspoon almond extract
1 teaspoon fresh lemon juice
1 tablespoon maraschino cherry juice
For garnish:
12 maraschino cherries with stems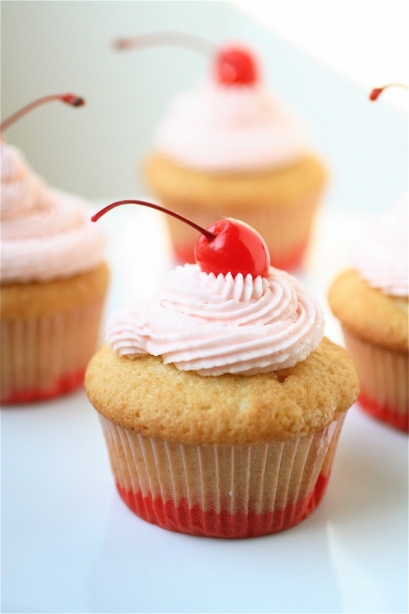 Instructions
1. For the cupcakes: Preheat the oven to 350 degrees, and prepare a cupcake pan with your desired paper liners.
2. In a large bowl, whisk together 1 and 1/2 cups of flour, baking powder, and salt.  Set aside.
3. In the bowl of your standing mixer fitted with the paddle attachment, combine the butter and sugar together and beat, on medium-high speed, until fluffy, about 2-3 minutes.
4. Add the eggs, one at a time, mixing well after each addition.
5. Reduce the mixer speed to low, and alternate adding half of the flour mixture and half of the Cherry 7-Up, mixing well and scraping down the sides of the bowl as necessary.  Repeat until the flour and Cherry 7-Up are completely added to the batter.
6. Add the vanilla and almond extracts, mixing well.
7.  Place about 3/4 cup of the cupcake batter in a separate small bowl and add the remaining 1 tablespoon of flour, maraschino cherry juice, and red food coloring (to your desired tint).
8. Evenly distribute the red cupcake batter among your prepared liners, about 1-2 teaspoons per cupcake, gently smoothing out the batter to make sure it is flat.
9. Once the red batter is in place, evenly distribute the remaining cupcake batter among the cupcake liners, making sure not to mix the two batters.
10. Bake for 15-20 minutes, or until a cake tester inserted in the middle comes out clean.  Let cool completely before frosting.
11. For the Buttercream Frosting: In the bowl of your standing mixer fitted with the paddle attachment, cream the butter until light and fluffy, about 2-3 minutes.
12. Reduce the mixer speed to low and add the pinch of salt, powdered (confectioners') sugar, vanilla and almond extracts, lemon juice, and maraschino cherry juice, adding more powdered sugar as necessary for your desired piping consistency.
13.  Pipe as desired onto your cooled cupcakes and garnish with a maraschino cherry.

Source:  Slightly adapted from Simply Gluten Free.