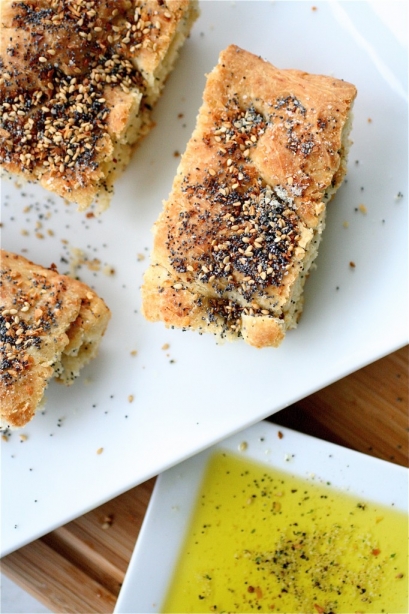 I'm an everything-bagel-kind-of-girl.  Either that or a massive-salt-bagel-kind-of-girl.  Some people go for the sweet bagels, like blueberry or cinnamon raisin, but not me.  I like my bagels savory, toasted, and with tons of flavor (I have to admit, I don't really care for the lingering fear of having poppy seeds stuck in my teeth and garlic breath for the rest of the day afterwards, though.)
I have made focaccia before, but I had this recipe from King Arthur Flour Company bookmarked for a very long time.  The recipe emphasizes quickness and simplicity with very little fuss, which sounded great to me since I had been feeling like my life was in fast forward with no signs of stopping.  True to its word, this recipe is very little fuss (although it's not "quick" in the sense that you must allow for a 1-hour rising time), but it doesn't require much hands-on attention. I served this focaccia warm with some seasoned extra virgin olive oil as a light appetizer before a meal, and then I used the leftovers the next day as my bread for a nice veggie sandwich.  I will definitely be making this again soon.
Feel free to play around with the seasonings you have on-hand.  That's what I did, and next time you can bet that I will be experimenting even more!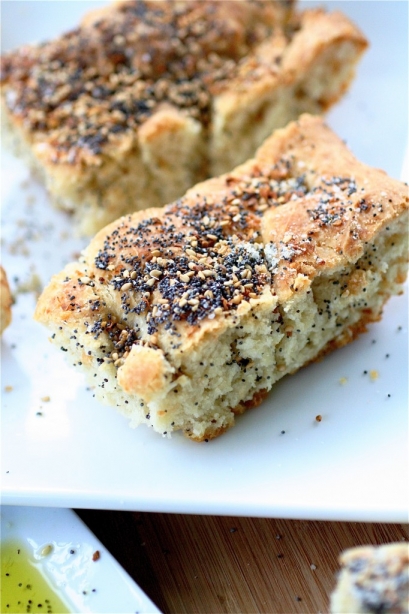 Easy Everything Focaccia
Servings: One loaf, about 12 servings
Ingredients
1 and 1/2 cups warm water
3 tablespoons olive oil, plus more for drizzling your baking pan
1 and 1/4 teaspoons salt
3 and 1/2 cups all-purpose flour
1 tablespoon instant yeast
1 tablespoon poppy seeds
1 teaspoon garlic salt
1 tablespoon dried onion
1 tablespoon toasted sesame seeds
Cooking spray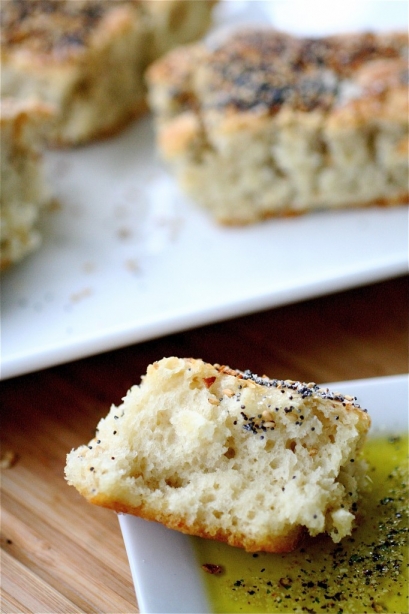 Instructions
1.  Lightly spray a 9 x 13-inch baking pan with the cooking spray, and drizzle enough olive oil to coat the bottom of the pan thoroughly.
2. In the bowl of your standing mixer fitted with the paddle attachment, combine the water, olive oil, salt, flour, and yeast and mix at high speed until combined, about a minute or so.
3. Using a rubber spatula, evenly spread the batter into your prepared pan, cover with a light towel, and let rise at room temperature for 60 minutes.
4. Meanwhile, preheat the oven to 375 degrees.
5. Once risen, gently poke the dough with your finger to create multiple little indentations on the surface.
6. Drizzle the dough lightly with a little more olive oil (to your liking) and sprinkle with the poppy seeds, garlic salt, dried onion, and toasted sesame seeds.
7. Bake the dough for about 35-40 minutes, until it is golden brown.
8. Remove the focaccia from the oven, let rest for at least 5 minutes in the pan, and then remove it from the pan and let cool slightly on a wire rack.

Source:  Adapted from King Arthur Flour Company.