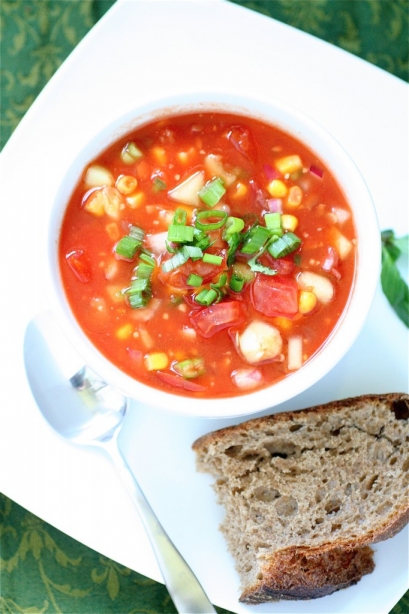 Apparently summer is here.  The days are sunny (for the most part), long, and I am wearing flip flops (my favorite kind of shoe).
And for those of you who read this blog regularly, you will know that I recently headed to the Upper Valley area (aka known as the Vermont/New Hampshire border).  And I may have just fallen in love.  The endless green forest-covered mountains, the cool afternoon breezes, my proximity to both work and fun…it's pretty awesome.  But the best part for me so far?  The food.  Hands down.
I'm here where everyone promotes good, honest, local food.  When I walk into the Co-op here, there are signs and posters everywhere reminding me to "Buy Local" (and also reminding me to run back to my car to get my reusable grocery bags.)  Aisles of endless local cheeses, milks, and yogurts.  I had the best mozzarella of my life the other day (now, granted, I have never been to Italy..).  There are at least 15 different local farms to choose from (a novelty to me), and you better believe that I am trying out a new farm each week when I make my routine grocery run.  There are local bread companies, local wineries, local meats (obviously I am not hitting those up…), and local eggs (which, by the way, have the most orange and tasty yolks I have ever had).  And the produce?  Don't even get me started.  My little sister stayed a few extra days out here with me to help me unpack, and she actually took a picture of the produce (mostly local, again) because it was so beautiful.  There are farmers' markets everywhere.  I'm living a dream here…where it's accessible, cheaper than what I am used to, and overwhelmed with options.
So, with all this fresh produce, I wanted to make a simple and healthy soup for the summer.  I've never been one for cold soups (I never really liked the idea), but I was recently served gazpacho (in little Scotch glasses, no less!) at a dinner party, and the thought of that refreshing and tasty soup was still lingering in my mind.  I wanted to take advantage of the variety of vegetables around me, and so I did.
The beauty of this recipe is (again) variation.  You can add in any kind of vegetable you want, experiment with seasonings, and completely make it your own.  It gets better after aging for a while in the fridge-I ate it for lunch for several days with a little piece of cheddar and some rustic wheat bread.  (Heaven, actually.)  You could also serve this as a starter (in little glasses, like I had) at a get-together-it's completely versatile!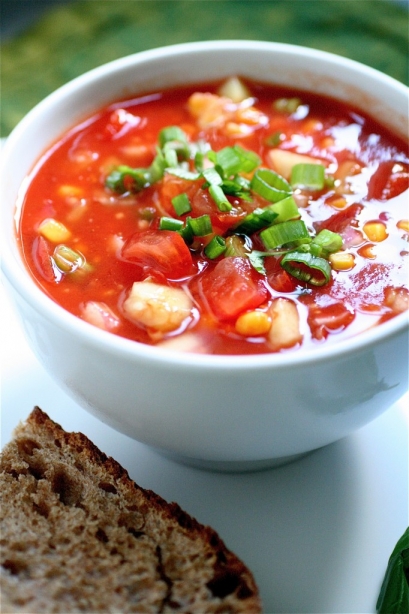 Spicy Summer Gazpacho
Servings: approximately 6
Ingredients
1 pound (approximately 4-5) medium tomatoes, any variety, seeded and chopped
1 cup frozen (or fresh) corn kernels
1 small jalapeno, seeded and minced
1 medium cucumber, peeled and chopped
4 scallions, white and light green parts only, sliced thinly**Keep the green parts for garnish, if you desire.
1/2 red onion, minced
3 teaspoons minced garlic (about 3 cloves)
1 tablespoon fresh lemon juice
Two 11.5-ounce cans of tomato juice
1/2 cup cold water
2 tablespoons sriracha sauce (or other hot sauce), or to taste
1 teaspoon garlic salt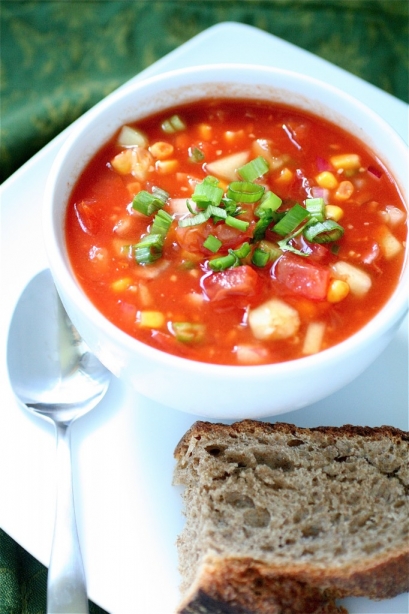 Instructions
1. In a large bowl, combine the tomatoes, corn, jalapeno pepper, cucumber, scallions, red onion, and garlic, tossing to combine.
2. In a medium, separate bowl, add the lemon juice, tomato juice, and cold water.
3.  Add the tomato juice mixture to the chopped vegetables, mixing well.
4. Add the sriracha and the garlic salt, seasoning to taste.
5.  Cover with plastic wrap and let chill in the refrigerator for at least 4 hours before serving (I promise, it will taste better after the wait!).
6. Ladle into individual bowls, garnish with additional scallions (if desired), and season to taste.

Source:  Adapted from The Co-Op Food Stores.