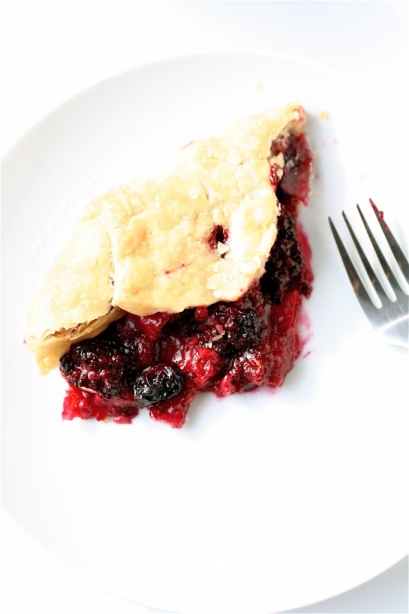 Happy 4th of July!
I'm a last minute kind of planner-actually I have been moving in and had orientation for my new job this week, so baking for the 4th of July was the last thing on my mind.  I still wanted to make something a little celebratory for the holiday, but I wanted something quick and easy.  I also wanted to use up some of the berries I had bought at the market this past week.
This recipe is super easy.  It's actually one of the easiest "pastry" recipes I have ever tried.  I went ahead and used store-bought pie dough (I don't have the time anymore to make my own…but someday I will find a good recipe to share), and I decided to use blueberries, raspberries, and blackberries in the turnover.  You could use pretty much any kind of fruit here.  In fact, I still have another pie dough on hand, so I might be trying this with my strawberries and some peaches in a few days!  I didn't add any spices to the mix, but depending on the type of fruit you use, you could always add some cinnamon, nutmeg, or ginger, even.
Think of this dessert as a very quick way to satisfy a craving for a fresh fruit pie.  And what is more American than a fruit pie?
I hope you have a wonderful 4th of July.  This year, freedom means a lot more to me than ever before.
Triple Berry Turnovers
Servings: 4
Ingredients
1 store-bought pre-made pie dough, thawed
1/2 cup fresh blueberries
1/2 cup fresh raspberries
1/2 cup fresh blackberries
1/3 cup sugar, plus more for sprinkling on top of the turnover, if desired
1 teaspoon fresh lemon juice
1 tablespoon unsalted butter, cut into pieces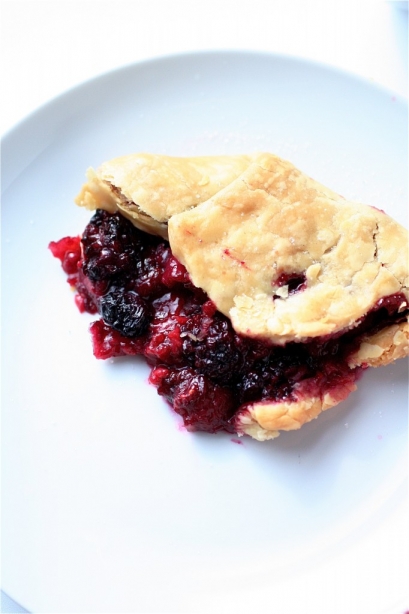 Instructions
1. Preheat the oven to 375 degrees.
2. Place the thawed pie dough round on an ungreased but rimmed (the berry juices will overflow, so the rimmed baking sheet is crucial) baking sheet.
3. In a separate medium bowl, combine the blueberries, raspberries, blackberries, lemon juice, and granulated sugar.  Toss lightly to coat the berries with the sugar mixture.
4. Transfer the fruit mixture to the pie round and gently smooth the fruit to within 2 inches of the edge of the pie dough.
5. Distribute the pieces of butter evenly over the fruit mixture.
6. Gently fold and pinch the pie dough as far as possible over the berries (the center of the berries will not be covered by the dough), pleating as necessary.
7.  Bake until the dough is golden brown and the fruit is bubbly, about 30-40 minutes or so.
8. Remove the turnover from the oven and let cool for at least 10 minutes before cutting into separate wedges.

Source:  Adapted from Williams-Sonoma's Cocktail Parties.