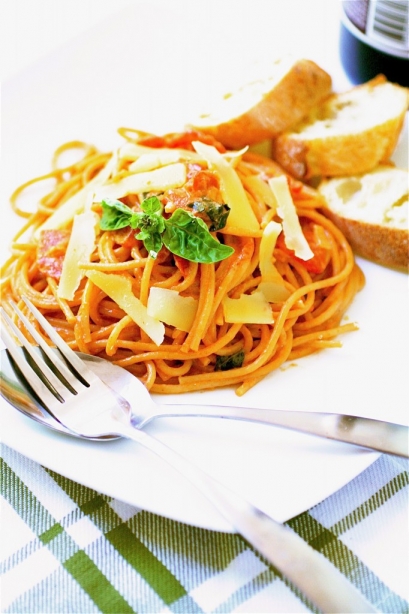 I have a new fondness for whole wheat pasta.  It's filling, has great flavor, and it's a healthier alternative to the white stuff.  I try to avoid pasta in general…usually because of the inevitable energy crash that swiftly follows my meal (probably due to the incredible glycemic index of all those carbohydrates…)  So pasta, for me, is a rare treat.  But it's also one of those things in life that has endless experimental and gustatory possibilities.  You can pretty much pair any kind of food with pasta and it will turn out great.
I came across this recipe and was sold…hands down.  I knew that mascarpone would add a creaminess to the pasta sauce…and who could resist it in combination with a tomato and basil sauce that could be made in a half hour?  This could be a great weeknight meal because you can make the sauce and prepare the pasta at the same time.  I only made enough for two large portions here, so feel free to double this if you are looking to feed a group of four.  The end result?  A super creamy tomato sauce with bits of tomato and fresh basil.  The whole wheat pasta adds a little nuttiness to the dish, but you could always use regular spaghetti (or any other kind of pasta) here.  I can't wait to try this with fresh pasta.  I'm also adding this to my repertoire of go-to weeknight meals.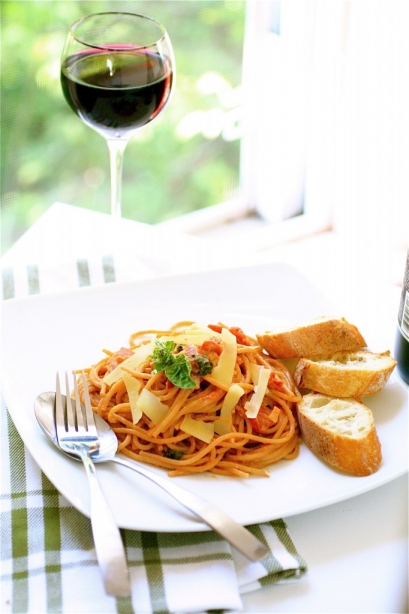 Tomato and Mascarpone Pasta
Servings: 2 large portions
Ingredients
2 tablespoons extra virgin olive oil
1 large shallot, chopped finely
2 garlic cloves, minced
1 14-ounce can of diced tomatoes (don't drain the juices…they will go into the sauce, too!)
1/2 teaspoon crushed red pepper
1/2 teaspoon garlic salt
1/2 teaspoon dried oregano
3 ounces mascarpone cheese
2 tablespoons fresh basil, chopped
8 ounces whole wheat spaghetti
Parmesan cheese, for serving
Fresh basil, for garnish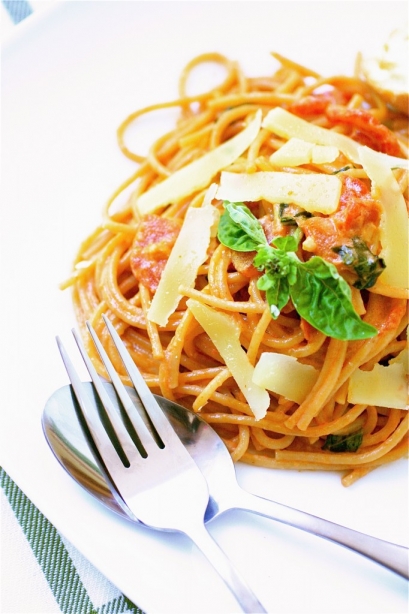 Instructions
1. In a large sauté pan over medium heat, heat the olive oil until shimmering.
2. Add the chopped shallot and cook, stirring occasionally, until the shallot is softened, about 3-4 minutes.
3. Add the minced garlic and cook until fragrant, about one minute.
4. Add the diced tomato (and the juice!) to the pan, stirring thoroughly.
5. Reduce the heat to low, and simmer, stirring occasionally, until the sauce is thickened, about 30 minutes.
6. Meanwhile, bring a large pot of lightly salted water to a boil and cook the pasta, according to package directions.
7. Once the sauce has thickened, add the mascarpone cheese, red pepper, garlic salt, and dried oregano, mixing thoroughly.
8. Once the pasta is completely cooked, drain it, making sure to reserve about 1/3 cup of the pasta water.
9.  Add the pasta and the reserved pasta water to the sauce, and toss gently to combine.
10. Serve immediately, and garnish as desired with fresh Parmesan cheese and basil.
Source:  Adapted from Kayotic Kitchen.  Check out the link for a great garlic bread recipe, too!