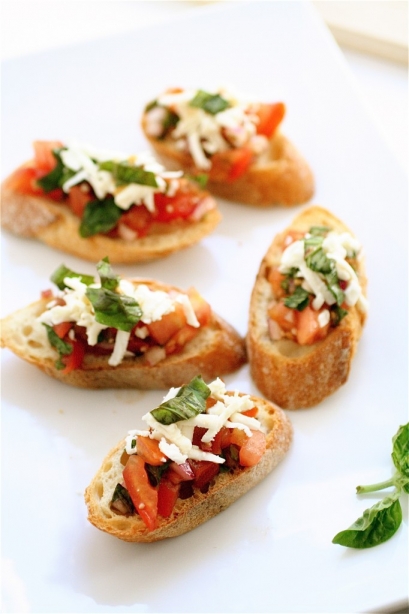 I told you that there would be a mini run of tomato-laden recipes, didn't I?  How can I resist with all these great summer veggies (or fruits, if we want to get technical about the tomato)?
I've made a few bruschetta recipes here for the blog.  I think bruschetta is one of those foods that you can never go wrong with.  Hot or cold, it's great for its versatility in flavor combinations and in presentation.  Who doesn't like a little piece of lightly toasted baguette with some sort of treat on top?  Sigh.  I love finger foods.
So it seems odd that with all these other bruschetta things I have posted, I had yet to post the most classical version of all: a simple tomato bruschetta.  With the right touch of garlic, a little bit of juice, some salt to balance it all out, and that lightly toasted baguette.  Yes.  How can we go wrong here?
In honor of one of my favorite restaurants back home in Indy, I served this bruschetta with a little bit of grated fresh mozzarella on top.  (because I can never ever resist adding cheese to anything).  If you are like me, then this is like a meal on its own…I always end up getting full on the appetizer!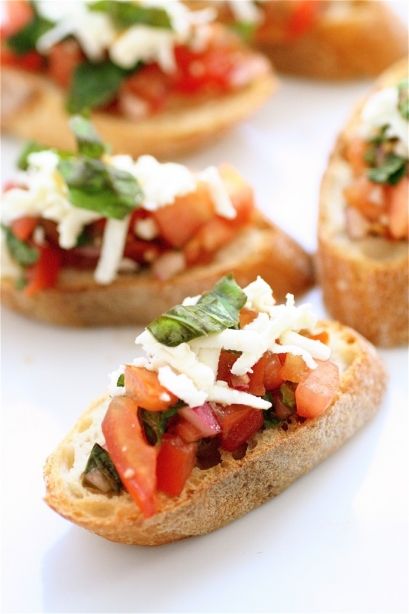 Simple Garden Bruschetta
Servings:  approximately 4 cups of bruschetta
Ingredients
4 large ripe tomatoes, seeded and chopped
3 cloves garlic, minced
1 small red onion, minced
1 tablespoon fresh basil, chopped finely
1/4 teaspoon sea salt
Pepper, to taste
1/8 cup extra virgin olive oil
4 teaspoons balsamic vinegar
1 tablespoon red wine vinegar
1/2 French baguette, sliced,  lightly brushed with olive oil and toasted to your liking
Mozzarella, grated for garnish, if desired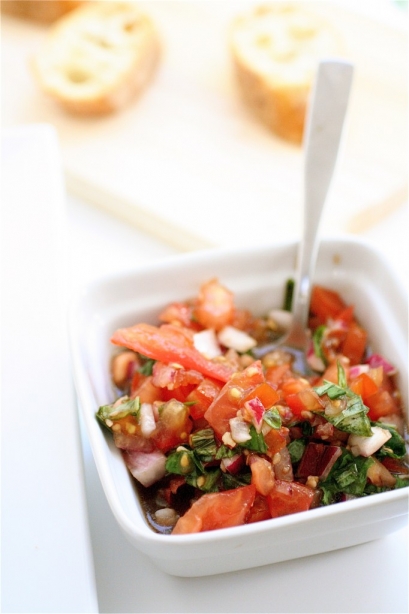 Instructions
1. In a large bowl, combine the tomatoes, garlic, onion, basil, salt, pepper, olive oil, balsamic vinegar, and red wine vinegar, mixing well.
2. Let sit, covered, at room temperature (or in the refrigerator, if you are not using it right away), for at least 20 minutes for the flavors to meld together.
3. Place about 1-2 tablespoons of the tomato mixture on top of each slice of toasted bread.
4. Top with the grated mozzarella and serve immediately.

Source:  Slightly adapted from Whole Foods.