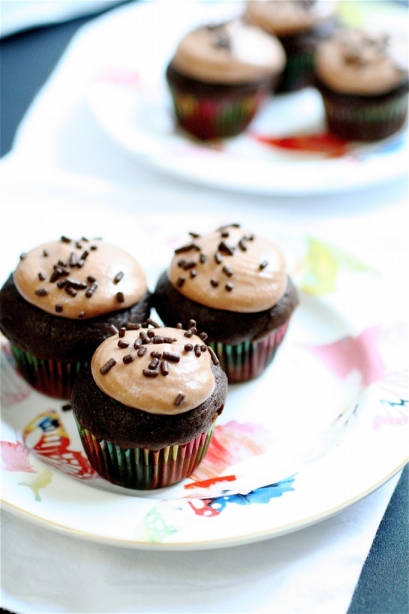 I have to admit that I find mini baked goods as completely irresistible.  What's not to love about a bite-sized piece of dessert that, at least in my case, I can always find a reason of why it's completely justifiable?  Ever since I bought a mini muffin pan a few years back, I have loved making these miniature treats every so often…you know…just because.  The down side for me is that I always end up eating, like three or four of the mini desserts, so it's never like I am doing myself a dietary favor.  Oh well.
I wanted something super rich, thick, and fudgy to take to a cookout here.  I wasn't sure how many people would be there, so I figured making the mini cupcakes would be a little more manageable…because of the reason I listed above:  no matter what, mini desserts always tend to be eaten, unlike their larger regular-sized counterparts.  There's always room for one more mini cupcake, in my opinion.  This recipe ends up making 48 (or more) mini cupcakes, depending on the size of mini liner you use.  I used Martha Stewart's Mini Treat Wrappers as my liners, which I personally think are a little bit smaller than normal mini-sized wrappers, so I ended up with a few more than 48 cupcakes. I added bittersweet chocolate chunks to the cupcakes to add to the fudgy flavor as well as to prevent too much of an oversweet taste because I knew the frosting I chose would end up being a little on the sweet side.  As far as the frosting goes, I will be honest with you here.  As far as run-of-the-mill chocolate frostings go, this one is just ok.  I was hoping for a thick and rich fudge frosting like the name implies, but it was a little too much on the light side for me.  If you have a favorite thick chocolate fudge frosting recipe and you don't mind sharing, I would love to try it out. The cupcakes seemed to be a hit with everyone at the cookout, so apparently this was not a big issue for them.  And I still ended up eating about 10 of them, so it wasn't an issue for me, either.  😉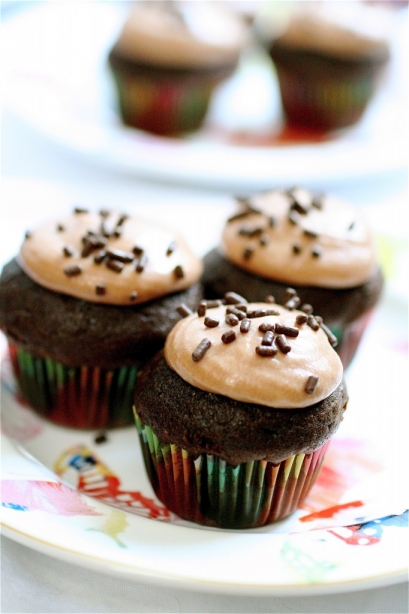 Mini Fudge Cupcakes
Servings: at least 48 mini cupcakes
Ingredients
For the cupcakes:
1 cup Dutch processed cocoa
2 and 1/3 cups all-purpose flour
1 and 2/3 cups brown sugar
1 and 1/2 teaspoons baking powder
1 teaspoon espresso powder
1 teaspoon salt
1 and 1/2 cups bittersweet chocolate chips
3 large eggs
1 and 1/2 cups milk
1 tablespoon vanilla extract
1 tablespoon white vinegar
1/2 cup unsalted butter, melted
For the frosting:
1/2 cup unsalted butter
3 (1-ounce) squares of unsweetened chocolate
1 pound confectioners' sugar
1/2 teaspoon vanilla extract
3/4 cup milk
Chocolate jimmies, for garnish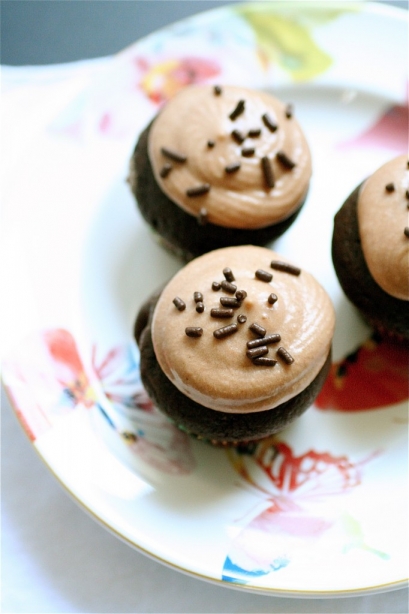 Instructions
1. For the cupcakes:  Preheat the oven to 350 degrees.
2. Meanwhile, line two mini cupcake pans with the mini liners of your choice.
3. In the bowl of your standing mixer fitted with the paddle attachment, combine the cocoa, flour, brown sugar, baking powder, espresso powder, salt, and chocolate chips, mixing until combined.
4. In a separate bowl, combine the eggs, milk, and vanilla extract together.
5.  Pour the wet ingredients into the dry ingredients and mix until just combined.
6. Add the vinegar and melted butter to the mixture and mix until combined.
7. Using a teaspoon, gently place enough batter to fill the liners about 3/4's full.
8.  Bake the cupcakes until the tops spring back when tapped-mine took about 18 minutes total.  I switched and rotated the pans halfway through the baking time.
9. Remove the cupcakes from the oven and let cool completely before frosting.
10.  For the frosting: In a microwave safe bowl, melt the butter and unsweetened chocolate in 10-second intervals until melted and smooth.
11. In a separate bowl, combine the confectioners' sugar, vanilla, and 1/2 cup of the milk.
12. Add the melted chocolate/butter mixture to the dry ingredients, mixing well.
13. Add the remaining milk, if necessary, to reach your desired consistency.
14. Let the frosting sit at room temperature (or chill in the fridge if you are in a hurry)-it will thicken up as it cools.
15. Pipe as desired onto the cupcakes and decorate with chocolate sprinkles.
Sources:  Cupcakes directly from King Arthur Flour and frosting directly from All Recipes.