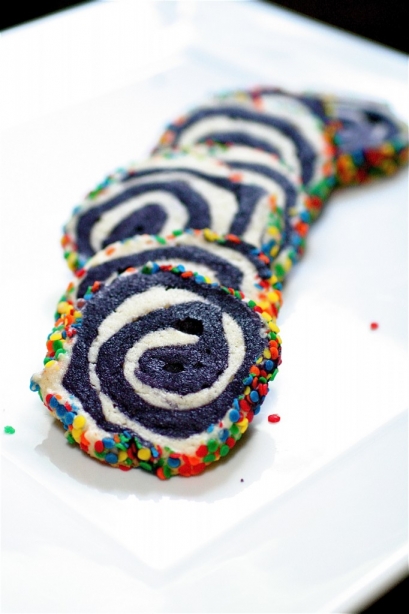 Today is my nephew Elliott's 4th birthday.  Today this post is to him.
Dear Elliott:
I love you so much.  You are growing into a little boy right before my eyes.  I remember the day your Mommy told me that you were growing in her belly.  I couldn't believe how much love I felt for you at that moment, especially because I didn't even know you yet!
You are getting into the phase of liking to tease and trick people, which is very funny to the rest of us.  The whole time you were in your mommy's belly, we thought you were a little girl..so we called you Caroline the whole time and even bought you lots of pretty girl clothes.  I was there the minute you were born; I was holding your mommy's hand and your daddy was holding her other hand.  When you came out and the doctor said you were a boy, we all just looked at one another.  Your daddy was so excited to show you cars and trucks and all sorts of things.  We went out into the waiting room to tell GiGi and Papa and the rest of the family that you were here and you were a BOY…and everybody was laughing.  You tricked us then!  🙂
Since the day you were born, every day I love you even more and more.  You never cease to amaze me and to teach me how wonderful being alive can be.  You are incredibly observant and smart, and I am so proud of you.  I love that you can tell me every make and model of the cars/trucks/construction equipment on the road.  I love that you know what all the dinosaurs are called.  And I also love that you teach me Spanish words.  Aunt Sammy and I laugh when you tell us to slow down when we drive or that we are silly girls.  I love taking you to the movies and eating popcorn together.  I also love that some of the books and movies I loved as a child are now your favorites, too.   I love how you are a wonderful big brother to Oliver and you are teaching him how to do things now.  You are a fantastic big brother! I love it when you make your silly faces to me, and shhhh, (don't tell anyone), but I also secretly love it when I say "I love you" to you and you sometimes say back "I DON'T love you."  But I know you do because sometimes you will come up to me and whisper in my ear that you really do love me…and no one knows that.
I'm missing your pirate birthday party today and I am so sad that I am not there to see you blow out the candles on the treasure chest cake your mommy is making you. I know that you will have so much fun.  I hope you liked these cookies that I made for you (and the rest of your birthday surprises!).  I wanted them to be wacky and silly and just like the zebras we saw at the zoo.
I love you, Elliott.  I miss you very much.  Happy 4th birthday.
Love,
Aunt Shanon
Elliott's Wacky Spiral Cookies
Servings:  Approximately 24 cookies
Ingredients
2 cups cake flour
1/2 teaspoon baking powder
1/4 teaspoon salt
2/3 cup powdered sugar
1/4 cup granulated sugar
2 and 1/2 sticks unsalted butter, cut into 1-tablespoon portions
1 teaspoon vanilla
1/2 teaspoon almond extract***Or any other flavor
Few drops black food color gel, to your desired tint
2 tablespoons cake flour
Approximately 1 to 1 and 1/2 cups colored sprinkles of your choice
****Note:  Please check out the fantastic tutorial on SprinkleBakes website (see the link below at the end of this post).  Hers are perfect.  Mine, on the other hand, are far from it.  I would not advise making these in an apartment without air conditioning on a 90-degree day like I did (even though I chilled them for super long!).  In the end, I loved the imperfections of the cookies because I really was reminded of the zebras at the zoo, but if you want a perfect roll, crank up your AC and work as quickly as possible to avoid the doughs melting and not holding a solid consistency.
Instructions
1. In the bowl of your food processor, combine the cake flour, baking powder, salt, powdered sugar, and granulated sugar.
2. Pulse the mixture a few times.
3. Add the butter, one piece at a time, to the mixture and pulse after each one (or put them through the feed tube while the motor is running) until the dough looks like wet sand.
4. Add the vanilla and mix to combine.  The dough should form a soft ball at this point.
5. Remove the dough from the processor and divide it into two equal portions.
6. Place one half back into the food processor.
7. Add the almond extract, the black food coloring gel, and the 2 tablespoons of cake flour to the dough in the food processor.  Pulse the mixture until the food coloring is evenly distributed throughout the dough.
8. On a clean surface, place the uncolored dough between two sheets of wax or parchment paper.  Using a rolling pin, roll the dough (between the papers) to an 11 x 8 and 1/2-inch rectangle, about 1/8-inch thick.
9.  Immediately place the dough on a baking sheet and chill in the refrigerator.
10.  Repeat the rolling process with the black dough, and refrigerate both doughs until firm, at least 2 or 3 hours.
11.  Once firm, remove the top piece of parchment paper from the tops of both of the doughs.
12. Using a silicone or pastry brush, lightly brush the top of the uncolored dough with water (so the doughs will stick together!)
13.  Using the parchment paper,  lift the almond dough and flip it, face down, on top of the uncolored, or vanilla, dough.
14. Using your fingertips or lightly with a rolling pin, firmly press the black dough on top of the vanilla dough to seal the edges and remove air bubbles.
15. Remove the top piece of the parchment paper.
16. Using a sharp knife, carefully trim the edges of the doughs so that they are even.
17. At this point, begin to roll the doughs in a rolling fashion, starting at the closest long edge to you, making sure to keep the rolls as tight together as possible.  **I found this part to be incredibly hard because my dough was ripping due to the heat.  Chilling it a little bit longer seemed to help with this.
18. Once you have a complete roll, pour the sprinkles into a shallow, wide pan and roll the cookie dough into the sprinkles, pressing gently to get them to adhere tightly.
19. Wrap the cookie dough tightly with plastic wrap and chill until firm, at least 4 hours.
20.  Once chilled, pre-heat your oven to 325 degrees.
21. Slice the cookie dough log into 1/4-inch thick slices and place the cookies onto a parchment-lined baking sheet.
22.  Bake the cookies until the edges are lightly golden brown, about 16 minutes or so.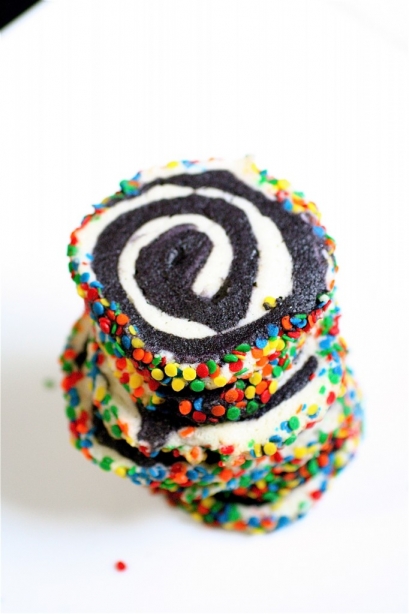 Source:  Barely adapted from SprinkleBakes.  Please check out her fantastic tutorial with pictures.