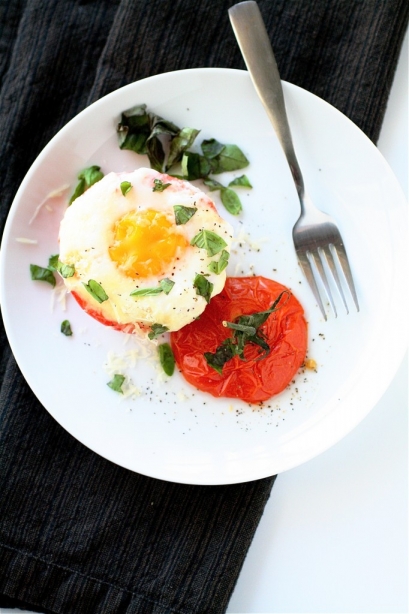 I should really rename this post "Baked Eggs in Tomato Cups and Sometimes Being Spontaneous Is Not A Good Idea".
For some of you who may know, about a month ago I moved to the New England area to begin a new one-year fellowship.  And, while I absolutely loved the material I was working with and learning about from 6:45 am to 5 pm at night, going home was not fun.  Because, as I soon found out, my little 400 square-foot-ish apartment had a few unwelcome visitors…I had a mouse infestation.  My two cats, Cosmo and Jinxie, quickly became mouse-killing machines, even taking up their "posts" diligently each night (Cosmo took the couch area, and Jinxie took the area near the stove).  There were also several other major issues with this apartment as well, concerns about my safety (having people barge into your apartment unannounced can be a little unnerving to someone who lives alone) were at the top of the list.
I didn't have the time or money to come out to the area to look at the apartment before I moved.  I found the apartment online and the person I contacted seemed all right.  I decided it was going to be a good lesson to me (as a Type A personality, moving someplace I had never seen almost seemed like a lesson in spontaneity.)  I figured I could handle the cards that were going to be dealt to me, since I had been through so much in the past.
But, as I went home everyday, I realized I wasn't happy.  My gut instinct to grab my animals and re-center myself became all too defined when I had seen way too much.  I was finding that I hated cooking in the apartment-I was always on the look-out for bugs (there were plenty) and the mice (there were plenty).  And when you can't enjoy the things that re-center and keep you challenged/inspired/fulfilled…it's a sad thing.  And cooking/writing/taking pictures of food are what I love.  If I am not at work or reading on my material at night, then I am thinking about food.  What tastes good with what?  What can I make tonight with the tomatoes about to go bad (hence the recipe below)? How can I continue to challenge myself, not-so-great food and not-so-great pictures included?  And, how, how can I get better at baking/decorating?
I found an amazing new apartment and I couldn't be happier.  My kitchen is beautiful.  I have a working stove/oven and even a dishwasher.  I have room for my mixer and places to store my baking sheets.  I am proud to say that I moved myself single-handedly, box by box, from the old apartment this past weekend, and I still had energy to get in that kitchen to start working again.  I found myself reading food magazines again during lunch.  I feel re-inspired, re-energized, and clean.  I hadn't realized how stressful it had been for me for the past month.
I decided to use up those tomatoes (about to go bad) with the little food I had in my new fridge that I had packed up in the move.  I had this recipe bookmarked for a while, and I figured this would be the time to try it.  I always seem to have eggs and tomatoes on hand.  So here's another egg recipe.  And another tomato recipe.  A lot of you seem to like these two ingredients 🙂 which is why I love you.
It's a great breakfast/brunch or even light dinner option.  The eggs are ready in less than 20 minutes, and there's lots of hands-off time, so I was able to unpack a lot while they cooked.  I cooked my eggs for a total of 17 minutes, and my whites were just set.  So, if you like your eggs a little bit more done that that, add a few minutes to the baking time.  The other nice thing is that you can use whatever kind of cheese you have on hand-I happened to have white cheddar and Parmesan, but feel free to mix and match.  I was very pleased with the way that they turned out.  I had expected the tomatoes to turn to mush, but they actually stood up quite well in the baking process.  Serve these with some toast or an English muffin on the side because they are a little bit messy.
So, I learned a lesson.  Sometimes being spontaneous isn't always the best idea when you are moving halfway across the country.  Oh, and make sure you have two mouse-killing machine cats.  🙂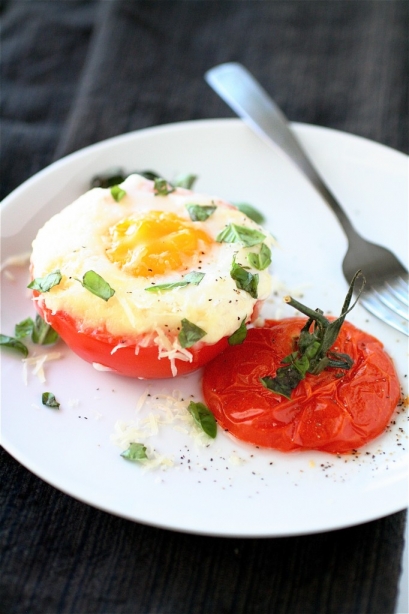 Baked Eggs in Tomato Cups
Servings: 2
Ingredients
2 large tomatoes (variety of your choice)
2 large eggs
1/2 cup white cheddar, shredded**You will probably have extra cheese
1/4 cup Parmesan cheese, finely grated
Sea salt and pepper, to taste
1 tablespoon fresh basil, shredded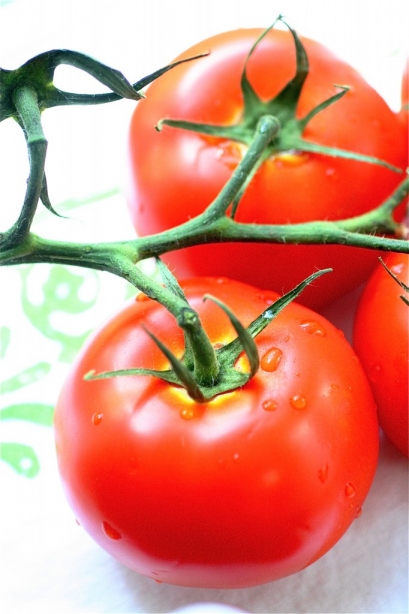 Instructions
1. Preheat the oven to 425 degrees.
2. Slice off the tops of each tomato, and using a sharp knife, gently cut around the inside perimeter of each tomato and scoop out the seeds.
3. Place the tomatoes in an oven-proof baking dish, with the tops.  ***I sort of wedged my tomatoes up against the sides so that they would stay upright and the eggs would stay centered.
4.  Depending on the size of your tomatoes, place about 1-2 tablespoons of the white cheddar in the bottom of each, making a little well with your fingers so that the eggs will lay flat.
5. Break an egg into each tomato, trying as best as you can to keep all the whites inside the tomato.
6,  Bake the eggs for 10 minutes.  **They will just begin to set during this time.
7, After ten minutes, remove the eggs from the oven and sprinkle with the Parmesan cheese.
8.  Bake for another 7-10 minutes, until the eggs are set to your desired consistency.
9.  Remove the eggs from the oven and let sit for about 2 minutes.
10. Sprinkle with salt and pepper and garnish with the fresh basil.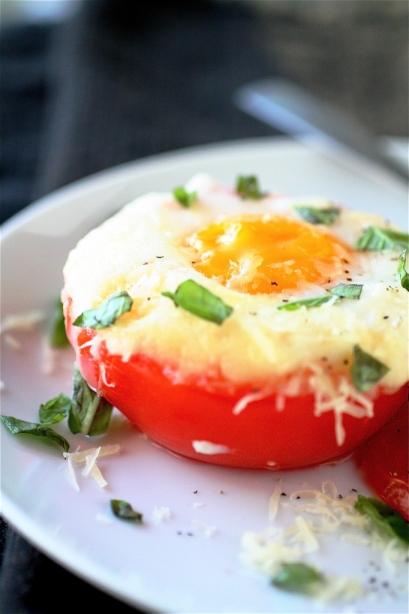 Source:  Adapted from Epicurious.