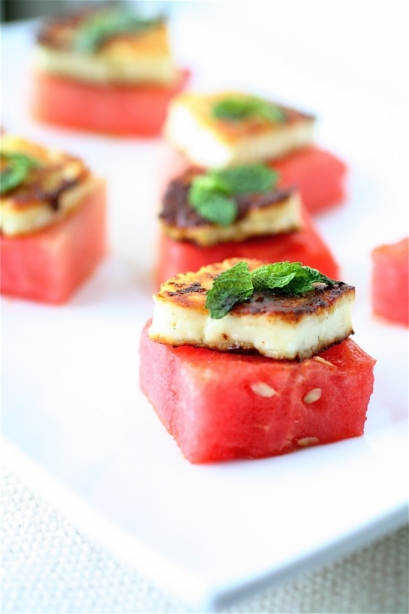 Yes, it's a long name, isn't it?  But I urge you to give this one a chance.  It's watermelon season, and unless you have an army to feed, you may run into the issue of having lots of leftover watermelon in your fridge (if you buy a whole melon, of course).  And while bits of ice cold watermelon with maybe a little red pepper flakes and sea salt are extremely delicious, a girl needs more options when it comes to watermelon dishes.
I had this recipe bookmarked for several reasons.  1).  Watermelon-it's the classic summer fruit.  2).  Halloumi.  Please don't even get me started on Halloumi.  I think it might just be my favorite food in the whole world.  For those of you who may not be familiar with it, it's a sheep/goat milk cheese, and it's touted as a "cheese that can be fried."  It's very popular in Greece.  I tend to always have a container of it in my fridge because it's ready in minutes, and it's a great addition to salads, sandwiches, or even plain on its own as a guilty pleasure.  It crisps up nicely on the outside, leaving a warm, buttery and salty inside.  Ah, Halloumi.  3). Basil.  I love basil, considering most of the recipes on this blog this summer have contained it.  Why not?  It's easy to grow, abundant, and adds such a crisp, clean flavor.  4).  Mint.  I love cooking with mint-I love the color, the aroma, the soft leaves.  (Maybe I think about this a little too much, I now realize).
Anyways, I figured I would give this recipe a go.  It can be easily served as an appetizer, but I just ate it as a weeknight meal…because it is ready in less than 20 minutes.  The basil-mint oil adds a light refreshing sweet taste to the cheese, so it has that great mix of salty sweet that I love so much.  I ended up grilling the watermelon as an experiment, and I think it turned out just fine, but if you want the nice contrast between the warm cheese and the cold watermelon, I would advice skipping that part.  I also don't have a grill, so I just used a grill pan on my stove to grill both the cheese and the watermelon.
I will definitely be making this again.  I could picture serving it at a nice outdoor cocktail party with some sangria or chilled white wine.  Mmmm.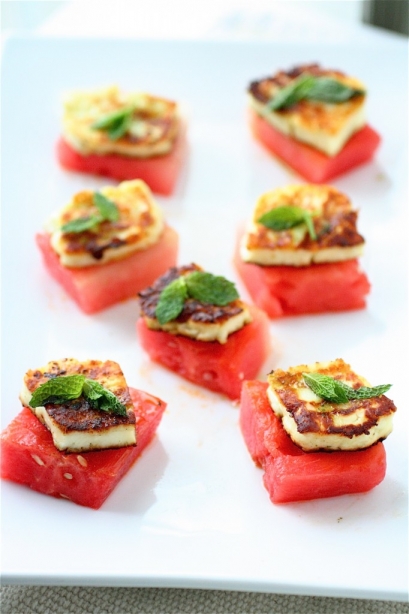 Halloumi and Watermelon Bites with Basil-Mint Oil
Servings: Approximately 10 2-inch pieces (I halved the original recipe)
Ingredients
1/4 cup fresh basil, chopped
2 tablespoons fresh mint, chopped
1 garlic clove, chopped (1 clove)
1/4 cup extra-virgin olive oil
4-5 ounces Halloumi cheese, in 1/2-inch thick slices **I cut the slices into halves so that they would be bite-size
Approximately 1-pound watermelon, rinds removed and sliced into bite-sized portions
Sea salt and pepper, to taste, if desired
Fresh mint, for garnish
Instructions
1. In your food processor, combine the basil, mint and the garlic and pulse until finely chopped.
2. Very slowly, pour the olive oil into the feed tube with the blade running.  Puree until the mixture is smooth. **There will still be a few bits of basil and mint present.
3.  Place the basil-mint oil in a strainer over a bowl and press to remove all the liquid.  Discard the solids, and set the oil aside.
4. Meanwhile, preheat a grill pan over medium heat (or use an outdoor charcoal or gas grill).
5. Lightly brush the cheese pieces with the basil-mint oil, and grill, about 3 minutes each side, flipping as needed and brushing with the basil-mint oil as desired.  Grill until the sides are lightly browned and crispy.
6.  Remove the cheese pieces from the grill and lightly grill the watermelon (if desired), about 1 minute on each side.
7.  Assemble each piece by placing some Halloumi on top of each watermelon slice and garnish with salt, pepper, and fresh mint.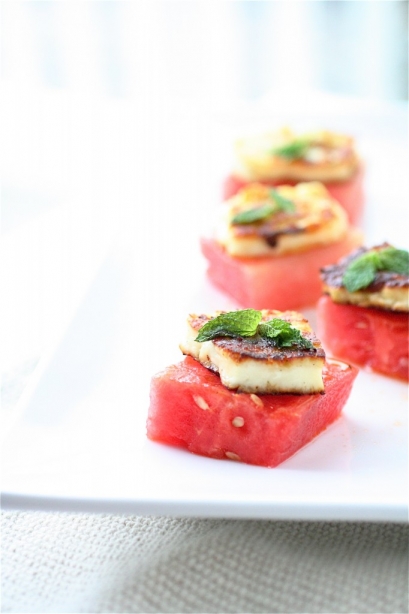 Source:  Adapted from Bon Appétit, via Epicurious.