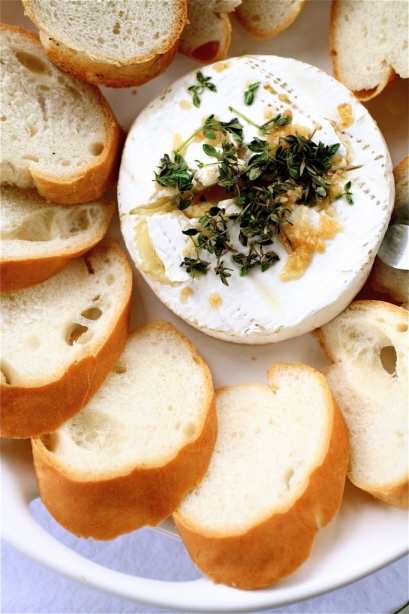 This is an oldie, but goodie.  I was going through my photo archives the other night, and I realized that I had never posted this recipe.  I made it (I think) for Mother's Day weekend as part of my marathon of appetizers/brunch for my mom.  We are a family that (obviously) loves cheese in any form, especially ooey gooey, melty and buttery baked cheese.
I had made Baked Brie before (and the Baked Brie Bites!), but I had never tried Camembert, a very close sister of Brie.  While the tastes are subtly different (I tend to think Camembert has more of a distinct taste than mellow Brie), they both consist of a soft cheese inside a sturdy rind-which is perfect, in my opinion, for baking.  I had paired the Baked Brie with fruit preserves for that creamy, sweet taste, but I was drawn to this recipe for the combination of sweet and savory flavors. And, of course, the garlic.
I loved the simplicity of not only the ingredients here, but the ease of preparation and elegant presentation.  You could pair anything you want with this:  fruit, crackers, or bread.  I simply chose a baguette, which I decided to leave untoasted (I'm a sucker for soft breads that don't kill the roof of my mouth.)  I just remember having to get the photos very quickly, as I had two or three family members (patiently) waiting over my shoulder for this treat…and it was gone in less than 10 minutes.
I love baked cheese.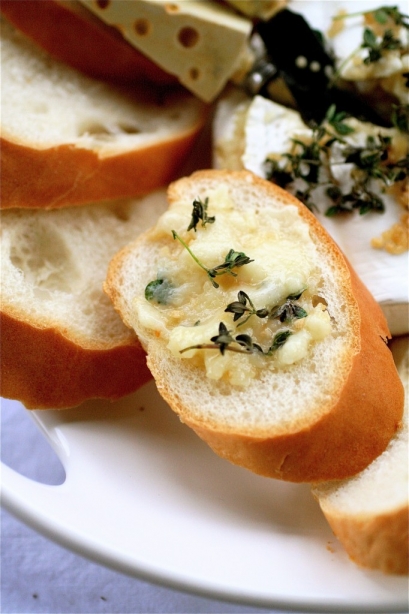 Baked Camembert with Honey and Thyme
Servings: Approximately 4, as an appetizer
Ingredients
One 9-ounce wheel of Camembert, removed from the box and the plastic wrapping***Keep the box.  You will bake the cheese in it.
1 garlic clove, minced (about 1 teaspoon)
1 teaspoon fresh thyme leaves
2 tablespoons honey
Sea salt, to taste
For serving: baguette, crackers, fruit, etc.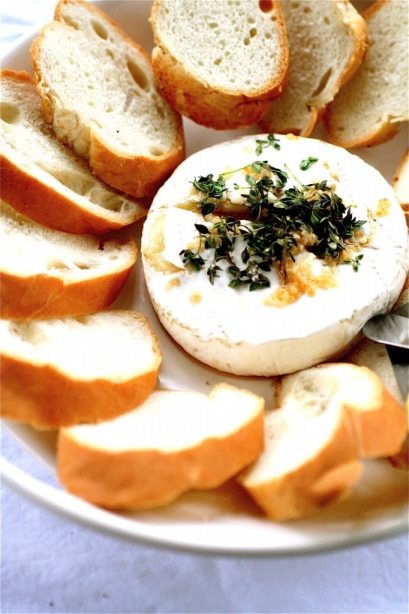 Instructions
1. Preheat the oven to 400 degrees.
2.  Cut a 10-inch square portion of aluminum foil and place it in the wooden box from the Camembert.
3.  Gently lay the cheese on top of the foil, and using a sharp knife, cut a slit directly across the top of the cheese.
4. Using a spoon or your fingers, tuck the garlic as best you can into the slit (If you cannot get it all in, that's ok.  Just leave the extra garlic on top of the cheese).
5.  Sprinkle the top of the cheese with the fresh thyme and drizzle the top with the honey.  Sprinkle with salt to taste, if desired.
6. Lightly fold the aluminum foil around the cheese, sealing it.
7. Place the aluminum foil-wrapped cheese (and the box) on a lined baking sheet and bake for approximately 10 to 12 minutes, until the cheese is melted.
8. Remove from the oven and serve immediately.

Source:  Slightly adapted from James Tanner of Epicurious.