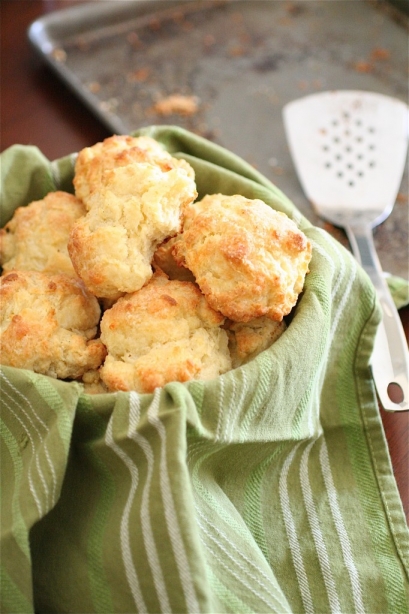 Yep, these are just like THOSE cheesy garlic biscuits from a well-known American seafood restaurant chain.  Except they are homemade and you secretly won't feel so guilty eating a whole baking pan of them because you won't have to sheepishly ask the server for more.
We recently had a gloomy, rainy weekend, and I was craving something filling and warm-maybe  a bowl of soup or something like that.  I did a quick inventory of my pantry and realized that I had everything I needed (and you probably do too, right now) to make these to go along with something filling, too.  And since I never leave the grocery store without at least two types of cheese, I had plenty on hand.  I decided to run with a white cheddar, but you could add pretty much any kind of cheese to these biscuits.  I upped the garlic salt in my batch, so you might want to hold back a bit on the salt if you aren't a fan.  I thought about adding in parsley or some fresh herbs, but I was hungry and wanted these as soon as possible.  Feel free to add in whatever kind of extra flavor you like-I feel like cheddar is conducive to almost any kind of flavor.
I did decide to make a melted butter/garlic salt sauce to brush on the warm biscuits right when they came out of the oven, which made them (in my opinion) so much better.
These biscuits truly are so easy to make and are a great addition to any kind of meal (or on their own, as I made a meal of just them one evening. 😉 )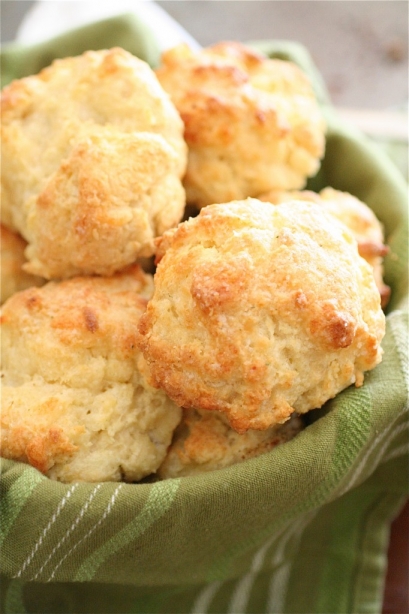 White Cheddar and Garlic Biscuits
Servings: approximately 15 biscuits
Ingredients
For the biscuits:
2 and 1/4 cup all-purpose flour
2 and 1/2 teaspoons baking powder
2 teaspoons sugar
3/4 teaspoon baking soda
1 teaspoon salt
6 tablespoons cold unsalted butter, cut into 1-tablespoon pieces
1 and 1/2 cups white cheddar cheese, shredded
1 cup buttermilk
1 teaspoon garlic salt
For brushing:
1/4 cup (1/2 stick) unsalted butter, melted
1/2 teaspoon garlic salt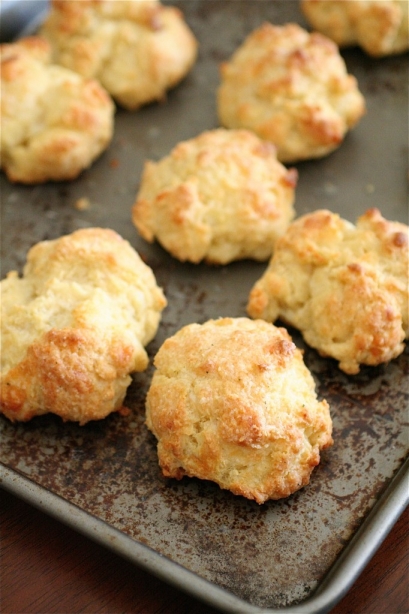 Instructions
1. Preheat the oven to 450 degrees.
2. In a large bowl, combine the flour, baking powder, sugar, baking soda, and salt.
3. Using your fingers or a pastry cutter, add the butter, pinching and mixing it thoroughly until the dough resembles coarse sand.
4. Add the white cheddar and stir to combine.
5. Add the buttermilk and garlic salt, stirring well to combine.  **If the dough seems a little dry, add a little more buttermilk, 1 teaspoon at a time, until the dough holds together.
6. Drop the dough onto the baking sheet, spacing each biscuit about 2 inches apart.
7. Bake the biscuits for about 18-20 minutes, or until the tops are lightly golden.
8. In a small bowl, combine the melted butter and garlic salt.
9. Remove the biscuits from the oven and lightly brush each one with the melted butter/garlic mixture.  Serve immediately.
Source: Adapted from Gourmet.