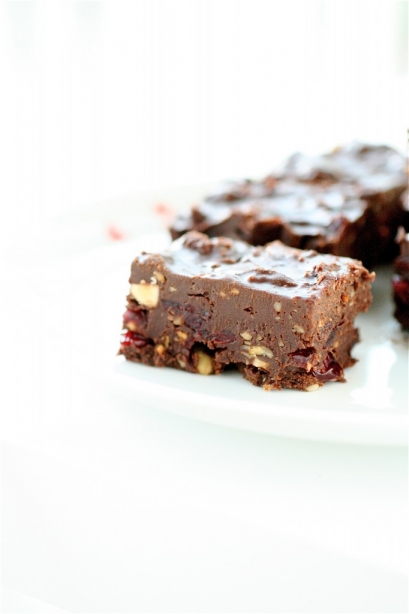 All right, enough savory stuff.  Who's in the mood for some chocolate?   I am, that's for sure.
I go through phases where I just need chocolate, and I need the dense, rich stuff.  Smooth and decadent fudge kind of stuff.  Even better, let's put some tart dried cherries and hazelnuts in it (and add some of that leftover Nutella from a few recipes back, too).  I never thought that hazelnuts, chocolate, and cherries would work together as a flavor combination.  But one night, in an act of selfish desperation, as I was scouring my pantry, I realized that I had all of these things on hand…and, well, why not?  It would still be chocolate in the end, even if it didn't taste all that good.  But you know what?  Sometimes thinking outside of the box is good.  And thinking outside of the box is even better when you can use up random ingredients that you happen to have on hand.
I'm a fan of this flavor combination.  And I hope you will be, too.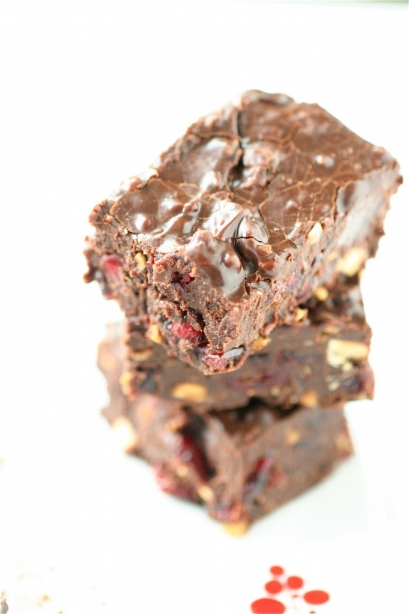 Cherry Hazelnut Fudge
Servings: approximately 12 1-inch fudge squares
Ingredients
1 and 1/4 cups milk chocolate chips
1/2 cup plus 2 tablespoons evaporated milk
1/4 chocolate hazelnut spread, like Nutella
1 teaspoon vanilla extract
1/4 teaspoon fine sea salt
One 12-ounce bag of high-quality semisweet chocolate chips
One 12-ounce bag dried cherries
3/4 cups chopped hazelnuts, toasted **To toast the hazelnuts, spread them on a baking sheet and bake at 350 degrees for about 10 minutes, checking frequently on them, until they are fragrant and lightly golden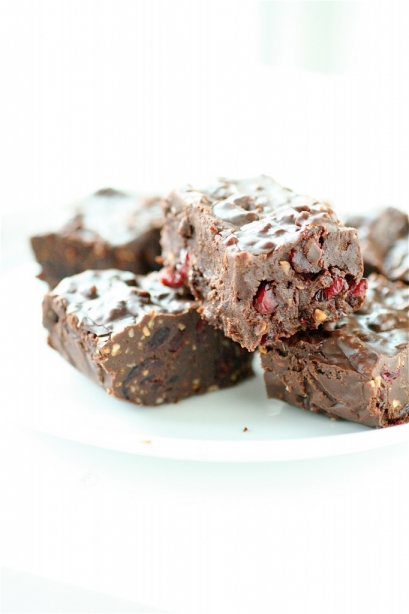 Instructions
1. Line an 8 x 8-inch baking pan with aluminum foil.
2. In a medium saucepan over medium-low heat, combine the milk chocolate chips, evaporated milk, Nutella, vanilla extract, sea salt, and semisweet chocolate chips.
3. Cook, stirring constantly, until the mixture is melted and smooth, about 5-10 minutes.
4. Remove the saucepan from the heat and add the dried cherries and toasted hazelnuts.
5. Stir until well-combined and pour the chocolate mixture into your prepared pan.
6. Using a rubber spatula, gently smooth out the surface of the fudge and tap the pan on your countertop to remove any air bubbles.
7. Cover the pan with aluminum foil and refrigerate until firm, about 3 hours or so.
8. Once set, cut the fudge into individual pieces, sit back, and enjoy.  You totally deserve it.
Source:  Adapted from Whole Foods.