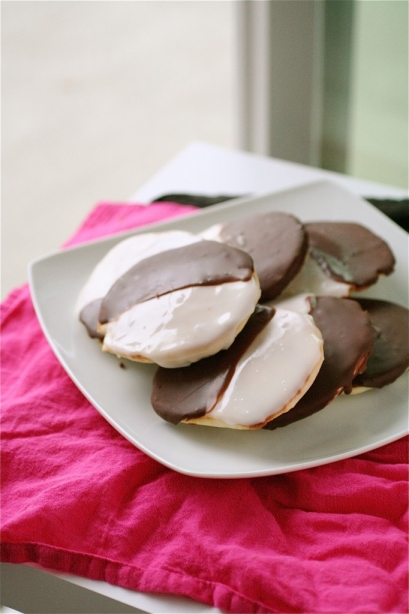 If you haven't caught on to it lately, baking and cooking are pretty important things in my life.  I find it a cathartic release to create something with my own hands.  As a child, I wished I had the artistic talents that run in my mother's side of the family; there you can find carpenters, artists, cake builders/decorators, seamstresses, etc.  I have tried most of these things, never finding something that tested my patience enough to actually become decent at it.  Some people may run ten miles each day or unwind with a good book to relax.  True, while I do enjoy doing these things, cooking is what releases me.  I find that an afternoon in the kitchen (while listening to my favorite music, of course) refuels me: I am never happier than when I am piping frosting onto two dozen cupcakes, throwing garlic into a well-oiled (and heated) pan, or sharing what I make with family and friends (always trying at least a little bit first myself, of course).
So, finding a friend with as much passion (and probably a million times more) as me was a complete blessing.  I was going through a pretty hard time when I met Annie.  They say everything happens for a reason, and I know that sounds cliché, but Annie's friendship and support during that time in my life enabled me to find the bits and pieces of me that were left after being in an abusive relationship for almost nine years.  When I lived in Indianapolis, Annie and I frequently had "baking days" where I would spend the whole day there, constructing cupcakes, pies, breads, etc.  Some of my best memories from the past four years are in Annie's kitchen.  One day there were four of us, cooking together, and there were three KitchenAid mixers going at the same time, each of us making a different thing. We kept laughing because, to us, three KitchenAids running at one time is pretty much like our own personal heavens.
I was sad when I left Indy (for many reasons, of course), but one of them was because I knew that the proximity of Annie's amazing kitchen (and Andrew's help in making all the treats) was a luxury that would no longer be within my reach.  She decided to substitute physical baking days with "virtual baking days" instead.  That way, she and I could still get to bake together in spirit, even though we are now almost a thousand miles away.  Because of my move across the country, she picked the first baking task: these black and white cookies.  We both had been wanting to make them, so it was an easy decision.  Made with cake flour, these cookies are extremely cake-like and chewy, just like the ones in the Big Apple itself.  Now, while I am not an expert glazer (obviously), I found that I got the hang of glazing each cookie after a couple tries.  And, man, were they good.
So, call your best friend up and tell them thank you for being such an important part of your life.  Or give them a Black and White Cookie instead.  Thanks, Annie.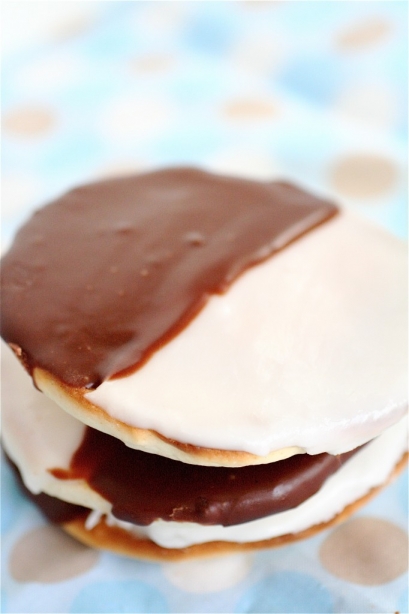 Black and White Cookies
Servings: approximately 24 cookies
Ingredients
For the cookies:
4 cups plain cake flour
1/2 teaspoon baking powder
1/2 teaspoon salt
16 tablespoons (2 sticks) unsalted butter, softened but still cool
1 and 3/4 cups granulated sugar
2 large eggs, at room temperature
1/2 teaspoon vanilla extract
1/4 teaspoon lemon extract
1 cup milk
For the glazes:
2 ounces bittersweet chocolate, chopped (or use chocolate chips)
1/4 cup light corn syrup
1/3 cup water
5 cups confectioners' sugar
1/2 teaspoon vanilla extract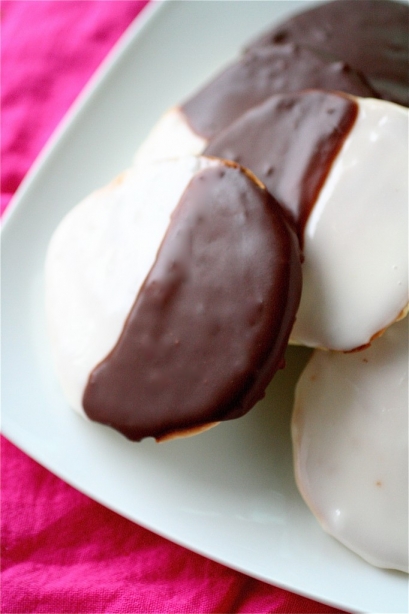 Instructions
1. For the cookies: Preheat the oven to 375 degrees.
2. Line two baking sheets with parchment paper; set aside.
3. In a large bowl, combine the flour, baking powder, and salt, whisking well until combined.
4. In the bowl of your standing mixer fitted with the paddle attachment, beat the butter on medium speed until light and fluffy, about 30 seconds or so.
5. In a slow and steady stream, gradually add the granulated sugar, increasing the mixer speed to medium-high, until the sugar is fully incorporated and the mixture is pale yellow and creamy, about three minutes, scraping down the sides of the bowl as necessary.
6. Add the eggs, vanilla, and lemon extract and beat until thoroughly combined, about an additional 30 seconds or so.
7. On low speed and beginning and ending with the flour mixture, alternately add the flour mixture with the milk in about three additions until just combined.
8. Using a 1/4-cup measuring cup, place the cookie dough in mounds of dough about 2 inches apart on your baking sheets.
9. With moistened fingers or the back of a soup spoon, gently flatten each  mound of dough into a disk about 2 and 1/2-inches wide and 3/8-inches thick.  Shape each mound of dough into a circle.
10. Bake the cookies until the edges turn light golden brown, about 14 minutes or so, rotating the pans halfway through the baking time. ***Watch them-the original recipes calls for 20 minutes total, but mine were done before that.
11. Remove the cookies from the oven and let cool slightly, then transfer to a wire cooling rack to cool completely.
12. For the glazes: In a heatproof bowl set over simmering water, melt the chocolate, stirring occasionally, until smooth.
13. Remove the chocolate from the heat; set aside.
14. In a medium saucepan set over medium-high heat, combine the corn syrup and the water, stirring until the mixture comes to a boil.
15.  Remove the saucepan from the heat and add the confectioners' sugar and vanilla, mixing well until combined.***This is your vanilla glaze.
16.  Transfer 3/4-cup of the vanilla glaze to the bowl with the melted chocolate and mix thoroughly to combine. ***This is your chocolate glaze.
17. To glaze:  Using an offset spatula, spread about 1-2 tablespoons of the vanilla glaze on each half of each cookie, tilting the cookie slightly and scraping the edge of each cookie to prevent the glaze from dripping off the edge. **It helps to do this step over some parchment paper to catch the drips. If your glaze hardens too quickly, just add a little hot water to thin it out; conversely, if it's too runny, add a little bit of confectioners' sugar to help it thicken a bit.
18. Place the cookies back on the wire racks and let set for 15 minutes or so, or until the glaze is hardened.
19.  Repeat this step with the chocolate glaze.
20. Let the cookies sit at room temperature for at least one hour to allow the glazes to harden.
Source: Directly from Baking Illustrated.