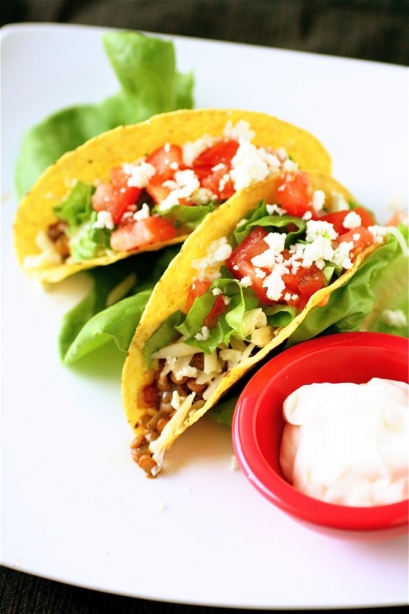 The other day at work, a friend and I were discussing different kinds of food (because, usually, if I am not actively talking about work, I am very actively talking about food-my favorite topic in the whole world. If you work with me, you know this.)  We got on the topic of lentils.  She figured that I, as a non-meat eater, would have ample experience in the land of this particular legume.  Sadly, I sheepishly admitted that I hadn't tried too many dishes highlighting the major protein powerhouse called the lentil.  Found in a variety of colors, these little guys are packed full of protein, essential amino acids, and tons of vitamins, including vitamin B12 (something all vegetarians should make sure to get enough of in their diets, right?).
So, I was intrigued (and craving Mexican food, as usual.)  I came across this recipe coincidentally that same day, and I knew I had to try it.  Lentils are super cheap, healthy, and would satisfy my desire to experiment in the kitchen.  Let me tell you, I was very pleasantly surprised with this recipe-I liked it so much I ate every single leftover.  Texture-wise, lentils definitely don't stand up to the traditional ground beef or soy crumbles, but I know a few of the readers here aren't fans of soy crumbles, so this is definitely worth a trip into the land of legumes.  After they cook down, they soften up quite a bit and when mixed with taco seasoning, that flavor that I so desperately craved was there.  I topped my tacos with queso fresco, Monterey Jack, lettuce, and tomatoes, but feel free to dress yours up any way you like.  Without cheese, you can enjoy a vegan version of the taco.
Yep.  I can still eat tacos and be meat-free.  And I can't wait for the next one.
Lentil Tacos
Servings: 4
Ingredients
1 tablespoon extra-virgin olive oil
1/2 cup yellow onion, chopped finely
1 clove garlic, minced (1 teaspoon)
Salt, to taste
1 cup dried brown lentils, rinsed well
One 2.25 ounce taco seasoning
2 and 1/2 cups vegetable broth
8 taco shells
For garnish:
Lettuce, tomato, Monterey Jack cheese, queso fresco, sour cream, etc.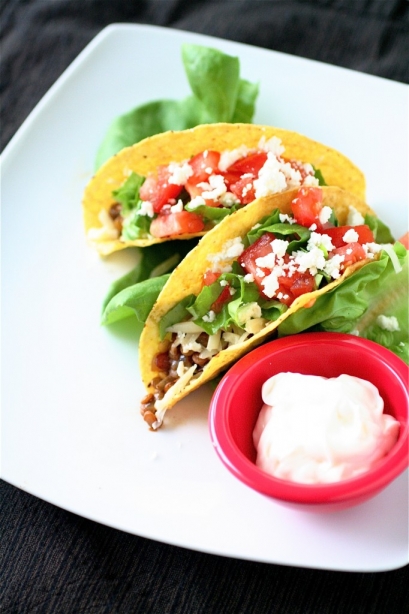 Instructions
1. In a saute pan over medium heat, heat the olive oil until shimmering.
2. Add the onion, garlic, and salt, and cook, stirring frequently, until the onion is softened and translucent, about 4 minutes.
3. Add the lentils and taco seasoning, mixing well until heated through, about one minute.
4. Add the vegetable broth to the lentil mixture and mix well, scraping up any browned bits on the bottom of the pan.
5.  Reduce the heat and cover the lentils, allowing them to simmer.  Make sure to check on the lentils and stir occasionally to avoid burning the bottom of the pan, until the lentils are tender, about 20-25 minutes or so.
6. Remove the cover and allow the lentils to cook until the mixture thickens, about 5-6 minutes or so.
7. Transfer the lentils to a large bowl and let sit for a minute or two to slightly cool.
8. Using a potato masher, gently mash the lentils to your desired consistency.
9. Assemble the tacos by placing a few tablespoons of the lentils in each taco shell and garnishing as desired.
Source: Barely adapted from Self Magazine via Epicurious.