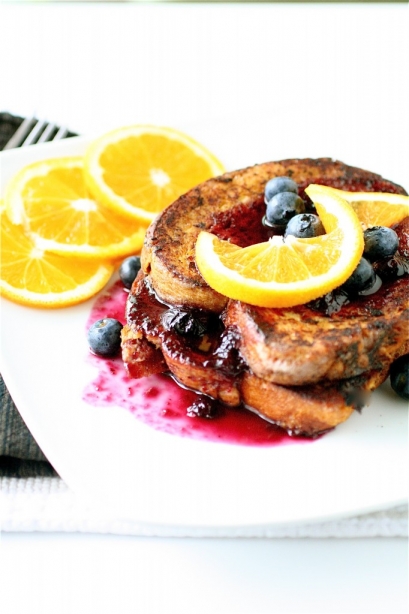 This was almost a complete kitchen fail.  I had originally planned to make this recipe with day-old croissants, but with a hurricane quickly approaching the East Coast and grocery stores shutting their doors, my last-minute trip to the grocery store proved to be an exercise in patience and flexibility.  There were no croissants to be found.  I quickly scanned the fresh bakery area, finding a fantastic loaf of (mmmmm) brioche, and I was sold.  I then wondered how I would pull any of my planned cooking off if the power completely shut off due to the storm.  (I hadn't included that in my plans). I wondered if I should just wait it out and not try to make breakfast the next morning, just in case.  The thoughts of sweet orange and blueberry syrup won me over, and I plunged ahead with my recipe planning.
Thankfully, while there was a lot of damage and flooding in my area, I was able to safely hibernate in a fully powered and functional kitchen. I can safely say that I have experienced my first hurricane-something that a full-blooded Midwestern girl can't usually admit.  My thoughts and prayers go out to those who are still dealing with the repercussions of the storm.
I'm glad I went full-force ahead with this recipe because it was (let's just be honest here…) pretty awesome.  I let the brioche soak for a while (about 15 minutes or so) in the orange juice mixture before grilling it on the stove.  It quickly caramelized with a light and sweet crust.  The blueberry-orange syrup was a major experiment for me, but I ended up really liking the combination of the two flavors (mixed with a little traditional maple syrup, of course).  Better use up those blueberries before they are gone…… 🙂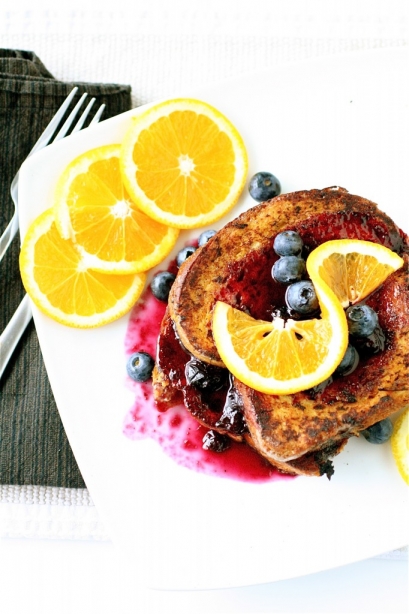 Orange-Blueberry French Toast
Servings: 2
Ingredients
For the toast:
Four 1/2-inch thick slices of brioche
2/3 cup milk
3 eggs
1/3 cup orange juice
1 teaspoon sugar
1 teaspoon vanilla
1 teaspoon almond extract
1 teaspoon orange zest
1/4 teaspoon ground cinnamon
Pinch freshly grated nutmeg
Butter, for grilling
For the syrup:
1/4 cup high-quality maple syrup
1/2 cup orange juice
1/2 cup fresh blueberries
For garnish:
Orange slices
Blueberries
Instructions
1. For the toast: In a large bowl, combine the milk, eggs, orange juice, sugar, vanilla, almond extract, orange zest, cinnamon, and nutmeg.  Whisk until well combined.
2. Place the slices of brioche in the egg mixture and let soak, turning occasionally to evenly distribute the liquid, about 15 minutes or so.
3. For the syrup: Meanwhile, in a medium saucepan over medium-low heat, combine the maple syrup, orange juice and blueberries and bring to a slow boil, stirring occasionally, until thickened, about 15-20 minutes or so.
4. In a grill pan over medium heat, melt the butter.
5. Add the brioche slices and let cook until lightly browned on each side, about 2-3 minutes per side.  Serve with warm syrup and fresh fruit.  Enjoy.
Source:  French Toast adapted from Bon Appetit  via Epicurious, syrup a Curvy Carrot original.