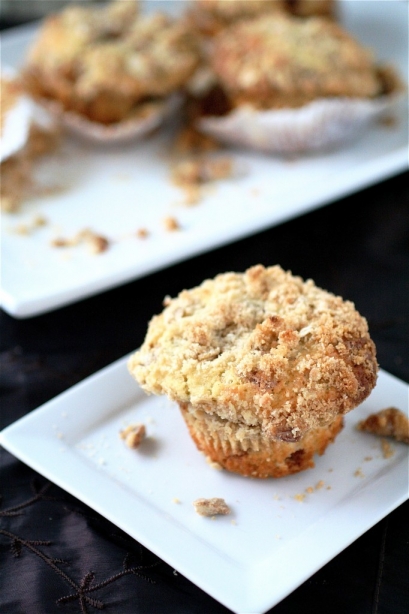 Ah, here comes Fall.  Yep.  It's definitely getting a little chilly here in New England.  I took Scout outside the other night, and I could see my breath. After making the sad realization that my days of wearing my flip flops (the perfect shoe, in my opinion) would soon be over, the thought of my Ugg boots (the other perfect shoe, in my opinion) and the beginning of my favorite season of all cheered me up.  Because here comes Autumn, folks.  And apparently I am in the best geographic location in the United States to enjoy the fall foliage.  The leaves are starting to change their colors, and I have started wearing a jacket in the mornings.  Here come pumpkins, apples, squash, and all things cinnamon and spice.  Here come Halloween treats.  And caramel apples.  And chili and warm, filling soups.
To start off the season, I decided to make a super cinnamon muffin…complete with a cinnamon swirl filling and a cinnamon streusel topping.  I opted against making a confectioners' sugar glaze (well, actually, I wanted to eat them right away after smelling them bake in the oven, so I was impatient and didn't make the glaze. But feel free to make your own glaze, if you want.)  If you don't have cinnamon chips on hand, use butterscotch chips instead.  These muffins are moist, sweet, and definitely pack a punch of that fantastic cinnamon taste.
Welcome to Autumn.
Cinnamon Muffins
Servings: 12 muffins
Ingredients
For the streusel topping:
1/3 cup brown sugar
1/4 cup chopped walnuts
1/4 cup rolled oats
1/2 cup all-purpose flour
3 tablespoons unsalted butter, softened
For the filling:
3 tablespoons unsalted butter, melted
1/2 cup brown sugar
1 and 1/2 tablespoons ground cinnamon
For the muffins:
8 tablespoons (1 stick) unsalted butter, melted
3/4 cup milk
2 large eggs
1 and 3/4 cups all-purpose flour
1/2 cup rolled oats
2 tablespoons cornstarch
3/4 cup granulated sugar
1 tablespoon baking powder
1/2 teaspoon salt
Pinch ground nutmeg
1/2 cup cinnamon chips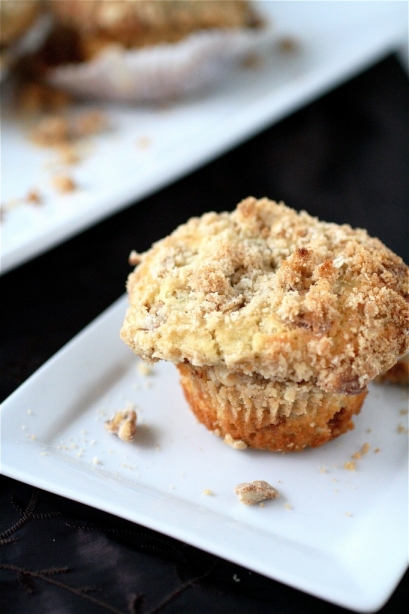 Instructions
1. Preheat the oven to 400 degrees.
2. Line a cupcake pan with the liners of your choice.
3. For the streusel topping: In a large bowl, combine all of the streusel ingredients, stirring with a fork until the mixture is crumbly; set aside.
4. For the filling: In a small bowl, combine all of the cinnamon filling ingredients, mixing until smooth; set aside.
5. For the muffins: In a medium bowl, combine the melted butter, milk, and eggs, whisking until combined.
6. In another large bowl, combine the remaining dry ingredients, mixing well.
7. Add the wet ingredients to the dry ingredients, and stir with a rubber spatula until the batter is smooth and well-combined.
8. Place approximately 2 tablespoons of the batter into each muffin liner (fill them halfway up.)
9. At this point, place about 1-2 teaspoons of the cinnamon filling on top of the muffin batter.
10. Place the remaining batter on top of the cinnamon filling.
11. Sprinkle the streusel topping over each muffin.
12. Bake until a tester inserted into the center comes out clean, about 20-25 minutes.***It will be helpful to place a rimmed baking sheet on the rack directly beneath the pan-I had some issues with the streusel melting and then baking on the bottom of my oven. 🙁
Source: Barely adapted from King Arthur Flour Company.