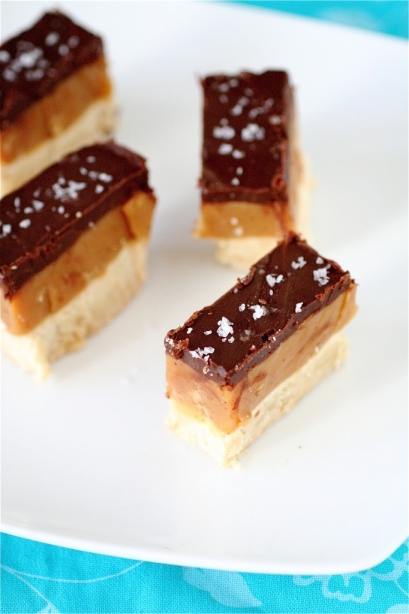 I'm sitting here writing this post….just wishing that I still had some of these little bars still.  Because, let me tell you, they were good.  A homemade spin-off of a Twix bar?  Ok.  Top it with some flaky sea salt to balance out that sweet caramel?  Ummmm, yes please.
To date, these have been one of my favorite treats on the blog.  Yes, they are a little time consuming to make (the caramel took a while to come together, and my arm was a little sore from the continuous stirring, but I just figured that all that hard work would balance out the calories later….), but they were well worth the wait.  I did spread the preparation of the bars over two days, just because of my own schedule. I couldn't stop snacking on them while I was taking the pictures (it's hard to take pictures with sticky, caramel-covered fingers…).
This was my pick for a virtual baking day with Annie. We both were excited to make them, and both of us had independently bookmarked several different variations.  I think we were both pleased with the one we chose. Since I don't have a larger brownie pan on hand, I used an 8 x 8-inch pan…which led to 2-inch tall bars.  (I kind of liked the dramatic, in-your-face appearance, but if you want a thinner bar, try a larger pan.)  I'm still getting over my fear of making caramel, and it's getting easier each time I do it.  This recipe is well worth taking the risk.
Caramel Chocolate Shortbread Bars
Servings: Approximately 12 bars
Ingredients
For the shortbread base:
2 cups all-purpose flour
2 teaspoons baking powder
1/4 teaspoon salt
1 cup (2 sticks) unsalted butter, at room temperature
1/2 cup sugar
For the caramel:
1 cup (2 sticks) unsalted butter, cut into 1-inch pieces
1 cup granulated
4 tablespoons light corn syrup
2 cans sweetened condensed milk
For the chocolate:
4 ounces bittersweet chocolate, chopped
4 ounces milk chocolate, chopped
1 teaspoon light corn syrup
1/2 cup (1 stick) unsalted butter, cut into 1-inch pieces
Flaked sea salt, for garnish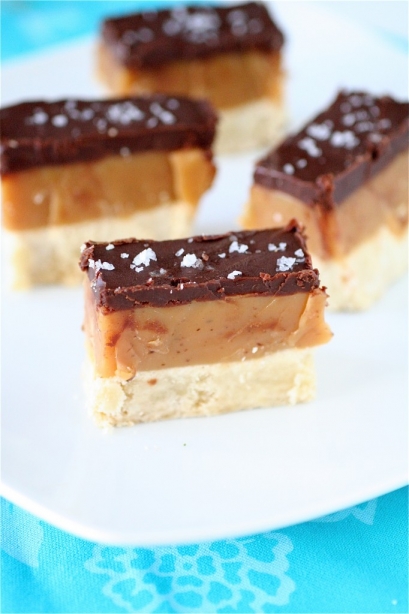 Instructions
1. For the shortbread: Preheat the oven to 350 degrees.
2. Line your baking pan (the original recipe calls for a 9 x 13-inch pan, but mine got left behind accidentally in the move, so I used my 8 x 8-inch) with parchment paper and spray liberally with nonstick cooking spray.
3. In a large bowl, combine the flour, baking powder, and salt.
4. In the bowl of your standing mixer fitted with the paddle attachment, beat the butter and sugar on high speed until light and fluffy, about 2 minutes.
5. Reduce the mixer speed to low, and slowly add the flour mixture to the bowl.
6. Using your fingers or the back of a spoon, gently press the shortbread dough into the bottom of the prepared pan.
7. Bake until the shortbread is lightly golden, about 15-18 minutes.  **I had to slightly increase my cook time due to the pan size-watch yours carefully.
8. Let the shortbread cool completely.
9. For the caramel: In a medium saucepan over medium-low heat, combine the butter, sugar, corn syrup, and sweetened condensed milk, mixing well.
10. Increase the heat to medium-high, and stirring continuously, bring the mixture to a boil.
11. Once boiling, reduce the heat to medium-low and stir continuously (mine took about 30 minutes) until the mixture is thickened and turns a golden amber color.
12. Pour the caramel over the cool shortbread and chill until the caramel is set.
13. For the chocolate: In a heatproof bowl over a pot of gently simmering water, combine the chopped chocolate, corn syrup, and butter, and melt, stirring occasionally, until the mixture is smooth and creamy.
14. Pour the melted chocolate directly over the cooled and set caramel and lightly sprinkle with the flaked sea salt.
15. Cut into bars and enjoy.
Source: Barely adapted from lisa is cooking.