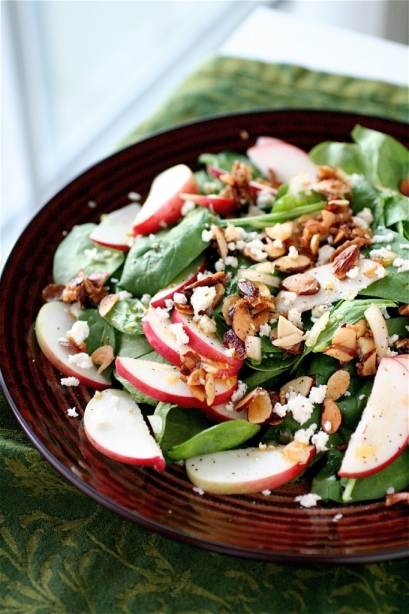 I'm hit or miss with salads.  I seem to go through phases.  I like salads with lots of texture, colors, and flavors.  Unfortunately, most of the time it seems that having all these things in a salad form equates to a lot of prep work.  I saw this recipe online and figured to give it a go.  I had everything on hand (including a "ginormous" bag of fresh apples that I had no clue as to how to use).  I gave myself a 20 minute weeknight challenge to see if I could, in fact, make a healthy and satisfying salad with enough time to get all my other responsibilities done.  And, I did it.
This salad doesn't take too much prep work.  The salad dressing calls for a minced onion and, to be honest, that was about all the prep work I needed.  I bought pre-washed spinach, and simply cored the apples and thinly sliced them.  The buttered almonds didn't take very long to make at all, because I already had sliced almonds on hand.  To be completely honest with you, I didn't use hardly any of the salad dressing because I found that the salad had enough crunch and flavor to satisfy me, but the dressing was definitely a tasty twist on the traditional "oil and vinegar" base dressing. So, if you are really short on time, I would just lightly drizzle some of your favorite pre-made dressing on the salad to cut down on time.
And you know what?  I felt really good after eating this.  Yes, I added a little cheese (of course, I did…you know me.)  I had some queso fresco on hand (yes, it might seem weird on this salad, but it was good).  I was dreaming about how some nice white cheddar would go with the sweet apples while eating it, and when I make this again, I will be trying that out for sure. This is one of those meals that leaves you full and light at the same time.
Spinach and Apple Salad
Servings: 4
Ingredients
For the salad dressing:
1/4 cup minced sweet onion
3 tablespoons apple cider vinegar
3 tablespoons white vinegar
2 tablespoons sesame seeds
Pinch paprika
3 tablespoons sugar, divided
1/2 cup extra-virgin olive oil
Salt and pepper, to taste
For the buttered almonds:
2 tablespoons unsalted butter
3/4 cup sliced almonds (I like mine with the skin on, but feel free to use your favorite variety)
For the salad:
One 10-ounce bag of pre-washed, ready-to-use spinach leaves
2 medium apples (variety of your choice), cored, quartered, and thinly sliced
Cheese (variety of your choice), optional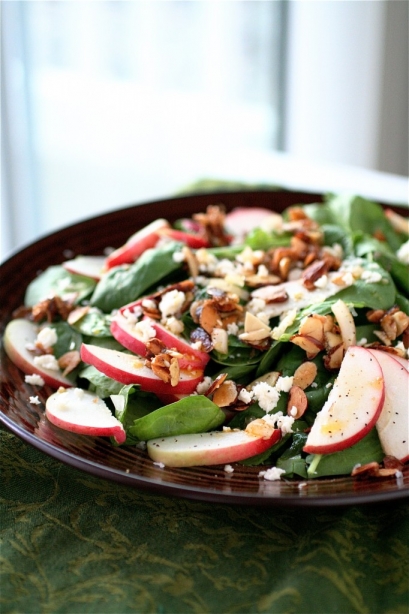 Instructions
1. For the salad dressing:  In a medium-sized bowl, combine the onion, vinegars, sesame seeds, and paprika.  Mix well.
2. Add the 2 tablespoons of the sugar to the mixture and mix until combined.
3. Whisking constantly, slowly drizzle the olive oil into the mixture.
4. Season with salt and pepper, to taste.  Set aside.
5. For the buttered almonds: In a large skillet over medium heat, melt the butter.
6. Add the almonds and cook, stirring constantly, until the almonds are lightly browned and fragrant, about a minute or so.
7. Add the remaining tablespoon of sugar to the almonds and gently toss to coat.
8. Continue to cook until the sugar melts, about 1-2 minutes more.
9. Remove the almonds from the heat and set aside to cool.
10. Assemble the salad as desired, and drizzle with salad dressing.
Source:  Adapted slightly from Bon Appétit via Epicurious.