I bought about ten cans of pumpkin the other day.  After the major pumpkin shortage of last fall, I wanted to make sure I had enough on hand for the upcoming fall season.  And, yes, while I don't mean to rush these last lingering days of summer (and decent daylight in the evenings, too) by posting so many pumpkin recipes, I couldn't hold back by not posting a truly awesome recipe.  It just so happens that it's another truffle.  But, seriously, who can resist a good truffle? (If you can, then I don't trust you.)
I actually tried the original recipe for these truffles last year which ended with a major kitchen fail.  The consistency didn't hold up quite right, the flavor seemed a little "off", and my white chocolate seized and got incredibly clumpy in the process of dipping the truffles.  I was completely deflated because I wanted these to work so badly. But, then Annie revamped the original recipe, and I liked her adaptations, so I decided to give it another go this year.  Since I had some miniature cinnamon chips on hand, I decided to add a little bit more spice to the truffles in my own version.  I was very pleased with the final version-and my friends in the dermatology clinic were too, which meant a lot. (You are the best!)
When you are making these, it's essential to give them enough time to chill.  I even found that taking them out and re-rolling the truffles by hand and then giving them another hour-long chill seemed to help with the shape as they can be a little soft at first.  Be careful when you start dipping them.  My first few truffles came out very smooth and pretty, but, as I continued to dip them into the warm chocolate, it began to seize and clump.  If you want a super smooth coating, it would be best to dip them in batches.  Feel free to play around with the spices here.  The white chocolate, while extremely rich, is well balanced with the more earthy spices like cinnamon.
Enjoy.
And…pssst…check out today's post on Taste and Tell.  Stick around.  Make some new friends.  I certainly did.  Thanks, Deborah!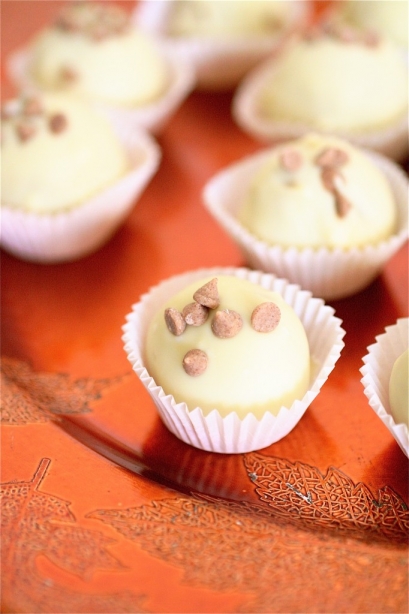 White Chocolate Cinnamon Pumpkin Truffles
Servings:  approximately 24 truffles
Ingredients
1 cup white chocolate, coarsely chopped
1/2 cup pumpkin  puree
3/4 cup gingersnap cookies, finely ground **Use your food processor
3/4 cup honey-flavored graham crackers, finely ground
2 tablespoons confectioners' sugar
1/4 teaspoon ground cinnamon
4 ounces cream cheese, at room temperature
1/4 cup miniature cinnamon chips, plus more for garnish
For dipping the truffles:
Approximately 1 pound of white chocolate**I used Baker's Choice dipping chocolate, found in the baking aisle of my grocery store.
Instructions
1. In a heatproof bowl set over a saucepan of simmering water, melt the white chocolate, stirring until smooth.  Set aside to cool slightly.
2. Meanwhile, in a large bowl, combine the pumpkin puree, the gingersnaps, graham crackers, confectioners' sugar, cinnamon, cream cheese, and cinnamon chips.  Stir to combine.
3. Add the warm melted white chocolate to the bowl and mix thoroughly to combine.
4. Cover the bowl, and transfer to the refrigerator to chill until the mixture is firm and able to be rolled into balls, at least one hour.
5.  Using your hands, gently roll each truffle into a 1-inch in diameter ball, placing each one on a parchment-lined baking sheet.
6. Chill the truffles again until firm, re-rolling and chilling if necessary, at least two hours.
7. To dip the truffles:  In a heatproof bowl set over simmering water, melt the white chocolate.
8. One by one, using a fork to help guide you, dip and roll each truffle quickly in the white chocolate, placing each one back on the parchment-lined baking sheet.  Immediately garnish with miniature cinnamon chips.
9.  Chill the truffles until firm and set, at least 20 minutes.
Source:  Slightly adapted from Annie's Eats, originally adapted from Whole Foods.